Browsing articles in "Eco Design"
Midori Uchi, meaning "green home" in Japanese is a completely net-zero design by award-winning, ultra green Naikoon Contracting Ltd. along with architecture studio read more
Modern Green Renovation has been carried out by the design team of Marken Projects who turned a 50's bungalow in Vancouver, British Columbia into a durable, modern and energy efficient home. They added a half storey maximizing the allowable living area (FSR) with the focus on improving the overall energy efficiency, using environmental friendly materials and ensuring a healthy indoor environment for this young family to enjoy. At the same time they gave it a new and exciting look. From the architects, "For us, it is common sense to plan along the Passive Design principles, which essentially means optimizing solar gain, optimizing insulation, ensuring an airtight envelope, installing a high performance heat recovery insulation system and making the house as energy efficient as possible."
Main energy-efficient features in the home includes: Modern Passive Design, Low-VOC Products, Energuide 86, Air-to-Air Source Heat, Pump for Heating, Airtight Envelope at 1 ACH, Efficient Heat Recovery Ventilation.
The different blue colors on the exterior facade of the residence is stucco. The porch ceiling is engineered cedar wood.
50's Vancouver Bungalow — Before
Photos: Ema Peter Photography
Net Zero Energy House is modern two-level home completed in 2011 by Klopf Architecture, situated in Cupertino, California. The goal of this project was to score as high as reasonably possible in the "GreenPoint Rated System". The owners de-constructed their existing home when they realized that any single-story design would completely eliminate their back yard. They wanted the design to be a contemporary interpretation of Eichler in style yet keep their single story neighborhood happy. They wanted to maintain their privacy but also wanted a design that was open and light-filled.
The solution: directed openness, low profile and net-zero energy. The site is a cul-de-sac lot which was the not large enough for a single-story home that would fit the needs of these owners who both work from home. They wanted this to be their "final" residence so Klopf needed to design a larger-than-normal home to suit their lifestyle needs. Instead of adding a second story (and annoying the neighbors) they opted for a partially-submerged lower level that Klopf designed furthest from a basement as possible (with a pulled-back floor plate, a light-filled "atrium" and a lower level light well).
To preserve privacy and bring in light while minimizing unwanted solar heat gain and provide connection to nature, the design team oriented a large window wall north to the back yard while sloping the ceiling of the great room up to increase the light and connection to nature. The sloping roof also provided a surface suitable for mounting the 13.4 kW PV system compared to other building faces that have smaller, punched windows that maximize privacy. The owners were very concerned about the environment, specifically about energy and resource efficiency. They directed Klopf to use materials that would last as long as possible while avoiding "food for termites" and design a high-performance sustainable home.
In conjunction with the Mechanical Engineer they designed a net-zero energy home featuring insulated concrete forms (ICFs), structural insulated panels (SIPs), high-performance windows, cementitious siding, and a 13.4 kW solar Photovoltaic (PV) system sized to cover all the energy use in the house. The new open and light-filled house offers a connection to nature while maintaining privacy. Natural gas would not be used in the home with the possible exception of a backyard BBQ.
Photos: Mariko Reed
Hacienda Ja Ja is a LEED-Platinum home nestled beneath a canopy of live oak trees, designed by Lake Flato Architects, in Alamo Heights, Texas.  The 2,328 square foot property is to scale with its neighbors, offering porches that allow its residents to easily engage with activity on the street. Spaces wrap around a small courtyard to maximize natural lighting and ventilation distributed throughout via tall glazings and high ceilings. High-performance features include details like the variety of floors made of polished fly-ash-content concrete, locally sourced stone, engineered wood and locally sourced wood siding installed as a rainscreen system.
Carefully sited to preserve and to protect the live oaks, to promote cross-ventilation and to maximize natural daylighting, the home is also designed to avoid solar thermal gain during the summer and capture passive solar heating during the winter.
Rainwater is collected from the roofs and stored in a below-ground 6,000-gallon tank; during most of the year, captured rain water will supplant domestic water for all landscape irrigation needs.
Photos: Frank Ooms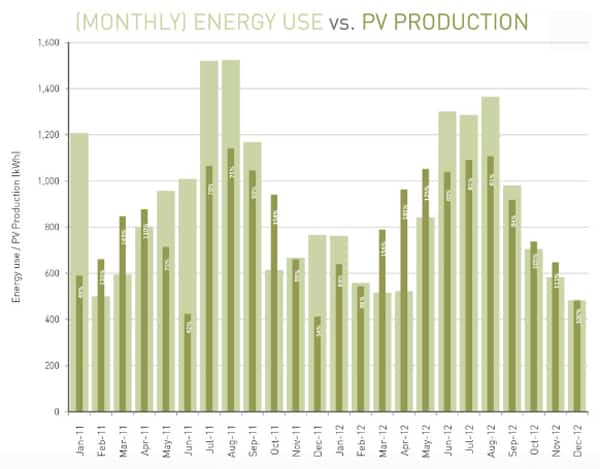 MINIMOD is a modular home designed and built for relaxed, off-the-grid living, designed by MAPA Architects, situated in Maquiné – Rio Grande do Sul, Brazil. This 290 square foot (27 square meters) module proposes an innovative, intelligent and sustainable alternative of dwelling. Starting from a minimal module, MINIMOD invests in customization, design and sustainability. The production is carried out in a prefabricated manner and enjoys the steel frame system technology, which lets the client adapt the space to his needs, choosing among different finishes, as well as automation options.
Depending on the composition of the modules, MINIMOD can vary the uses ranging from a compact refuge for weekends, a small showroom for events, up to hotels and inns, combining a larger number of modules. The modules are 100% prefabricated and elevated to a determined place by truck or disassembled into smaller pieces and taken to the ground for final assembly.
The expansion and addition of new modules can be performed either at initial installation or in the middle of the process, according to the needs and budgets of the client.
MINIMOD is more than a product of design, is more than a house. It's practicality combined with comfort, it's economy allied to nature, it's a unique experience of housing and contemporary living.
MINIMOD centralizes production and reduces the emission of CO2 in the atmosphere. The home features a rainwater harvesting mechanism through the green roof. The house is slightly elevated to avoid moisture from penetrating the interior. Ventilated facade gives thermal and acoustic comfort. When night falls, this modular home uses LED lamps to illuminate its interior.
The MINIMOD enjoys the benefits of dry construction technology: quick, clean and efficient. Entirely manufactured and pre-modulated it is easily adaptable to customer needs. Mounted and manufactured in accordance with the premises of the project, it can be transported entirely or in parts.
Photos: Leonardo Finotti
Zero Energy House, designed by Levy Art & Architecture, is the first home in San Francisco, California that is completely self-powering and carbon neutral. The architecture has been developed in conjunction with the mechanical systems and landscape design, each influencing the other to arrive at an integrated solution. Working from the historic facade, the design preserves the traditional formal parlors transitioning to an open plan at the central stairwell, helping to define the distinction between eras. The new floor plates act as passive solar collectors and radiant tubing redistributes collected warmth to the original, North facing portions of the house. Careful consideration has been given to the envelope design of Zero Energy House in order to reduce the overall space conditioning needs, retrofitting the old and maximizing insulation in the new.
The Bar piece is produced by SieMatic cabinets, it is walnut. The cabinets are a wood textured laminate, also by SieMatic. The stair is open to above and takes up an area about 6′-6″ x 10′-0″. the floor to floor height is 10′-6″.
Central skylights above staircase.
View from master bedroom.
Master bathroom.
Exterior stair back yard to first level.
Solar powered hybrid electric heat pump.
Caruth Boulevard Residence is a modern LEED Gold designed home by owner and architect Tom Reisenbichler, located in Dallas, Texas. When the architect built his 8,300 square foot family dream home, he was determined to prove that being environmentally friendly does not have to rule out luxury. "You can do luxury without being wasteful," says Tom Reisenbichler, an architect with Perkins+Will who primarily designs hospitals and medical buildings. There is no shortage of either eco-friendly strategies in this three-story home, from photovoltaic solar panels on the roof to flooring made from recycled television tubes and countertops of recycled mirror glass, materials were chosen carefully; ninety percent of them are recycled or reclaimed.
In our world where many associate sustainable (green) design with a bohemian lifestyle, while others consider luxury wasteful, this house is designed to prove they are not exclusive. Integrated tightly into the large iconic trees on the site, this house uses traditional home proportions to blend with the neighborhood. The horizontal lines of the design tie the home to the land, while the roof and balcony reach into the trees making them integral to the home.
The design concepts emphasize the entertaining lifestyle of the owner / architect, with open plans that integrate indoor and outdoor spaces. The first level uses a central core (wooden box) as the main organizing element around which public spaces flow. This LEED Gold designed home features many sustainable strategies, from photovoltaic solar panels and recycled materials to native plants that are drought tolerant, every detail of sustainability is considered.
The couple, who entertain frequently and have welcomed nearly 3,000 guests since they moved into the University Park house last January, made sure that the residence works for gatherings both large and intimate. With its open concept, expansive rooms and walls of glass that slide open to integrate indoor and outdoor spaces, the first floor is a hostess' dream.
What really wows guests, Reisenbichler says, is when they flip up the wood panel on the living room wall to create a serving bar from the wine room off the kitchen. Opposite the bar is another showstopper: an 8-foot-long gas fireplace that is positioned halfway up a stone wall. "It appeals to so many people, even if they're not a modernist," Reisenbichler says.
The spare design and hard lines of the architecture are softened by visual textures, richly colored rugs and warm wood walls, including teak that was salvaged from a monastery in Thailand.
"Most of the home's finishes are pretty neutral," Reisenbichler says. "It's the art and furnishings that bring life to the space." The art, including oversize sculptural pieces, canvases and African jewelry, is a collection of memories from the family's travels juxtaposed with works from North Texas artists.
The six-bedroom, 10-bath house, includes mother-in-law quarters on the second floor. Rooms are full of sleek leather furniture, chrome accents, animal hides and graphic prints.
Photos: Bret Janak
The Hollywood Hybrid home has been designed by Marmol Radziner, located in the Hollywood Hills above Runyon Canyon, California. Set into a sharply down-sloping site, the home required substantial foundation work, including the construction of a large retaining wall. The resulting home combines prefab with site built construction. The ground floor is comprised of two large rooms built into the foundation while the two stories above are entirely prefab.
A long pool runs parallel to the house, overlooking Runyon Canyon. Two levels of decks and large sliding glass doors make the views accessible from every level of the home. The residence is targeted for LEED gold certification.

Responsible materials are used throughout, from the insulated glass to the denim jean insulation. Solar panels generate electricity and can feed excess power back into the grid. Decks, large sliding glass doors, and well-placed shading devices allow for cooling cross ventilation and seamless indoor-outdoor living.
Photos: Courtesy of Marmol Radziner
Hempstead House is a fifties era split level home situated on a small lot in Bethesda, Maryland, designed by
Gardner Mohr Architects
. The 1,500 square foot home had inadequate space for the current owner's pattern of living and lacked strong connection internally to the site. The owners sought to give the home a new modern character while preserving memories of its original identity. Through renovation, they hoped to connect the indoors to the out-of-doors, create flexible spaces for living and dining with views between spaces, and to make the kitchen the heart of the home. Describing themselves as "accidentally sustainable," they wanted to pair their design goals with environmentally sound choices.
THE APPROACH:
The first floor spaces were expanded and joined so that dining and gathering can occur "anywhere and everywhere."  The kitchen became the nexus of all activity, joining the living and dining spaces on the first floor to the study/ loggia and entry hall on the half-level below.  The new living space is tall and spacious with terrace doors, windows, skylights and a light shelf on the south wall, welcoming in abundant cross ventilation and natural light.  The L-shaped addition embraces a new cypress deck that floats across a grass terrace to a stone wall and rock garden, creating a unifying transition to the outdoors. This main level addition and the second floor addition, perched as a treehouse, embrace the backyard and capture the traversing daylight.
Descending from the kitchen at an angle to the addition, a reclaimed walnut stair the full width of the loggia leads down to a study with a honed concrete radiant floor, bamboo casework, and a Paperstone desk.
A second-floor master bath designed as a retreat, a connecting entry hall and new play room adjacent to the study, and a new bedroom and bath carved from an enclosed garage round out the plan. Throughout, the use of smart envelope design, passive solar gain, radiant heat, high insulation values, water-saving fixtures, and low VOC/formaldehyde-free materials complete the sustainably-minded, balanced design.
Photos: Jim Tetro & Amy Gardner
Soleta ZeroEnergy One is a sustainable home designed by FITS (Foundation for Inventics and Sustainable Technologies), located in Bucharest, Romania. It is part of an initiative called the Soleta zeroEnergy, which seeks to create self-sustainable homes.
Soleta zeroEnergy is a new concept of premium eco homes, developed by the Justin Capra Foundation for Inventics and Sustainable Technologies (FITS). The finalized functional prototype of this concept, Soleta zeroEnergy One, is in Bucharest, Romania. Following the architectural and constructive concepts of this prototype, a whole family of Soleta homes, with multiple functionalities and of different sizes, easily adaptable to a host of destinations, such as home (permanent use or vacation), office, kindergaden or sport/fitness joints was developed.

Affordable and versatile, with minimal energy consumption, low running costs and positive eco-impact, Soleta concept is a viable alternative solution for conventional housing construction technologies. Soleta homes are defined by an unusual architecture, enclosing a bright, healthy, fully monitored environment.
The pillars of Soleta concept can be summarized by four fundamental principles:

1. Reducing energy consumption, by minimizing loss and employing energy-saving measures.
2. Using renewable energy forms such as geo, solar, wind, hydro and so on.
3. Creating the most efficient way of using conventional forms of energy, when renewable energy sources are not available. In order to reduce pollution, a set of active measures, such as tree planting, garbage recycling, etc. are employed.
4. Creating a modular living solution architectural concept which allows increasing the comfort and functionality by adding future modules at any time after erecting the building, without interfering with the structural integrity of the building.
zeroEnergy concept. Ecology.

In the last few years, studies has shown that many of the low-energy homes constructive solutions creates a serious discomfort for their inhabitants. These homes are over-insulated, the costs for a healthy interior environment are sky-rocketing and the home-environment interaction is lessening. The ancestral link between nature and home is currently missing. In stark contrast, Soleta zeroEnergy employs a series of energy-efficient technologies that minimizes loss and provides the necessary energy for the home (zeroEnergy concept) using renewable sources (sun, wind, hydro, geo, etc.), without adversely impacting the environment.

Therefore, the exterior sides of the home, directly exposed to the elements (walls) are kept to a minimum and high-efficiency window panels that provides natural lighting (free sunlight) are used. Soleta homes comes with: natural ventilation system, integrated forced ventilation with energy recovery system, thermal energy storage integrated in floor, LED lighting and rainwater storage and treatment system. For further economy, a smart energy, climate and ventilation monitoring and managing system (KNX) is used. Reducing energy consumption by up to 45%, this system can also be remote controlled using a mobile phone or a similar device.
For heating and warm water production, there are many solutions available:

A combined system of solar heat collectors – water-water heat pump;
High efficiency wood or wood pellets stove – solar heat collectors;
Air-air heat pump – solar collectors.
Soleta homes are built using natural, locally available, renewable materials, with the exception of polyurethane thermal insulation and plasterboards for the interior walls finishing (the latter could also be replaced by plyboard, made from natural wood.) The structure is made of glue-laminated wood, and the roofing is also constructed of wood: traditional shingle tiles. The floors are constructed of pinewood, thermally insulated with yet another natural material, cellulose. The stylish exterior walls are made of white-painted spruce wood planks.
Soleta zeroEnergy One
Soleta One is the first Soleta ZeroEnergy concept home built in Romania.

Soleta zeroEenergy One has a particular and innovating architecture. Besides the 48 sqm. interior, a suspended under-roof sleeping area with 9 sqm. (96 sqft) and an exterior terrace with 22 sqm. (237 sqft) are built as an integrated, fully functional unit. Currently, Soleta One is FITS's showroom, and we welcome daily visits. Soleta One is located in Bucharest, Romania, in the front of the U.S. Embassy.
Photos: Courtesy of FITS