Browsing articles in "Inspiration"
Create a romantic bathroom retreat by integrating a traditional master bath with the master bedroom for the ultimate space for relaxation, rest, pampering and romance. To help spice up your bathroom retreat, the key is lighting, one of the most essential and overlooked parts that creates a romantic ambiance. Lighting changes our perspective on how we feel and perceive a space, when you are in control of the lighting, you also control the mood. Try mixing lighting with soft, flattering tints. In addition to typical overhead lighting and any other fixtures you may have in the space, consider purchasing a high-end chromatherapy bathtub, which is fitted with adjustable underwater lights in various colors. You will find that some spa-style shower heads will have built-in mood lighting. Whatever type of lighting scheme you select, it should be simple to control and adjustable for various moods. Gilt, soaking tubs, infinity pools and gorgeous tile: Feast your eyes and find inspiration in these sumptuous bathrooms that we have featured for you below.
Scroll down for some tips on creating the ultimate romantic bathroom experience and if you are still looking for further bathroom inspiration, have a look at one of our past articles on 51 Mesmerizing master bathrooms with fireplaces and 51 Insanely beautiful rustic barn bathrooms.
Be sure to indulge your senses with these other key features: 1. Color: Whatever your idea of a romantic hue is, analogous colors work very well (ones located next to each other on the color wheel). Various tones of the same color family will create a soothing effect, while pairing complementary colors (located across from each other on the color wheel) will help to create drama.
2. Fixtures: Luxury, spa-style fixtures like soaking tubs or multi-spray showers would make anyone feel pampered and relaxed, creating an incredibly romantic frame of mind. 3. Furniture: Die-hard romantics don't need to settle for boxy vanities and boring countertops. Many of the latest styles are available in designs and finishes that would look right at home in any well-decorated bedroom, while standing up to daily bathroom traffic.
4. Scent: The ultimate romantic bathroom should not smell like cleaning supplies. Experiment with scent diffuser sticks, scented candles and natural potpourri blends, or go all out with products that turn a plain steam shower into a scented spa experience. 5. Music: Whether your romantic taste runs to boleros or Barry White, music is essential for setting the proper tone. Load your music library digitally, and then control the sound with a single remote. Use a single sound system with speakers throughout the bedroom and bath to help bring together the ultimate romantic master suite.
Asian-Style Bathroom With Sunken Tub: Christoper Grubb transformed a minimalist bathroom into a luxurious spa with a stunning glass shower and a sunken tub surrounded by polished stones.
Oak Plank Floor:  Flooring can be used as a uniting element for distinct areas. Here, the pale oak planks help retain the bath's overall sense of intimacy while offering visual continuity between two zones of the room.
Dramatic Asian Bathroom: A marble mosaic wall is the main feature which forms the backdrop for the original clawfoot tub. A storage niche for towels, bath products and decor, sits behind the tub and becomes a storage niche. The shelf seamlessly displays the homeowners Asian inspired sculptures, wall art and accessories.
Zen Paradise: The floating bamboo ceiling references the vertical reed-like wallpaper behind the LED candles in the niches of the chiseled stone.
Celebrity chef Bobby Flay's Hampton's dream home features this master bath with a round black stone bathtub surrounded by Moroccan cement tiles.
Pink Victorian Bathroom with Clawfoot Tub: A clawfoot tub painted with gold leaf paint is the focal point of this small bathroom designed by HGTV's Property Brothers. The chandelier is also gold-leaf, as is the mirror frame. Pink-and-silver wallpaper give the room a modern, eclectic twist.
White Mosaic Bathtub: This transitional bathtub from designer Michael Habachy is finished in mosaic tile and topped in marble. It is accented by a decorative wall and coordinated in marble flooring.
Rustic Cowgirl Bathroom With Distressed Red Vanity: This rustic cowgirl bathroom has an ornate, layered look. The fringed shower curtain matches the patterned wallpaper, while the distressed red vanity coordinates with the beadboard wainscoting. Vessel sinks atop a granite countertop are a more contemporary accent.
Sparkling Infinity Bath Tub: Iridescent blue tiles surround the infinity bathtub with marble deck, making this space look more like a spa than a bathroom. Ambient lighting sets a relaxing mood.
Transitional Bathroom With Stone Elements: This transitional stone bathroom is like coming home to your own mini spa every day. The bathroom features a white neutral stone accent wall with a modern freestanding white soaking tub on a pebble stone floor base.
Delightful French country bathroom design with white walls encasing large windows spilling sunshine upon a gorgeous white egg shaped bathtub . An incredible floor to ceiling bone inlay floor mirror sits upon beautifully rustic wood plank floors.
Mediterranean-Style Bathroom With Copper Soaking Tub: Tucked below an arched window, a freestanding copper tub transforms this bathroom into an elegant, relaxing retreat. The neutral tilework surrounding the tub and the delicate seashell border framing the window enhance the space's soothing atmosphere.
Rustic Bathroom With Wood Ceiling and Walls Plus Soaking Tub: Weathered wood panels and barn-style additions, make this bathroom's appearance simulate an old western outhouse. One of several bathrooms in the home that contains this soaking tub, which rests on old barn beams instead of the typical iron claw feet.
Old World Master Bathroom With Carrara Marble Floor: The floor with an inset basket weave of Carrara marble and black granite dots is one of the final touches that infuses Old World opulence into this master bathroom.
Photo Sources: 1. Omni Scottsdale Resort & Spa at Montelucia, 2. Caesar Augustus, 3. Shangri-La's Boracay Resort & Spa, 4. Pinterest, 5. Christoper Grubb, 6. BHG, 7. Toll Brothers, 8. Chairma Design Group, 9. James Patrick Walters, 10. House Plans and More, 11. Pinterest, 12. White Blancmange, 13. Custom Home Group, 14. Bayan Tree, 15. Dustjacket Attic, 16. Elle Decor, 17. HGTV, 18. Parco dei Principi Hotel, 19. Habachy Designs, 20. Il Salviatino Hotel, 21. Pinterest, 22. Liz Williams Interiors, 23. Barcelo Hotels, 24. Daily Glamorous, 25. Pinterest, 26. Pearson Design Group, 27. Charles Neal Interiors, 28. In-Site Interior Design, 29. Pinterest, 30. Pepe Calderin Design, 31. Midwest Living, 32. Kari Arendsen, 33. Pinterest, 34. Scott Womack Photography, 35. Kitchen Designs by Ken Kelly, 36. Pinterest, 37. Pearson Design Group, 38. Sextantio Le Grotte della Civita, 39. House Plans and More, 41. – 40. Pinterest, 42. Mark Williams Design, 43. Eldorado Stone
Like a piece of art, a well-decorated and designed room necessitates time, attention, and good planning. Arrange your furniture perfectly for all rooms of your house by minding the following decor tips and tricks.
Use a Tape Measure
No matter what your preference, tendency for less or more, or ability to keep rotating designs and furniture implements, include a tape measure in the process. Measure dimensions of the room, which makes it easier to envision a finished space when buying your sofa, loveseat, chairs, dining tables, etc. Measure twice and buy once. Using a tape measure ensures there are no blunders when it comes to crowding, room flow, and getting pieces in and out of door frames and front doorways.
Match but Don't Forget to Mix
You'll may want to match colors, shapes, and numbers of chairs, yet don't forget to mix the decor for design effect. For example, create asymmetrical lines with molding, candles, and pictures hanging on the wall. In addition to asymmetry, designers add depth, space, and light. Matching furniture works well amid a small room, yet a larger room affords the opportunity for contrast.
Deconstruct to Add More
 Even small rooms can be broken down to serve various functions.  For example, a studio apartment has no walls, yet a crafty designer can deconstruct the space to host several areas devoted toward dining, entertaining, sleeping, and preparing food.  Deconstruct the space to add more opportunity.  It means smaller dimensions, yet furniture and design elements may serve several purposes (A futon couch seats guests and serves as a sleeping surface.)
Consider the Function
 Consider the function of each piece of decor in addition to your preference for its color, design, or brand label. A fine, leather couch may look great yet serve no purpose in a room reserved for dining. Consider the function of each piece, and don't forget 'more is less.'  Furthermore, as mentioned, consider using one piece for several purposes. For example, a large desk may be used as a workspace during the day and double as a dining surface during evening hours. Ornate and attractive is charming yet purchase pieces based on ability to serve practical purposes.
Focus on the Big Five
Focus on the big five furniture elements and reserve the most style and amount of investment for those items. Contemporary sofas, window treatments, rugs, side chairs, and coffee tables are considered the 'big five' and require unity and the most planning regarding style and unity. Take your time in purchasing each respective piece until the 'set' is assembled.
Know Your Palettes
 You don't have to study palettes as closely as a professional artist, yet reserving two main colors and one to serve as an accent creates limited yet diverse design possibilities. Furniture upholstery, flowers, books, rugs, and decorative accessories provide opportunity to feature one's chosen palette of colors.  Don't forget – little things count. Every flower, wreath, and piece of ribbon makes a decorative impression.
Create a Visual
Designers understand how to create visuals throughout a room. Encourage the visitor's eye to float throughout the space and notice a number of visual and inviting elements, with each having a different effect. Designers reserve nicknames or industry references for particular room elements.  For example, the 'inviter' is a dramatic and major element in the room – such as a bearskin rug. 'Eye lifters' tempt the eyes to look up and make visitors appreciate the upper third of the room.
Store and Save Space
 Particular elements are great for adding space. For example, shelving, bookcases, and large storage chests don't overcrowd a room yet invite opportunity for immediate and long-term storage of blankets, trinkets, and design elements. In addition to adding or subtracting implements, or limiting those resting on the floor, add space to a room with natural and artificial light. Consider length and fabric material when choosing window covers and drapery. Heavy fabric and dark colors appear elegant yet may take light from a space, making it appear smaller and possibly cramped.
Consider the Future
 Consider the future when investing funds and energy into furniture implements and a grand redesign. Seasons change as well as styles. Additionally, you may want to wait and save money to buy high-end elements you really want versus making a decision based on those you can afford right now. Don't make rash decisions and consider the future when designing any space. Even if you have to arrange the room in small steps, like a work in progress, it's better than settling on a design that you don't want.
Designing and redesigning any room is easy when considering the room's dimensions, function of purchased furniture, and effect of chosen color palette.
This guest post was contributed by Firdaus Nagree who has been involved in contemporary furniture and interior design since the age of 12. fci is a family business, set up by his father in 1970, which he took over in 2003. Firdaus is passionate about the process that takes a blank or mediocre space and transforms it into something completely different and more valuable. Working with some of the sexiest international contemporary furniture brands, Firdaus & fci are well known in the UK for being one of the most important design boutiques for residential and commercial projects.
Photo Sources: 1. Titan Constructors, 2. HGTV, 3. A.S.D. Interiors, 4. HGTV, 5. Pinterest, 6. Centsational Girl, 7. Country Living, 8. Habitually Chic, 9. Pinterest, 10. Colordrunk Designs, 11. Ashley Campbell Interior Design, 12. Aidan Gray, 13. Sherry Hart Designs, 14. Pinterest, 15. John Kramer & Sons, 16. Studio KW Photography, 17. – 18. Pinterest
A DIY Chalkboard headboard in your bedroom can be very fun because they allow you to get extremely creative and personalize them as you want. Having some form of headboard behind your bed is an important decorative feature that creates a dramatic focal point and can really pull your room together. When using a chalkboard headboard, you get to write funny or inspirational messages on them or you can paint all types of designs on them. They can be a great design decision for using in a children's bedroom. Instead of an actual headboard you could also just apply a few coats of chalkboard paint to the wall. Not only do DIY headboards save money and display your creativity, a personalized headboard could be even better than one on a showroom floor! So if you are looking for some incredible ideas on chalkboard headboards, scroll down the page and have a look at the collection of 44 inspiring headboard ideas that we have gathered together for you.
For further inspiration on chalkboard walls, have a look at our past article on 45 Chalkboard wall ideas for different spaces.
For this unique headboard, the homeowners used a multimedia projector to superimpose images on this painted chalkboard wall and then trace them out in chalk for a dramatic statement in this bedroom. It looks expensive, but it really would be very inexpensive to do!
Squeezing two beds into a small space? Make a feature of it by delineating the space with a large rug and feature wall. This clever chalk board allows the kids to get creative too. The Kandahar Bed in Quentin Blake Fabric by O&L can be found here.
Whimsical Silhouette: A do-it-yourself headboard is the best way to get a one-of-a-kind look without the cost. Designer Maureen Stevens used some wood, chalkboard paint, primer and a handmade stencil to create this whimsical headboard. The silhouette adds a youthful touch and the chalkboard allows for fun and creativity. Silhouette from Petite Prints
To tour the rest of this home in Missouri, click here: Modern courtyard residence in Missouri: The Curved House
Photo Sources: 1. Blalank Studio, 2. Anthropologie, 3. Lonny Magazine, 4. Fly Chicks, 5. La Factoria Plastica, 6. Anthropologie, 7. Jennifer Brouwer Design, 8. Lust the Sea, 9. Pinterest, 10. Paint Me White, 11. I Love That Junk, 12. Pinterest, 13.  La Maison d'Anna G., 14. Little Liberty, 15. Marc Rutenberg Homes, 16. Mary Prince Photography, 17. Pinterest, 18. Housekaboodle, 19. Dennis Mayer Photographer, 20. Clifton Interiors Ltd, 21. Anthropologie, 22. Pinterest, 23. House and Garden, 24. Rebecca Robertson, 25. Pinterest, 26. Anthropologie, 27. Knit Dreams, 28. Pinterest, 29. Song of Style, 30. Anthropologie, 31. Maureen Stevens, 32. La Factoria Plastica, 33. Pinterest, 34. Anthropologie, 35. Project Nursery, 36. Pinterest, 37. Tumblr, 38. Hufft Projects, 39. The First Apartment Book, 40. Pinterest, 41. Susan Thiel Design Build, 42. Sarah Layne Photography, 43. Studio Arterie, 44. Pinterest
How would you like to turn your bathroom into a sanctuary of pampering – the appearance of a spa for only just the fraction what you normally pay at the spa? To create a spa environment in your bathroom, you have to think "calm" and "relaxing", with soothing scents, fluffy, luxurious towels fine bathtubs and of course, what would a spa be without candlelight? If the thought of enjoying those luxuries and indulgences in the privacy of your own home sound good to you, then read on to find the best ways to turn your bathroom into a spa:
 By the Light of a Candle
To start creating the relaxing ambiance look of a spa, it's all about the candles. They simply change the mood no matter where you are, a feeling of calm sets in by the glowing light of a candle. Place candle tins around the base of the bathtub and then set a little jar of candles along the counter. Next use some tea lights and then a mix of small and large pillars with votives. Always make sure that you choose a solitary scent to keep from creating an either abrasive smelling odor. Soft smelling candles that incorporate Vanilla, Lavender and even a light citrus would be ideal for the occasion.
Dress up the Sanctuary
To get that perfect oasis look of a spa, dress your counters with sophisticated and elegant jars that are filled with bath salts, flower petals and oils. Then find a vase and fill it with lavender to give the room to the ultimate natural aromatherapy scent. Maybe even place antique style bottles throughout the bathroom and also try adding some lovely soaps, creating the look of divine calm.
The Aroma of Relaxation
One of the central components of a spa is its aroma, it usually hits you right as you walk through the front doors. The relaxing scents immediately grab your senses and it helps in transforming your mood from the hustle and bustle of life into the tranquility of which is the primary reason to utilize the spa. You have the power to replicate that same tranquil effect in the convenience of your home, by adding your own personal touch of aromatherapy scents. One of the best things to do is purchase your everyday Epsom salts and then add essential oils to them. For scents that bring revitalization and freshness to mind, try scents like eucalyptus and tea tree. Neroli and ylang ylang are excellent selections for the later evening and around bedtime, Then to add the final touches to your relaxation, try finding products for mini-facials and masks, even items that are great around the eyes to reduce the puffiness.
The Final Touches and accessories
 The final touches to your spa sanctuary would have to be some light music, soothing sounds of nature or some lovely acoustic instrumentals. The music of a spa beckons you to be transformed and taken on a journey of the senses. Simply adding a small CD or MP3 player with those relaxing choices of sounds will ensure you will be whisked away.
Towels
Next you need to find some fine fluffy cotton towels. Try to use oversized bath towels as opposed to the regular ones. They will be super-soft, adding warmth to your entire body from head to toe. Then as a final addition, add a plush style bath mat, this will do the trick, especially for your feet, who don't want to be left out!
For the Ultimate Spa Experience – Spa bathtubs
If you really want to turn your bathroom into a real spa and give it the official experience, use 1500 Bambino Freestanding Hydro Spa Bathtubs. It is absolute bliss and having the feeling of such a wonderful spa bath whenever you feel like it is a wonder all in itself.
Photo Sources: 1. Dave Adams Photography, 2. Deep River Partners, 3. Finn-Martens Design, 4. Susan Jay Design, 5. Rejoy Interiors, 6. Postcard from Paris Home, 7. Martin King Photography, 8. Polhemus Savery DaSilva, 9. Pepe Calderin Design, 10. Light Positive, 11. Peter Nilson Photography, 12. Ashley Campbell Interior Design, 13. Peter Nilson Photography, 14. Alan Mascord Design Associates Inc, 15. In Site Designs
Creating the outdoor living space you've always desired can be an expensive business. By the time you buy the materials and hire someone to build it for you, that beautiful outdoor space you've dreamed of can potentially lead to bankruptcy, no matter how good the weather is. Here are a few tips to get that softwoods timber decking built on the cheap.
Do it yourself

This one is pretty obvious. Tradesmen can be sneaky and sometimes even lazy; and maybe you can't really blame them when you think about the fact that they spend their working days outside in the hot sun performing demanding physical labor, if you had their life you might like to take it easy once in a while too. However, that doesn't mean you have to pay for it! So when it comes to home improvements it's always best to do it yourself.
Recycle

Don't pay for wood. People with plenty of spending cash are the only ones getting their renovations done with brand new wood. You just need to be a little more resourceful. There is literally forests of wood left over from other projects that never gets used, start lurking around building sites to see what you can snag, especially a large scale site because they always buy way more than they need. Don't forget that wood can be used more than once, often when a house or building is torn down there will be loads of quality wood left over that you can often get for cheap or even free. Check the local classifieds and internet marketplaces for people giving materials away, often it is a big favor for someone to come and take it away. Don't just stop at materials either, ask around amongst your friends to see what kind of tools they have.
Find some inexpensive help

Who's going to be enjoying this brand new deck of yours anyway. Your friends? Husband? Wife? Kids? Well then they should help put in the effort to get it done. Kids especially are easy to get to help, not only will they learn from this experience, it could be a great family bonding time for you to get to know them a little better, like, find out what their lifting capacity is? Are they the kind of person that's good at using power tools? It can be a bit trickier getting your friends to come along, adults are traditionally sharper at picking up on slave labor rackets but you can always offer them the first invitation when it finally gets finished.
Be Patient

Good things take time, and it takes more time to do things on the cheap. You will have to be prepared to wait for the right type of wood to come up, to go scavenging through building sites in the dead of night, taking a few planks at a time. Or you might have to wait around for that bloke you met down the pub who said he could do the landscaping for cheap in between his other jobs, and now all of a sudden he is too busy but maybe he could fit you in if you were prepared to pay his normal rate, forget him. It will be hard looking out the window of a potential future deck, sitting inside watching the beautiful weather pass by without utilizing your barbeque, however, when you see the difference in the bank it will be worth it, even if it takes six years.
Photo Sources: 1. Koch Architects, 2. Dennis Mayer Photography, 3. Decks by Kiefer LLC, 4. Terra Firma Design, 5. austin outdoor design, 6. Acorn Garden Houses, 7. ANNA CARIN Design, 8. E2 Homes, 9. Busybee Design, 10. Karen Garlanger Designs, LLC, 11. Fine Decks Inc
Designing a mudroom entry with efficient storage and beautiful design is no easy task, but it will help us transition from being outdoors to the welcoming comforts of indoors. When packed with clever built-ins, space-maximizing storage and nifty organizers, a mudroom can also become a high-functioning, double-duty space that can accommodate anything from folding laundry to making crafts. So don't let your mudroom become a chaotic catchall for shoes and winter gear. Check out the fantastic images we have gathered for you with some of our space-saving tips for keeping your mudroom organized, efficient and, most of all, beautifully decorated.
If you are looking for further inspiration, have a look at one of our past articles on 51 Wonderfully clever laundry room design ideas or try perhaps you are in need of some storage solution ideas, try our article on 60 Unbelievable under stairs storage space solutions.
Use hooks to hang items such as bags, hats, jackets, or a dog leash. A built in bench helps with taking off your shoes, and cubbie storage underneath is perfect for storing loose items. Adding a wash sink works well if you have a garden and come in from outside and need to wash your hands right away. It also helps if you have any spills you need to mop up. Under the sink is the perfect place to have a small garbage and store other essentials such as cleaning supplies.
Beadboard Mudroom With Built-in Bench: The built-in shelves and spacious bench in this mudroom help you transition in and out of the house. Beadboard paneling and a tongue and groove ceiling lend an elegant country aesthetic to the space, while an Arts and Crafts pendant light shines from above.
"Mudrooms are typically small in square footage, so make the most of the space by going vertical," JoLynn Johnson says. "Add shelves where bins and baskets can be placed for easy access. Smaller items like hats, gloves and scarves can be stored in the bins." This traditional mudroom offers all the storage amenities of a spacious room compacted into one unit. Storage shelves, baskets, hooks, bench seating and convenient floor storage all help keep mudroom contents tidy and within reach.
This whole room is part of a small addition onto a farm house in Minneapolis that included this mudroom, a coat room, laundry and a full bathroom.
To tour of the rest of this sensational lake house, have a look here: Connecticut lake house maximizing its privileged location
Gorgeously reclaimed Chicago brick, set in a herringbone pattern, covers this mudroom floor. The storage unit was custom made and painted in Benjamin Moore's Acadia White, while the oversize back door with its mullioned glass is from LePage, a Canadian company.
Efficient and thoroughly charming Mudroom & Laundry Room.
A new mudroom including built-in cubbie storage, Powder room, painted wood wainscoting, and stone flooring was incorporated into this beautiful home addition.
Laundry/Mudroom: If you have a spacious mudroom at the back of your house, take advantage of all that room. Consider including a laundry section to make life a little easier. A washer, dryer and small sink mean you can throw dirty clothes right into the wash as soon as you get home.
To see more images of this fascinating home, click here: Stunning transitional design in Bywood Street Residence
The mudroom, a must-have space to keep this family of six organized, also has a gracious powder room, two large storage closets for off season coats and boots as well as a desk for all those important school papers.
Protect flooring and cabinets from wetness: In mudrooms you may want to consider an open tile floor that extends below a bench area to ensure a protected floor regardless of where wet boots may travel.
This mudroom has a built in shelf above the desk for charging electronics. Slate floor. Cubbies for storage.
Office space: Transform your mudroom into a double-function space with a built-in desk and file storage. One wall is all you need if you plan it right. The cubbies and hooks help keep outdoor gear and clutter separated from the desk area.
The entire wall on the left side of this mudroom is a magnetic board, thanks to magnetic paint (this would also be great in a home office space). Note the way the owners framed it with wood.
If you spend lots of your time gardening, include a potting sink in your mudroom that allows you to water plant containers. Choose a user-friendly sink with a wall-mounted faucet, and make sure to have labeled drawers and shelves for extra containers, fertilizers, gardening gloves and tools.
Wall hooks are a great way to store tools and aprons, keeping them accessible and visible. A potting bench with drawers gives you the place you need for seed-starting or potting plants. Include a comfortable padded floor mat below to help you avoid back strain. Consider a boot tray to dry the shoes, clogs or boots you use in the garden. A freestanding coat rack can be another nice addition to store and dry sweaters, wet raincoats or overalls.
Create your own chalkboard or just use chalkboard paint as an accent wall. If you're wary of dust, try using chalk markers.
Closed-Off and Clutter-Free: A closed-off mudroom is the best option for those that don't care to have a guest-ready space at all times. In this traditional home, the designers create a separate mudroom located just off the kitchen and entryway. It features all the elements of a traditional mudroom — like shelves, hooks and drawers — but uses a sliding, reclaimed-wood barn door to keep everything stylishly concealed.
Stock up on baskets and bins: Use containers that slide neatly into divided shelves to keep hats and gloves dust free. If you group like items together it will help make selecting the gear you need simple and easy.
Including flexible storage solutions is key for a mudroom created for keeping all members of the family neat and organized. If you have the space, include a desk with a message center to keep flyers, mail and coupons off your refrigerator.
Add a welcome mat, small area rug or runner: If you are looking for something more thrifty, try looking at HomeGoods or Ikea. You'll want something durable, washable and colorful enough to conceal whatever comes in on the bottom of dirty shoes.
Personalize your Mudroom. Clever and colorful solutions help bring this mudroom to life. Let your little ones choose a favorite color to make their special space in your mudroom more fun. Color-coordinated baskets add a little personality to an all-white space with minimal cost and effort.
To see more images of this colorful home, click here: Bright and colorful surfer-chic beach house
The sliding barn door can close this space off in a pinch if the room gets a little messy in the winter.
Fresh lilacs, beautiful white cabinets and trimwork, slate floor, hanging straw hats and an antique rake makes this mudroom warm and cozy.
The covered breezeway leads into the mudroom with a custom built-in bench with a flip-top for storage underneath. Lots of hooks and a long shelf makes for lots of room for the belongings of this family of four in Portland, Oregon.
Pet Wash Station. If you share your home with furry friends, your mudroom is the perfect place for a doggie stop. This pet-friendly mudroom's special space for cleaning pets means the owners will never see a muddy paw print in their house again. A sophisticated palette of durable materials makes it feel sleek, despite its practical purpose.
Greek Revival Farmhouse in Lake Elmo, Minnesota. This mudroom is approximately 6′-3″ wide x 7′ long. The architects also incorporated an adjacent walk in closet.
Efficient, Family-Friendly Storage: To ensure a mudroom stays organized and clutter-free, make the space functional and efficient for everyone. Designer JoLynn Johnson of Crystal Kitchen Center says, "Coat hooks are much easier than hangers for storing outerwear, plus you can hang backpacks and purses from them, too. Double up and have two rows of hooks for longer coats on the top and shorter on the bottom, even." Like in this mudroom, JoLynn suggests using cubbies if you have the space. "Everyone in the family can have their own cubby to organize their things. Add outlets for charging phones, iPods or computers instead of letting these items clutter up the kitchen countertop."
This mudroom in a New Hampshire farmhouse features floors of sturdy Tuscan terra-cotta tile from Pavé Tile. A salvaged pine bench provides seating and space for shoe storage. The muted color scheme is especially nice — the wainscoting is painted in Benjamin Moore's Mosaic Tile; the trim, Papaya.
So see more images of this fabulous home, click here: Remarkable farm house preservation in Massachusetts
Photo Sources: 1. Pottery Barn, 2.  Alan Mascord Design Associates, 3. Crystal Kitchen Center, 4. Albertsson Hansen Architecture, 5. FGY Architects, 6. Casa Verde Design, 7. Crisp Architects, 8. Archer & Buchanan Architecture, 9. Tom Stringer Design Partners, 10. Ron Brenner Architects, 11. Country Living, 12. Arturo Palombo Architecture, 13. Wright Building Company, 14. Highmark Builders, 15. Martha O'Hara Interiors, 16. Cameo Homes Inc, 17. Kerri Robusto Interiors, 18. Eskuche Design, 19. Clawson Architects, 20. Knight Architects LLC, 21. Fluidesign Studio, 22. Karen Joy Interiors, 23. CARNEMARK, 24. Green Apple Design, 25. House Beautiful, 26. Finecraft Contractors, 27. JS Brown & Co., 28. John Kraemer & Sons, 29. Carlyn And Company Interiors + Design, 30. Ingrained Wood Studios, 31. Crisp Architects, 32. Soorikian Architecture, 33. Garrison Hullinger Interior Design, 34. Greenable, 35. Oak Hill Architects, 36. Mona Ross Berman, 37. MainStreet Design Build, 38. Peterssen/Keller Architecture, 39. Neumann Lewis Buchanan Architects, 40. Mowlem & Co, 41. GTM Architects, 42. Molly Quinn Design, 43. Crisp Architects, 44. Emerick Architects, 45. Parkyn Design, 46. Cheryl Scrymgeour Designs, 47. McGraw Bagnoli Architects, 48. Terrat Elms Interior Design, 49. Style at Home, 50. Ron Brenner Architects, 51. Rock Paper Hammer, 52. Smith & Vansant Architects, 53. Guehne-Made, 54. John Bentley Photographer, 55. Crisp Architects
We have gone through our most popular Kitchen pins on Pinterest, and we are showcasing the most re-pinned kitchens we featured here on 1 Kindesign for 2014. read more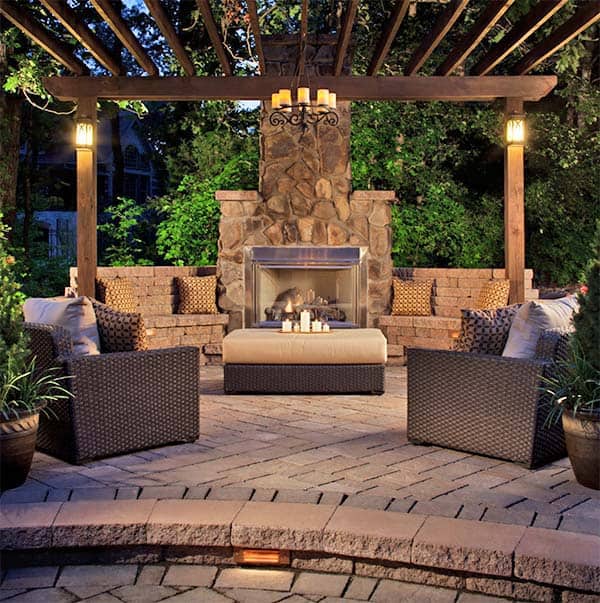 Having an outdoor fireplace on your deck, patio or backyard living room instantly makes it a perfect place for entertaining and creates a dramatic focal point. Fireplaces are not only stylish but very functional and can add great value to your property. They also make a wonderful feature for those who enjoy spending their leisure time with friends and family in their outdoor living space.
Browse pictures below of outdoor fireplace designs for decorating ideas and inspiration. Add warmth and ambience to your outdoor room with a fireplace. From fancy to rustic, find an outdoor fireplace design to suit your home's architecture and your living style. If you are still looking for some ideas for outdoor inspiration, have a look at some of our past articles on, 52 Spectacular outdoor string lights to illuminate your patio and 31 Inspiring and stylish outdoor room design ideas.
Selecting the right fireplace for your property is all about finding a suitable size that fits within the confines of your space and choosing the right materials to really create the perfect environment. When it comes to material selection, you need to first determine where you will be locating your fireplace, whether it will be in an open area that is exposed to all the elements or in a covered space. Most outdoor fireplaces are comprised of materials such as stone, brick, cement or even steel, which can all withstand harsh environmental conditions.
You also need to decide whether you would like to have a gas burning or wood fuel fireplace. Some prefer wood so they can hear the crackling sounds that brings you back to nature, where gas is more sleek and sophisticated and better for environmentally conscious types.
Gathering 'Round: A fireplace serves as a patio's focal point. A subtle pattern shift provides contrast in the patio's floor. The fireplace's surround extends into a built-in bench, offering even more seating. A poured concrete border extends to offer a back for the built-in bench.
Scene setter: This three-sided fireplace means that views are hot from almost anywhere in the yard.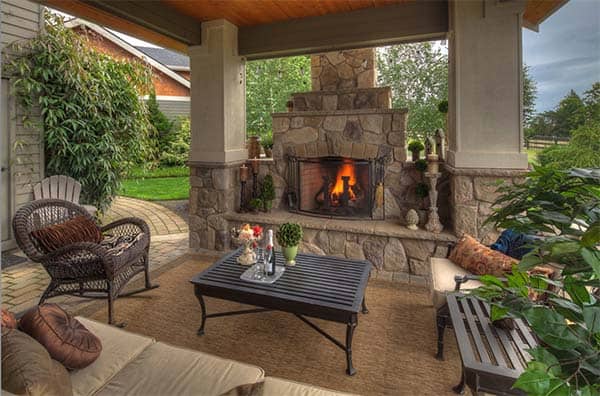 Landscape architect Andrea Cochran added warmth to this outdoor living space with a long modern fireplace.
Add Drama: Create a focal point with a large stone fireplace. This one features rough fieldstone, which gives it a rustic look that fits well with the wooded setting. Ledges mark the edge of this outdoor room and offer guests a place to sit and enjoy the fire.
Modern Rustic Patio: Chairs around a glass-topped coffee table by a patio's outdoor fireplace.
Outdoor Fireplace with pizza oven: Pizza oven, outdoor fireplace, outdoor living area, seat wall, paver patio, outdoor furniture, wood box, fire feature, planting around patio, cultured stone, natural stone, hearth, fire pit, outdoor kitchen, dining and living area, child's play structure and play ground, spacious lawn and plantings.
Saratoga Creek House nestled among a woodland site
Stone Fireplace: A stucco-finish fireplace adds textural interest to this outdoor gathering space. The smooth fireplace surround expertly contrasts the brick siding and columns as well as the rough-cut stone flooring and metal ceiling treatment.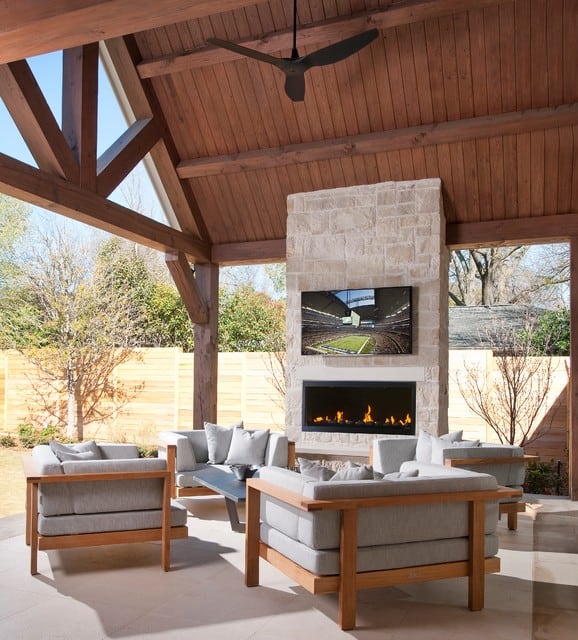 Outdoor living in Charlotte: This stunning outdoor space includes, pizza oven, outdoor fireplace, outdoor living area, seat wall, paver patio, outdoor furniture, wood box, fire feature, planting around patio, cultured stone, natural stone, hearth, fire pit, outdoor kitchen, dining and living area, child's play structure and play ground, spacious lawn and plantings.
Photo Sources: 1. Overstream, Inc., 2. Hugh Lofting Timber Framing, 3. BHG, 4. HGTV, 5. Midwest Living, 6. Culbertson Durst Interiors, 7. Nordby Design Studio, 8. Pinterest, 9. ARNOLD Masonry and Landscape, 10. Pinterest, 11. Paradise Restored Landscaping & Exterior Design, 12. Creative Sights N Sounds Inc., 13. Centre Sky Architecture Ltd, 14. California Home + Design, 15. Belgard, 16. Jason Dewey Photography, 17. LDAW Landscape Architecture, 18. Dana Nichols, 19. CM Glover, 20. Pinterest, 21. BHG, 22. Eldorado Stone, 23. Eric Olsen Design, 24. Pinterest, 25. Green Island Stonework, 26. Lonny, 27. Locati Architects, 28. BHG, 29. Albrecht Wood Interiors, 30. SALA Architects, 31. Witt Construction, 32. – 34. Pinterest, 35. Paradise Restored Landscaping & Exterior Design, 36. Sage Outdoor Designs, 37. Locati Architects, 38. Dewson Construction Company, 39. Toby Ponnay, 40. WA design, 41. Pinterest, 42. BHG, 43. Eldorado Stone, 44. Tatum Brown Custom Homes, 45. Pinterest, 46. SchappacherWhite Architecture, 47. Sunmar Construction, 48. TG&R Landscape Group, 49. Cornerstone Architects, 50. Locati Architects, 51. Outdoor Living Kits, 52. – 53. Pinterest
When it comes to home renovation and decorating on a budget, having limitless possibilities and jumping on upgrades and modifications can quickly unbalance checkbooks. read more
When decorating your modern living room for Christmas, you don't have to go over the top to get that Christmassy feel, just add a gorgeous tree and a few well-placed decorations. By nature, a living room is meant to be a special place to relax and spend time with family and friends. When decorating this relaxing space, try focusing on the fireplace first, which is usually the main focal point of most living rooms. Decorate the mantle with festive garland, stockings, wreaths, candles, ornaments and other holiday related items. If you don't have a fireplace, make the Christmas tree your focal point and get creative with hanging your stockings, such as hanging them on the wall or from a shelf or even from a piece of furniture such as a console table. So this holiday season, spend time filling your living room with personal modern touches that will create a festive atmosphere to ring in the New Year. Happy holidays from 1 Kindesign!
These Christmas decorating ideas that we have gathered for you below will have your space overflowing with holiday cheer. If you are still looking for more holiday decorating inspiration, have a look at one of our past articles on Christmas decorating ideas for small spaces 50 Christmas decorating ideas to create a stylish home and Five warming interior designs for your living room this Christmas.

Go Sophisticated: Although the classic red-and-green scheme has dominated holiday living rooms, this modern sitting room proves that your existing color palette can inspire the prettiest of holiday themes. Black, white, gold, and gray mix together in both ornamental and everyday vignettes for a look that feels transitional and on point.
Use a Simple Color Scheme: A classic white living room can be holiday-ready with just a few cozy accents and pops of red. Crafty trees on the mantel and birch logs in the fireplace set a whimsical stage for bright red stockings and accent pillows.
Utilize Existing Shelf Space: Clear your display shelves and replace everyday elements with wrapped gifts. It will save you some room under the tree and add height to your Christmas decorations.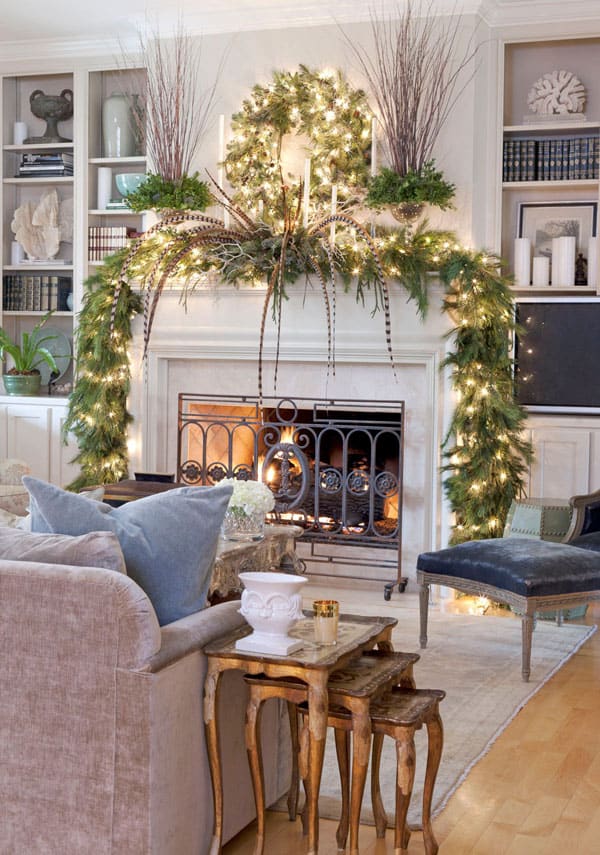 Use Nontraditional Christmas Decorations: Inspire awe with an outside-the-box Christmas living room. Display fruits and plants on the coffee table. Instead of a traditional tree, use small potted evergreens as festive bookends to a fireplace.
Modern metallic Christmas living room: For a show-stopping living room, you can't beat a shimmering silver color scheme like this. A backdrop of gray walls is the starting point for the room, with furniture and furnishings falling into place around it…think shimmery velvet rugs, a plush sofa and accent chairs.
Add extra sparkle for Christmas with luxe baubles in shades of silver, platinum, pewter and chrome, piled high in a bowl or on a Christmas tree.
Contemporary Christmas: Create a modern Christmas scheme with a stylish Graphite colored Christmas tree. Make sure you keep the scheme warm with rosy colored fairy lights.
Raspberry and grey Christmas living room: Rich berry shades make a room feel warm and welcoming, but against a matte charcoal backdrop, this living room looks chic and contemporary, too. For Christmas, keep decorations modern, with a mix of pink, raspberry and purple baubles, contrasted against silver and mercury glass touches. Three laser-cut card wreaths create a focal point positioned above the sofa.
A classic green tree with red and gold trimmings would not have suited this all white-and-teal living room. Instead, a flocked Christmas tree with turquoise and silver ornaments looks modern and chic while still in keeping with the glamor and function of a traditional tree.
Make Your Decorations Sparkle: Dress up your living room with sparkling Christmas decorations. Vases filled with ornaments and a blue beaded swag shimmer on the mantel, while a frosted Christmas tree glimmers with white lights and icy blue and silver accent ornaments.
Brighten the Room with Citrus Colors: If your living room boasts furniture with retro appeal, create a playful and fun holiday atmosphere. A pretty, warm color scheme and playful accents like paper Christmas ornaments, polka dots, and a party-ready bar create a funky, vintage atmosphere.
Simple silver Christmas living room: This living room keeps it simple in its color scheme, decorating the tree with glitter baubles, frosted snowflakes, crystal droplets and twinkling white fairy lights. Try positioning a large mirror center stage, then group a collection of silver candlesticks, picture frames and small clusters of candle votives in front of the mirror.
Try a Unique Color Scheme:  Punch up traditional red and green with pops of fuchsia. Introduce the color in small doses: a throw on the couch, ribbon on a wreath, trim around a lampshade, or even gift wrap on the packages. Here, miniature white Christmas trees are bedecked all in pink to bring the color center stage.
Create an elegant winter wonderland with trees that lend a magical glow to indoor and outdoor settings. The branches, dusted with snow and warm-white lights, look elegant on their own or can be strewn with garlands and ornaments.
Add Personal Touches: This year, spend time filling your living room with personal touches that transcend the trends. Fill mantel and tabletop spaces with your favorite scented candles, add looped greenery garlands to the fireplace and string another along your gallery collection of family photographs. Finish with a collection of tiny tabletop Christmas trees.

Sleek Scandinavian: For a sleek and airy look this holiday season, you can't go wrong with decorating in a Scandinavian theme. The basic black and white color palette helps make the space clean lined and chic, which pops of red and green adds a dramatic contrast.
Bold bursts of fuchsia: Matching chaises designed by the homeowner creates a welcoming spot for guests to cozy up to the fireplace with drinks and nibbles in the living room; the barnboard-clad console adds a hint of rusticity. The cowhide rug with hits of shimmer livens up the neutral color palette, as do the bold bursts of fuchsia in the accessories and Christmas decorations.
Mix Contemporary and Classic: Keep your vintage Christmas decorations fresh with a few modern touches. If your tree is bedecked with antique bulbs, go modern by limiting your gift wrap to a few colors — such as chocolate and lime.
Add Pops of Color: Transform your neutral living room into a beautiful winter wonderland with a few bursts of color. Evergreen twigs and pinecones are an easy and natural upgrade for your mantel or coffee table, while an unfussy wreath becomes a dramatic focal point on an oversize mirror. Candy-cane-striped ribbons are an easy way to brighten snowy stockings.
Photo Sources: 1. Pinterest, 2. Marcus Hay, 3. Bliss at Home, 4. Almost Makes Perfect, 5. BHG, 6. Anythingology Blog, 7. Pinterest, 8. Asda, 9. BHG, 10. Hunted Interior, 11. At Home in Arkansas, 12. B.Dk, 13. BHG, 14. Pinterest, 15. EBay, 16. House to Home, 17. Lacquer and Linen, 18. BHG, 19. Pinterest, 20. House to Home, 21. Hunted Interior, 22. Pinterest, 23. Heather Freeman Design Co., 24. Monica Buck Studio, 25. BHG, 26. Pinterest, 27. C.R.A.F.T., 28. Modern Christmas Trees, 29. Lia Griffith, 30. BHG, 31. Centsational Girl, 32. Pinterest, 33. Elisabeth Heier, 34. House to Home, 35. BHG, 36. Pinterest, 37. Jenna Burger, 38. Restoration Hardware, 39. Style at Home, 40. Olive & Hazel, 41. The Jubiltree Company, 42. Style at Home, 43. Pinterest, 44. Wisteria, 45. My Scandinavian Home, 46. Marcus Hay, 47. Dillard Jones, 48. Teakwood Builders, 49. HGTV, 50. – 51. Style at Home, 52. BHG
Popular this week