Browsing articles tagged with "New York Archives - Page 2 of 19 -"
Chelsea townhouse is a three story contemporary renovation with a garden extension completed in 2011 by architecture studio Archi-Tectonics, located in Chelsea, New York. The existing 3,400 square foot brownstone townhouse is a New York landmark. The existing structure was gut-renovated and a 550 square foot garden extension was added to two floors and a roof terrace. The client, a fashion designer, was interested in a 'textured' and layered approach.
The new rear extension is conceived as a light airy space which creates a filter to the garden space beyond, adding more light and better views. The new garden facade is a 3d folded steel and glass structure with reclaimed tropical palisander infill. It extends the library on the garden level, the living room on the parlor floor and creates a terrace for the master bedroom area above.
The interior of the townhouse is gut-renovated; the top floor is raised, the garden floor is lowered and a completely new wood and glass staircase with a skylight is inserted, lighting the stair space all the way down. Large sets of sliding doors at the living/ entry and bedroom/bathroom areas are creating flexible use of space; these doors are 3d CNC milled with wood and glass patterns.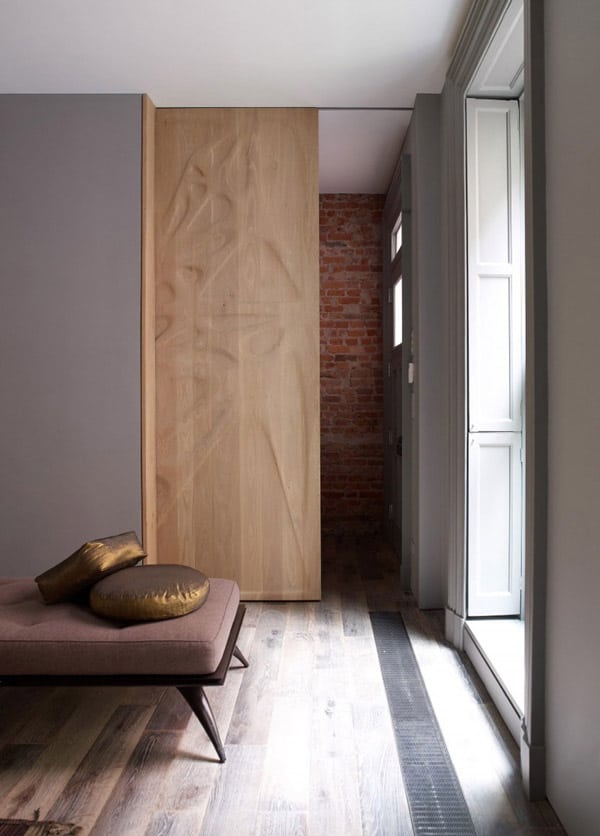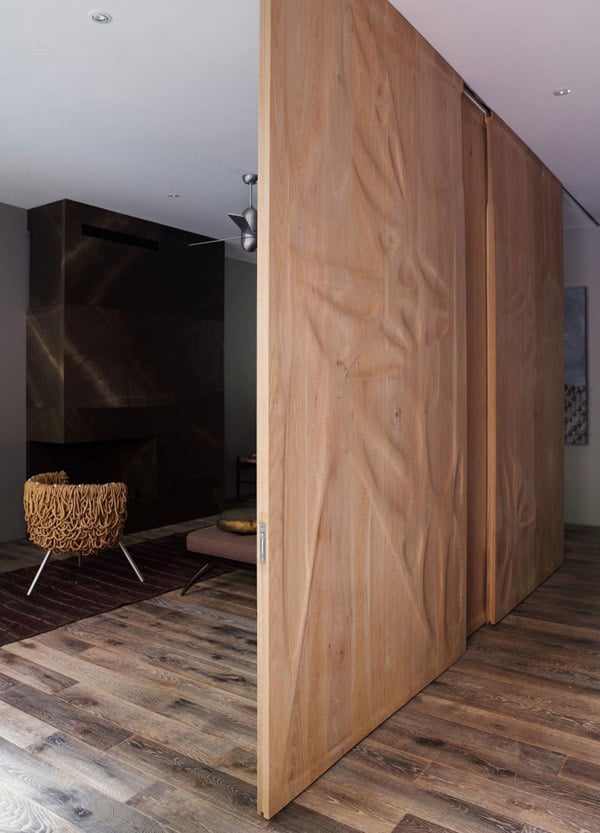 Photos: Richard Powers
Shelter Island House is a waterfront property that has been designed by Michael Haverland Architect, located on almost four acres on the highest point on Shelter Island, New York. After careful analysis, the existing beach cottage was retained to be "green" and not wasteful.
The 3,400 square foot addition is modern yet contextual, composed of two simple volumes with traditional pitched roofs, mirroring the angles of the existing house roof. Large walls of glass and simple planes of stucco are juxtaposed in a modern composition. Steel casement windows and doors have mullions and panes that are the same proportion as the existing house, but significantly larger to capture the magnificent views.
The living room volume faces north, to the North Fork and Connecticut, and the master bedroom and guest suite volume shifts to the northwest to capture sunset views, providing separation and privacy from the rest of the house and outdoor spaces. A foyer connects the old and new with a flat roof and deck above. The existing house is reconfigured to include a larger kitchen, proper dining room, porch with breakfast seating and four bedrooms.
The eclectic interiors include significant pieces that are colorful and bright and comfortable but elegant at the same time. The outdoor dining table and chairs, pine banquette and lounge and other furniture was custom designed.
Photos: Laurie Lambrecht
We just received photos of this Greenwich Street penthouse loft project, a former warehouse transformed by Turett Collaborative Architects into a live-work space, located in Manhattan, New York. The warehouse offered the architects the opportunity to blend modern New York with its historic past. The spacious open floor plan had originally been used as a painter's studio. Except for a small kitchenette and bathroom, the bare, open penthouse loft revealed exposed brick walls and a topography of ceiling joists supporting the roof above. The space offered an abundant amount of light thanks to both western and southern exposures flooding into the interior.
The raw and open space allowed the architects to create discreet zones within a larger space. The architects worked closely with the clients, bringing a thoughtfully designed, handcrafted living and work environment tailored to an expanding TriBeCa family.
Access to the upper living spaces is provided by a custom blackened steel and oak ship's ladder that sits discretely off the main foyer entry giving the couple the opportunity to go straight to work without ever disturbing the continuity of private life in the spaces below. The soaring 17-foot ceilings, abundance of wood-framed windows, and custom Arrigoni wide-plank Bavarian oak floors envelope a vast and open entertaining expanse.
At the south end of the loft is a two story glass and steel wall that allows light to flood into the loft from the south, while defining the master bedroom suite  in its own separate wing. A split bedroom layout offers two bedrooms at each end, with the master suite commanding an enormous dressing room/closet and equally huge private bath.
The suite is composed of both a double height master bedroom and den which can be used simultaneously when the door between them is opened.  A custom blackened steel surround on the bedroom side includes a sliding panel when privacy is desired.  When required, curtains along the glass wall in both the master bedroom and den can be drawn to allow for complete and total privacy.
One end of the dining room features a 6 foot long gas fireplace while the other is anchored by a built in piece of millwork that acts both as a credenza for storage of plates and linens on one side, and an a/v cabinet on the other with a concealed TV that can be raised with the touch of a button.  A structural glass skylight directly above the dining area floods the room with additional light from the outdoor terrace above.
It was the client's desire that the kitchen be the heart of the space.  Cooking and entertaining for family and friends is an integral part of the client's private life.   As such, the kitchen island is center stage and a central monitoring point for a growing family of four. The dining  room, and living room spaces are immediately adjacent to the kitchen.
Designed in conjunction with Poliform of Italy, the white acrylic cabinet surfaces, calacatta marble counters and sleek Gaggenau appliances provide the backdrop to the act and art of cooking, one of our client's passions.   Small touches like the custom calacatta chevron mossaic backsplash and concealed outlets that pop up from the main kitchen countertop island add distinctly personal touches.
A glass sided rooftop pavilion brings light and connectivity into the inner reaches of the living space below. Surrounding the pavilion is an amazing 1500 square foot outdoor terrace. The pavilion helps to partition the space off into four discrete zones: an outdoor living room, formal dining area, sunbathing deck and outdoor kitchen and bar. Custom built and fully landscaped, this outdoor oasis features Ipe wood decking, a custom Wolf stainless steel BBQ, full kitchen, and irrigated Ipe planters bursting with lush plantings – oh, and magnificent views of both the city and Hudson River.
Both the glass structural skylight above the dining room and the glass and steel pavilion transmit soft, glowing light from the interior space below.
More generous ceiling heights above the two bedroom cores created an opportunity for two home offices.  These upper spaces are encircled  by starfire frosted glass guardrails allowing walls below to blend seamlessly with the glass above.
TCA was commissioned to custom design each of their work stations. Each desk is comprised of a tapered blackened steel tube base with cantilever arms that support the desktop surface, hovering above, on pins located at the end of each arm. To add to the sense of lightness the desktop surface, made of lacquered mdf, is beveled back to reveal an imperceptibly thin edge.
Duravit sinks, luxurious marble baths with radiant heat floors, steam showers and deep soaking tubs create spa-like bathrooms.
The closet acts as a buffer space between the master bedroom and bath whose walls are entirely clad in slabs of Calacatta marble.  The tub is the centerpiece of the bath with a waterfall tub filler emerging from the enclosing stone walls.  Immediately next to the tub is a wall of glass which conceals the private toilet compartment and a steam shower with an integrated stone bench. The floor and wall niches in the wet areas features the same custom Calacatta chevron marble found at the kitchen backsplash.  A custom oak vanity and mirror wall with integral cove lighting completes the spa like experience.
Photos: Courtesy of Turett Collaborative Architects
Bridge Loft II is a spacious two storey industrial penthouse loft with trendy glamor, located in the DUMBO district of Brooklyn, New York. This residence offers two bedrooms and two bathrooms, a rooftop terrace with a garden to enjoy the spectacular city views and plenty of amenities. If you would like to stay here, the home sleeps 4-6 people, with a minimum stay of five nights, from here.
Iron and wine

Brooklyn may have transformed its industrial hide for a newer and trendier outfit, but down under the Manhattan Bridge overpass – that's "DUMBO," if you please – things haven't gone soft. In Water Street, two bedroom and two and-a-half bathrooms inject a craft polish into this an aesthetic composed of cement on steel, soaring ceilings, and two stacked storeys of wide-eyed windows announcing an unmistakeable industrial loft legacy. Industrial, spacious, but with trendy glamor Water Street is adorned with plush furnishings, hide throws, and fine art fixtures that speak to an attentive, hand-moulded sweetness – a homage to craft, hand-made sensibility and the eclectic flair of artsy DUMBO. Space is no object here – peer out over sweeping vistas of the East River and twinkling Manhattan beyond to see for yourself.
Industrial revolution

Your hosts are a family of inventive New York City natives, trailblazers of industries both aural and spatial. Long-time residents and lovers of DUMBO in particular, over the years they've labored to shape a cozy and distinctive home here in Brooklyn's creative boiler room.
Pre-fabulou

Elevator doors part to deliver you directly into penthouse-level Water Street, a well-oiled machine fueled on the eclectic. Two storeys'-worth of picture windows soar unobstructed in places, making for an airy, atrial feel. Cool your engines on the lower of the two floors, where the sage- and smoke-grey kitchen, living room, and dining room come together in a loosely woven warp and weft. Sprawl at shift's end on the sun-warmed Dunbar sofa, or feast like a steel baron by the city lights (or the light of a modern, smoked glass chandelier). Shift gears to the second floor, where a cozy, coal-colored den is stocked with books and arresting, changeable vistas – all the raw materials necessary to fire up a dreamy diversion. At quitting time, dust off the city in the steel and stone master washroom before retiring to your minimal, steam-grey master bedroom – with its private terrace, it's also a port to the open air and the perfect post for a master overseer to observe the whirr of metropolitan gears.
Goods and services

DUMBO is the beating heart of Brooklyn's creative industry. A powerhouse of art and design, it's coveted for its surprisingly quaint cobblestone streets, landscaped promenades, and proximity to Manhattan (it doesn't get any closer than this). Take a stroll over the Brooklyn Bridge – it's an easy jaunt into the city, and the views en route are finest in this direction. If you prefer quicker carriage, the High Street A and C lines, and the F at York Street, will deliver you to your destination in a wink.
This Tribeca Loft project encompasses a complete modern renovation of a 10th story loft by architect Aaron Schump, located in the Tribeca neighborhood of New York City. Extensive glazing on three facades presented a unique design challenge for this project.
A bar of walnut housing the kitchen and service areas organizes the plan. Bedrooms were pushed to the south and west, leaving the north-west corner free for entreating and unobstructed views of the Hudson river. Aaron Schump served as project manager at SPaN overseeing the entire project from design to construction administration.
AS//A is an architecture, urban design and research studio operating at the intersection of civic and ecological systems, urban and rural environments, and digital and physical processes. We explore the complexity of these relationships through a rigorous and collaborative design process aimed at uncovering the specifics of place, culture and materials to create buildings that are environmentally and culturally responsive. Focused on crafting value at multiple scales, we aim to achieve maximum aesthetic and social influence while employing minimum economic and environmental impact. We believe that well crafted spaces can positively affect our quality of life by creating sustainable places to live, work and play while maintaining respect for people, cities, and nature.
Photos: Courtesy of Aaron Schump
Hudson Woods is a unique collection of locally sourced dwellings designed by Lang Architecture, located in the Hudson River Valley, Kerhonkson, New York. Developed, designed and built by the architecture team, Hudson Woods offers modern, sustainable design at exceptional value to buyers. This project is scheduled for completion in 2016.
100 miles from New York City, 26 modern, refined and energy efficient homes on large lots are nestled into the forests and meadows of the 131-acre site. With an emphasis on responsible land use, including active forest management and on-site agriculture, Hudson Woods aims to nurture and protect the extraordinary natural beauty of the region. With a diverse offering of options, including a wood-burning stove, outdoor cooking, greenhouse, tree house and more, residents can assemble their own vision of a retreat into nature.
Humble and private upon approach, the simple vernacular house form fits sensitively into the topography of each site. Once inside, expansive views to the surrounding landscape are framed through custom mahogany windows. The interior is modern and warm, with an abundance of local white oak surfaces and details. Throughout the home, craft is on display from solid wood doors with sand cast bronze hardware to custom freestanding kitchen island and pantry units produced in collaboration with local craftsmen.
Photos: Courtesy of Lang Architecture
Broadway Penthouse is a modern property consisting of an amazing urban garden designed by Joel Sanders Architect, located in New York City, New York. read more
This renovated four story brick townhouse has been designed by Turett Collaborative Architects, located on East 61st Street in the Upper East Side of New York. In the redesign of this 100 year old 4,500 square foot townhouse, the interior and back walls were removed and reconstructed; now, a large airy skylight above the staircase in the midsection of the house floods every room with natural light.
Expanding livable space appealing to modern aesthetics is a primary design challenge in townhouse renovation. In our renovation of this 61st street townhouse, the interior and rear walls were removed and reconstructed.  With floor-to-ceiling windows and skylight, natural light now floods every room.
The beauty of this townhouse is in the simplicity of its design, and in the use of natural materials to enhance it. Stone, steel, travertine and fiber-cement panels are used extensively on the exterior, while frosted glass, white stained maple, and polished steel adorn the new interior. The clear spatial configuration, innovative glass addition, use of natural materials and attention to neighborhood integrity, work in harmony to redefine a modern townhouse.
The townhouse garnered national attention when it was used as the on-camera contestants' residence for Bravo's "Make Me a Supermodel."
Townhouse Design Tip

Townhouses are often defined by a narrow width with multiple floors. Stair design demands design creativity and innovation to make optimal use of space and to amplify a sense of opens.  Consider waterfall or "sawtooth" oak treads and risers which cantilever over the painted stair stringer enhancing the perceived thinness of the stair section.  Glass walls define the stair circulation zone at the lower two public floors,  transitioning to a  custom designed steel guardrail.
Photos: Courtesy of Turett Collaborative Architects
Upper West Side Combo is a prewar apartment renovation by design firm StudioLAB of two dark and tightly configured units into a single unified space, located in Manhattan, New York. The designers were challenged with the task of converting the existing arrangement into a large open three bedroom residence.  The previous configuration of bedrooms along the Southern window wall resulted in very little sunlight reaching the public spaces.
Breaking the norm of the traditional building layout, the bedrooms were moved to the West wall of the combined unit, while the existing internally held Living Room and Kitchen were moved towards the large South facing windows, resulting in a flood of natural sunlight.
Wide-plank grey-washed walnut flooring was applied throughout the apartment to maximize light infiltration. A concrete office cube was designed with the supplementary space which features walnut flooring wrapping up the walls and ceiling. Two large sliding Starphire acid-etched glass doors close the space off to create privacy when screening a movie.
 High gloss white lacquer millwork built throughout the apartment allows for ample storage. LED Cove lighting was utilized throughout the main living areas to provide a bright wash of indirect illumination and to separate programmatic spaces visually without the use of physical light consuming partitions.
Custom floor to ceiling Ash wood veneered doors accentuate the height of doorways and blur room thresholds. The master suite features a walk-in-closet, a large bathroom with radiant heated floors and a custom steam shower. An integrated Vantage Smart Home System was installed to control the AV, HVAC, lighting and solar shades using iPads.
Photos: Courtesy of StudioLAB
Upper East Side Townhouse was a renovation and re-decoration project carried out by Steven Harris Architects in collaboration with interior designer Rees Roberts + Partners, located in read more