Browsing articles tagged with "real estate Archives - Page 2 of 35 -"
Having a house on the market for several months and not attracting any offers or interest is not only an extremely frustrating experience but can also cause you to put your dreams and hopes on hold while you are unable to move away from your current home.
There are typically two main reasons why someone chooses not to buy a house. Either the price isn't right (too high) or the house is not what they're looking for. If you've engaged the services of a good estate agent then the first should not be a problem; your estate agent will have assessed the value of your home and valued it using comparisons to other homes that are on sale in your area, homes that have been recently sold and homes that have failed to sell.
Assuming your house is priced correctly the likely problem is that your house is just not attractive enough to potential buyers. This can be hard for some sellers to understand because they love their home and it has everything that they need. However your taste might not be the same as your buyer's taste and you might want to consider making some changes to your home to raise the value and help buyers to see that it is the house for them. Selling your home is about showing off your home in such a way that potential buyers can imagine themselves living there – and sometimes you need to make a few small changes and additions to help this happen.
Three Simple Ways to Improve the Likelihood of Selling Your Home:
Fix Those Small Problems – The average person is busy and getting busier. Less and less people are looking for homes to fix-up and would prefer to move into a house that is perfect straight away and requires no work. This means that the small issues in your home which you overlook, or not even notice, may be putting off potential buyers, even if they're only superficial problems. Get out your tools and get working or hire a local handyman and make sure your gutters are cleaned and fixed, the garden is looking as good as possible and that spot on the ceiling from when the bathroom flooded five years ago is sorted!
Use Neutral Colors – When buyers visit your home they are trying to visualize what it might look like if they move in and lived there; as a buyer it is your job to help them do this. Your idea of interior design might involve bright colors or patterns on your walls but this won't help your buyer think about moving in. Check out this post about the best paint colors to choose. Consider repainting your rooms in neutral colors such as white or cream, this will help your potential buyers imagine what they might do with the room.
Build a conservatory – Building a conservatory is one of the easiest ways to improve what your house can offer to buyers. Make sure you choose a decent roof as this can make a big difference to how people perceive the house. The house is extended by an extra room at a cost far lower than that required for a true extension. Once you've built the conservatory your home will be worth more so you can recoup the costs (and often more) when the value of your home goes up. Your home will also be more attractive to buyers especially if other houses in your area lack this feature.
1  Kindesign readers tell us what mistakes you have made when trying to sell your home!
Photo Sources: 1. Pinterest, 2. VanBrouck & Associates, 3. Front Door, 4. Alexander Design Group, 5. Arcanum Architecture, 6. Bosenberg and Company Landscape Architects, 7. Structures Building Company, 8. Studio S Squared Architecture, 9. Ownby Design, 10. Raven Inside Interior Design, 11. Home Gallery Store, 12. Ballard Designs, 13. The Design Co., 14. Linda Burkhardt, 15. Dominick Tringali Architects, 16. Martha O'Hara Interiors, 17. B. Jane Gardens, 18. HartmanBaldwin Design/Build
This newly built modern villa is located in the exclusive residential area of Santa Ponsa, Mallorca, Spain, with stunning sea and mountain views, close to the marina of Port Adriano. This sensational home encompasses 4,994 square feet (464 square meters) of living space with four bedrooms and three bathrooms. The ground floor offers an open kitchen with spacious living/dining room, another room that could be used as an office or TV room plus a guest toilet.
This fabulous property is currently listed for sale, spotted on Sotheby's at $3,636,885.
The first floor disposes of four bedrooms, two of them with en-suite bathroom and dressing room, plus another separate bathroom. All bedrooms enjoy access to the terrace with fantastic views over the bay of Santa Ponsa. On the roof terrace there is an outdoor kitchen with dining and chill-out area.
The basement disposes of built-in closets/wardrobe, fitness room, laundry room and a garage with three parking spaces. Special features include a 'Bulthaupt' kitchen with built-in appliances from Miele and Gaggenau, floor heating, lift, marble flooring in the ground floor, oak flooring on the first floor, oak cupboards, double glazed windows from Schüco, Infinity-pool with green marble stones, private outdoor courtyard, lighting system, integrated sound system, air conditioning hot/cold, solar panels, fireplace, high-quality equipment and facilities and outdoor blinds on all windows.
The shopping possibilities in Santa Ponsa are just a short drive away and the luxury marina of Port Adriano with its restaurants, cafes and shops can be reached in just three minutes by car.
521 Chalette Drive Estate was built by Gordon Gibson Construction, located in luxurious Trousdale Estates, a neighborhood in Beverly Hills, California. The 5,638 square foot, four bedroom, five bathroom home offers spectacular city and ocean views from nearly every room while setting the bar for high-end quality. Architecturally inspiring with a tribute to mid-century clean lines joined with modern elegance, a package that radiates warmth and maximizes the scale and proportions.
We spotted this fabulous property listed for sale at $14,500,000, from here.
This luxurious estate is private and gated, equipped with state of the art Crestron home automation that creates a lifestyle of effortless functionality and security.
Completely reimagined and meticulously designed with open spaces and Fleetwood pocket doors throughout that seamlessly integrate the interior and exterior, offering the ultimate California lifestyle.
From frameless glass garage doors to Calcutta gold kitchen counters and backsplash, a spa that floats inside the zero-edge pool, this brand new edition to Trousdale is a true masterpiece of sophisticated home design.
2251 Linda Flora Drive is a recently constructed compound that sits at the end of a very long, gated drive overlooking 350-acre untouched Hoag Canyon, in Bel Air, California. Reminiscent of Richard Meier's Getty Museum, the 9,300 square foot, four bedroom, four bathroom home is encased in beautiful travertine stone. It features monumental scale and proportion, large disappearing glass doors and an organic and seamless indoor-outdoor flow.
This fabulous home has recently been listed for sale at $12,500,000, from here.
An impressive reflecting pool welcomes guests and enlivens the entrance. With 14-foot high ceilings and a 34-foot high central gallery with a roof-long skylight, this home is an art collector's dream, suited to both private contemplation and large-scale entertaining.
The superb chef's kitchen (which features a breakfast area overlooking the reflecting pool, a large center island, and integrated Miele/Wolf appliances) can be closed off for catered affairs or left open to the voluminous living and dining areas.
 A dramatic home library peers down through a glass floor into the walk-in wine room, as well as looking out to the sylvan "amphitheater" (perfect for your next TED Talk). A sumptuous guest suite is also located downstairs.
Upstairs resides the master suite, with its light-filled, spa-like bathroom, a roomy dressing room/closet resembling a tony boutique, and an extensive outdoor deck with fireplace and broad views. Also upstairs is a large office (which has been plumbed in case one wanted another bedroom suite upstairs).
A guest house with permitted kitchen, sliding glass walls that leave you "floating" over the colossal view, and a three-car garage lay across the motor courtyard.
The 3.2 acre property is just as captivating as the architecture. In addition to the endless hiking trails, the property features a swimmer's and diver's pool with a sun-drenched pool deck; two separate lawns; and an entertaining loggia with its own fireplace.
Daylight is engaged as an architectural element throughout the house, pouring in at every angle of opportunity; the path of the California sun creating ever-changing experiences and moods like moving art. Night is just as dramatic with its symphony of stars, the flickering of flames, the shimmering of illuminated water and the thoughtfully-designed landscape lighting.
Once you have settled in to this architectural retreat, it is easy to forget that you're only minutes away from the best of what Los Angeles and Beverly Hills has to offer.
Photos: Jim Bartsch
Holmby Hills Residence is a contemporary three level, glass encased compound designed and built by London-based Quinn Architects and Estate Four, nestled on a lush property in Holmby Hills, Bel-Air, California. Located in one of the most sought-after addresses in the world, the 14,500 square foot contemporary villa showcases panoramic views of the Hollywood Hills and the sea beyond. The scale and proportions of this seven bedroom, seven-and-a-half bathroom home are breathtaking, framed on all sides by mature trees and greenery. Secluded and utterly private, the home offers exquisite amenities and wonderful indoor-outdoor flow, with a sophisticated sense of space.
This home is also listed for sale at a mere $45,000,000 asking price, from here.
The main entrance is dramatic, offering an immense motor court and impressive 20 ft high canopy. This leads you to the luxuriously spacious living room, with its earth-toned color scheme, floor to ceiling glass, and soaring 20 ft high ceiling, tailor-made for displaying large-scale artwork.
The home's interiors feature the highest quality materials throughout, from a marble-clad stairwell to custom recessed lighting to the American black walnut flooring. You'll enjoy an abundance of natural light and high ceilings in every room. Each space feels like a suite unto itself, and almost every room boasts its own outdoor patio or balcony with views. As you travel between rooms, dramatic vistas unfold. Transparent facades and sliding doors fuse indoor and outdoor living to exhilarating effect.
Off the 75 foot central gallery – ideal for an art collector – the second living area boasts a 14 foot high ceiling and direct access to the outdoor terrace and pool.
 An ultra-spacious kitchen features a state-of-the-art Molteni design with integrated lighting, Dada/Miele appliances and direct access to the terraces and custom-tiled infinity pool.
Upstairs, the wide-open master suite combines a sophisticated master bedroom, huge master bath, 3 private walk-closets, powder room and separate offices. The master also boasts an extensive balcony looking out over the pool and tennis court.
The main sleeping spaces, including a 2,000 square foot master bedroom suite, take advantage of the Hollywood Hills scenery from the upper levels of the residence, with this site's views rated to be among the finest in the whole of Holmby Hills.
The 3-level home also features six other elegantly appointed bedroom suites, three living rooms, formal dining room, two libraries/studies, double-height gallery, spacious fitness center, home theater, catering kitchen, elevator and wine cellar. The estate integrates a cutting-edge audio-visual system that uses an iPad interface, everything automated and with maximum security. This is truly an estate for the ages.
The resort-like grounds are ideal for relaxing and entertaining, with 6,500 square feet of terrace space in addition to the pool, landscaped gardens, outdoor kitchen, flat lower lawn and a gorgeous astro-turf tennis court with floodlights. Mature trees provide a natural border of the property, and together with the tiered pool and gardens, it feels as if you are on a luxurious island looking out over your own private park.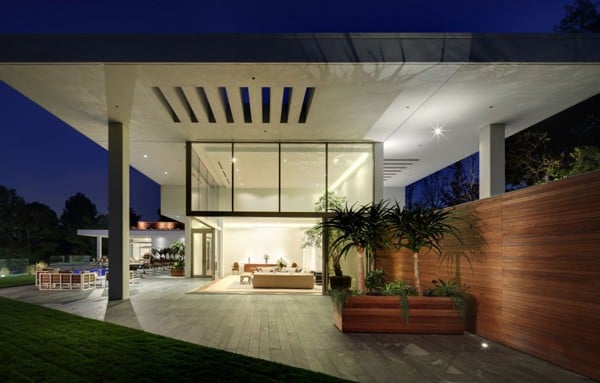 Photos: Courtesy of The Agency & Berlyn Photography
This charming one bedroom apartment spotted on Alvhem is situated in a beautifully preserved Art Nouveau building dating from the last century, located in Linnéstaden, Gothenburg, Sweden. read more
The Robert Smith House is an iconic mid-century post and beam house designed by prolific architect Eugene Weston who collaborated with Douglas Byles, located in Pasadena, California. read more
9133 Oriole Way is a stunning modern home offering sweeping, panoramic views of the entire LA basin, perched on the highly desirable "Bird Streets" above the Sunset Strip in Los Angeles, California. The brand new 12,530 square foot, five bedroom, ten bath estate was meticulously designed to deliver clean lines with wide open spaces, walls of glass and Fleetwood pocket doors throughout that seamlessly fuse the interior and exterior, offering the ultimate California lifestyle. The materials, details and natural light are exquisite.
This modern property was spotted on The Agency and is on the market for $38 Million, with all designer furniture included in the sale price, here.
Owner Sean Sassounian, in close collaboration with top design firm In-Ex, focused intently on the well-curated interior, sparing no expense. The impressive list of European manufacturers includes furniture by Acerbis, Arco, Classicon, Glas Italia, Matteo Grassi and Walter Knoll; custom lighting by Foscarni; closets by Molteni; outdoor furniture by Paola Lenti, Kettal and Roda; and laundry room, kitchen and pantry by DADA. In addition, the art in the house is specially curated by the Michael Kohn Gallery ­– with notable and emerging artists, many from California.
Main level offers a spacious Grey and White Lacquer DADA kitchen that flows to attached sitting/media room, facing out to the pool and lush hills. A massive marble island in the kitchen complements the integrated Miele appliances, and a hidden door leads to an entire catering kitchen behind the main kitchen. Formal living room with high-ceilings and spectacular views boasts a full bar and flows to a gorgeous master office with floor-to-ceiling windows. A sophisticated library/media room provides views over West Hollywood and the Sunset Strip. Tasteful built-in cabinetry throughout. Extremely private, even with the glass and indoor/outdoor flow.
The grand entrance of the home features lush grounds, a fountain, custom blended grey terrazzo floors, and a massive American oak door behind double gates. This is a truly chic, one-of-a-kind home on one of the best streets in Los Angeles.
Upper level, enjoy 4 bedrooms with wrap-around windows and automated blackout blinds – you feel like you're on an island in the hills floating above the city. Hidden TVs drop from the ceiling. Views everywhere. Even the master walk-in closet has a large window and amazing view. All bedrooms are en-suite and feature walk-in closets.
Master suite boasts a huge custom master bath with views overlooking the back pool and canyon – dual rain-heads; deep soaking tub & spa; a mesmerizing hall of mirrors effect. Master bedroom faces west for incredible sunsets and afternoon light. Enjoy a private balcony overlooking pool and an attached office and wet bar.
Lower level, find a full gym with shower, separate massage room, powder room and full bath; wine cellar with its own bar; screening room with custom-installed marble bar-counter; en-suite guest room; and a spacious garage with room for eight vehicles, plus a carport for two.
Resort-style backyard offers an infinity edge pool & spa, outside patios with 270-degree birds-eye views, complete outdoor kitchen, full bath and a spectacular dining and entertaining area. Outdoor kitchen has all Viking appliances and stainless steel Viking cabinets.
Espiritu Del Mar Estate 17 villa is perched along an ocean-view ridge with sweeping vistas of Palmilla Bay, San Jose's city lights and the mountains of the East Cape in Los Cabos, Mexico. Situated in the heart of Espiritu Del Mar, a world-class destination resort, the 5,320 square foot, five bedroom, seven bath property is just a stroll away from the Club Espiritu health and fitness retreat and a quick golf cart ride from the Club Ninety Six beach club.
Spotted on The Agency, this sensational property is listed for sale at $7,150,000, from here.
Estate 17 is designed to seamlessly blend indoor and outdoor living so that you and your family can fully enjoy the highlight of life in Los Cabos – year-round sunny weather and ocean breezes. Enjoy spectacular ocean views from the infinity edged pool with cascading spa. Relax by the poolside fire pit, and rinse off in the outdoor shower beside the outdoor powder room. In true Cabo fashion, the home is surrounded by the sound of cascading water, with multiple fountains and water elements throughout.
The elegant interiors include a spacious great room with 18-foot vaulted, beamed ceiling and an inviting, open floor plan. The large formal living and dining room features a stone fireplace and dining area for at least ten. Natural light floods the great room through clerestory windows and a cupola over the chef's kitchen. A dedicated bar in great room, complete with island seating, is perfect for entertaining, as is the kitchen, with an island (w/seating) overlooking the great room and opening onto an intimate, shaded terrace. A separate butler's prep kitchen flows to shaded BBQ and outdoor cooking area, and there is a separate service staff entry adjacent to the laundry and prep kitchen. Also enjoy an additional family/media room and powder room.
Sleep in comfort, with both upper and lower master bedroom suites, boasting private ocean-view terraces, walk-in closets, dual vanities and seated make-up areas. There are also two guest bedroom suites in the main house ­– one with ocean-view terrace – and a detached ocean-view guest casita featuring a private shaded terrace and mini kitchenette. Estate 17 can comfortably accommodate large families and groups of friends; it is the perfect vacation home for both a relaxing getaway and large-scale entertaining.
Espiritu is a world-class destination resort where owners enjoy an unparalleled package of amenities, including:
Club Ninety Six, Mexico's finest private beach club
Club Espiritu, Mexico's finest private fitness club with spa
Espiritu Park, with tennis and basketball courts
24-hour security and emergency medical services
Carefree ownership with superlative residential and resort concierge services
Private chef and butler service (upon request)
In-residence spa program
Access to 27-holes at Pamilla's Jack Nicklaus Signature Golf Course
Access to the Palmilla Tennis Club
 Sonoma Modern Barn is a tranquil retreat built in 2010 by Castor Architecture, surrounded by open space, vineyards and an organic farm in Sonoma, California. Situated on the site of the Old Lawrence Hot Springs Spa, a private gated driveway bridges the nearby world of historic Sonoma Square with a contemporary tranquil estate. The 5,000 square foot, four bedroom, three-and-a-half bathroom property takes full advantage of the hillside site, which offers views, a sense of openness, and terrific lighting to the south and west. The modern floor plan creates a series of outdoor terraces with prime exposure between the two arms of the house. This beautiful property fuses rustic contemporary architecture with historical influences in a sophisticated modern style.
We spotted this sensational property on Sotheby's, listed for sale at $5,200,000.
Features include living room, open dining room, gourmet kitchen, den/office, family room, master suite, bedrooms, powder room, media room/home theater, loft, two car garage and sumptuous outdoor living. Outdoor living features includes, beautifully matured landscape, outdoor gas fireplace off living room and office, 100 year old original rock wall made of very rare blue stone, sparkling pool with cover, marquis spa, covered patio for shade at pool, and wine cellar.