Browsing articles tagged with "renovate Archives -"
Many homeowners take a positive view about home renovation and believe that they can improve the look and value of their property by tackling some projects themselves or getting a contractor in to get the job done.
Unfortunately, a number of these same homeowners who have already gone ahead with their renovation work, would like to rewind the clock and start again or do things differently, if they knew then what they know now.
Try to be a savvy homeowner and avoid these common pitfalls, leaving you with an improved property and no problems to address.
Paperwork
You may need to lodge a development application with your local council for the proposed work, depending on the type and scale of your intended project.
If you are planning on making any significant or structural changes to your property, don't take the risk of falling foul of the law. Failure to submit the necessary paperwork before you start your renovations could be a costly mistake.
It is possible that even relatively minor repairs and renovations like painting the exterior of your home or replacing some or all of your roofing, may require a council permit. Your local council can give you the advice you need on any regulations and requirements that you need to adhere to, so always give them a call and check the situation before you attempt to do any work.
Owner and builder
If you are one of the many homeowners who choose to take on the role of owner-builder, you should be aware that there are obligations that you still have to comply with.
An owner-builder may choose to either do all the renovation work themselves or employ the assistance of sub-contractors to help them with the tasks that they do not have the skills for themselves.
Owner-builders need to be aware that they are subject to their own unique set of legal obligations and rights, depending on the territory that you live in. If you are providing or using your own tools on site and either working by yourself or with others, you will need domestic building insurance and an owner-builder certificate of consent. Make sure your tools are to the right standards and will last a lifetime, check out Hi-Speed Tooling for any engineering tools you may need.
You will need to be aware of occupational health and safety regulations and certain work like electrical and plumbing tasks, need to be carried out by licensed tradespeople.
Accurate estimate of costs
One of the most common pitfalls for home renovation projects beyond the legislative and legal requirements is the failure to budget correctly for the work.
You need to set out a detailed estimated cost of renovations and break down the costs to a detailed level, including things like how many power points you want to add and even how many door handles you need.
Not taking the time to complete a detailed financial feasibility study and create an accurate budget is the downfall of many property owners, who end up running out of money and can sometimes be unable to actually complete the work.
Choose your renovation project carefully
Spending too much money on your property improvements or doing work that fails to add value will result in no financial gain and may even end up putting you in a worse financial position than when you started.
It is vital that a renovation project that is being carried out in order to improve the appearance and value of a property is capable of adding value when it is completed. Even relatively minor decisions, like putting in French doors rather than bi-fold doors which can be roughly twice as expensive, can make all the difference to the outcome of your renovation project.
Think ahead
If you are planning to renovate to suit your personal taste and have no plans to sell the property for some while that would be fine, but if you are renovating to improve its value in a sale, you need to think of your target market.
You should never renovate a property where your personal likes take priority over the general preferences of the type of person who is going to buy your property from you.
Project management
You need to make the time to properly project manage your renovation or you could easily end up paying too much for materials and labor.
A lack of time or preparation will often result in a renovator being unable to shop around and negotiate the best price for their goods and labor costs. Using something like Microsoft Project can really make the task of project management easier and help you to free up more time for the important art of negotiation.
Some home renovators wish they could go back and start over again. Avoid that felling by trying to plan properly and avoid these common pitfalls.
About the author:  Michael Reimann is a home inspector with several years' experience. When he has the time, he likes to share what he has learned with others. You can find his illuminating posts on a variety of websites and homeowner blogs.
Photo Sources: 1. Andrew Roby General Contractors, 2. Ply Gem, 3. M.J. Whelan Construction, 4. ísARK Studio, 5. Carlton Architecture, 6. BHG, 7. Apartment Therapy, 8. BHG, 9. Homelife, 10. McGill Design Group, 11. The Mom Tog Diaries, 12. -13. BHG, 14. Coop 15 Architecture, 15. Geremia Design, 16. BHG, 17. Harry Braswell Inc., 18. JJ Locations, 19. The Lettered Cottage, 20. BHG, 21. Pinterest, 22. Apartment Therapy, 23. BHG, 24. Tommy Chambers Interiors, 25. An Urban Cottage, 26. Design Sponge, 27. CCI Renovations
If you're thinking about embarking on a DIY home renovation mission, make sure you think long and hard before taking the plunge. Despite how easy the smiling home makeover TV host makes it seem, the reality is that DIY can be far more complicated than it looks. Careful planning is the key to success and without it; you could end up facing on of these classic DIY disasters!
 Blowing the budget
When undergoing DIY projects, it's easy to get carried away with all the excitement of adding a fancy new addition to your home. While a steel roll top bathtub and marble kitchen bench tops may have seemed like a good idea at the time, many people end up fainting with shock when they see their monthly credit card bill.
 Taking the wrong measurements
There's no DIY fail more frustrating than taking the wrong measurements. Not only is this mistake time consuming but it can also cost you a huge amount of cash.
Buying the wrong fittings
Acts such as buying a pair of pillar taps for a basin designed for a single mixer are a classic DIY fail. Buying unsuitable shower hoses and piping is also a DIY disaster. If you're a bathroom renovation novice, it's best to keep things as simple as possible. Rather than fumble around with multiple fittings, why not consider an electric shower that efficiently heats water with a no fuss internal element? Simple, effective and easy to install! Find out more about Mira electric showers.
 Underestimating the cost
Not taking the time to draw up a budget is a one way road to DIY catastrophe. If you run out of cash halfway through your project, there's not much you can do but live in a building site. As such, it pays to get a good idea of what you'll need to spend before starting the DIY process.
 Choosing a short-lived theme
While you may have loved lime green at the time, chances are that in a few months, you're not going to be so fond of your gaudy colored walls. The same goes for that hot pink refrigerator and vibrant patterned carpet. These are some of the biggest mistakes DIY renovators make and the best advice we can offer is to try and keep your colour scheme as neutral and inoffensive as possible.
 Misjudging scale
That majestic fireplace may have looked amazing in the show room but in reality, it's more than likely going to dwarf your small scale living room and look ridiculous. As such, it's a good idea to draw up some 3D models or use chalk to map out how big features are going to be and what they're going to look like.
 Not seeking approval
When it comes to outdoor DIY projects, many people don't realize that they often need council permission. A visit from a local inspector while you're halfway through constructing your new summer pergola could end in tears.
 Scrimping on quality
While it's advisable to save money wherever possible, this philosophy doesn't always apply. If you skimp on things that are going to get a lot of use, you could end up having to replace them after just a few months.
 Using dubious tools
At the end of the day, an adequate set of tools is a DIY essential. Those that try to use the wrong tool for the job risk the success of their project and their own safety!
 Being too hasty
When you've knocked down a wall or drilled a huge hole into a tile, there's no going back. This can be a nightmare when you realize that your measurements were wrong or you decide that you want your shower installed on the other side of the bathroom.
Keeping these 10 simple DIY disaster examples in mind will help ensure your next DIY project is smart, safe and successful!
Photo Sources: 1. John Kraemer & Sons, 2. KitchenLab, 3. Lewis Aquatech, 4. Design Plans, 5. HGTV, 6. Claremont Companies, 7. Susan Jablon Mosaics, 8. Julie Williams Design, 9. Verdance Landscape Design, 10. Avalon Interiors, 11. transFORM | The Art of Custom Storage, 12. HGTV
If you are a budding chef looking to renovate your kitchen, it's important that you consider the design layout carefully. You need a layout that makes navigating the space easy; gadgets that cut down on the time it takes to prepare your favorite dishes; storage solutions that ensure all your utensils, crockery and ingredients are close at hand; and durable materials that can withstand the demands of your kitchen adventures.
Take some inspiration from our design guide below, and take the first steps towards creating the ultimate cook's kitchen.
Kitchen layouts
Obeying the kitchen work triangle is crucial when it comes to choosing the layout of your kitchen. This ergonomic principle states that you should equally space out the three most-used areas of the room—the sink, cooktop and refrigerator—in a triangle in order to improve efficiency. Each point of the triangle should be at a distance that allows easy maneuverability, and nothing should obstruct movement in-between. This YouTube video explains more.
Wherever possible, your sink should be placed beneath a window, and your oven/hob should have worktop space on at least one side. In order to experiment with the possibilities for your space, try the Wren Living kitchen planner – it's free, and allows you to visualize almost every aspect of your desired design.
Kitchen units and worktops
There are a range of options when it comes to worktop materials, and each have their pros and cons. However, budding chefs may find granite the best choice: it's extremely durable, attractive and easy to maintain. The surface is stain, water, and heat-resistant; and its cool, smooth surface is perfect when you're working with pastry. This 4Homes guide has information about the other countertops available.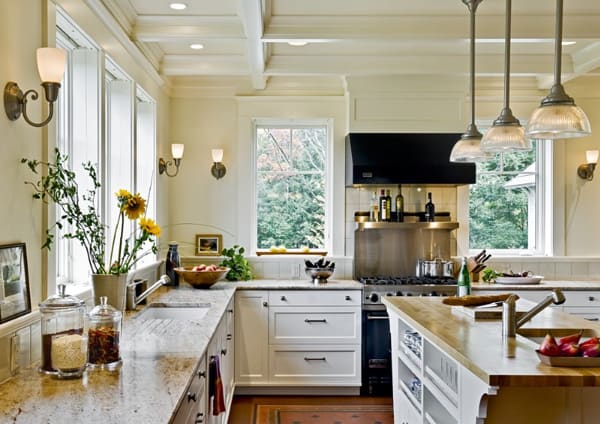 Super-strong solid wood is great for kitchen units, and also looks stunning – just make sure to look out for those with a smooth wipe-clean finish. Choose soft-close drawers and doors so you don't have to endure slams while you're cooking.
Kitchen appliances
Consider installing an eye-level oven, as this enables you to check on your dishes without uncomfortable stooping. The type of range you choose should depend entirely on your preferences, but most cooks enjoy the flexibility offered by gas rings.
Your sink should have a vegetable drainer and a spray-hose tap so that you can easily clean produce. And, if your budget allows, install a garbage disposal system—these ensure food waste is discarded without mess or smells. Also, make sure you have an extractor fan to help eliminate steam and unwanted odors from your kitchen.
Photo Sources: 1. Alexander Design Group, 2. Pickell Architecture, 3. Carolina Design Associates, 4. Kohler, 5. Home & Stone, 6. Smith & Vansant Architects, 7.  Drury Design, 8. Fiorella Design, 9. Thacher & Thompson Architects, 10. Dorn Homes, 11. Murphy & Co Design, 12. Studio 212 Interiors, 13. Smith & Vansant Architects, 14. SF Architecture, 15. Airoom, 16. Witt Construction, 17. Crisp Architects, 18. Cameo Kitchens, 19. Ahmann LLC, 20. Great Spaces, 21. Turan Designs, 22. Gast Architects, 23. Justrich Design, 24. Studio Swann
Lovingly coined 'the Shack," this rustic modern cottage designed by Feldman Architecture is an escape from City life for a busy San Francisco couple in Ross, California.  The existing home was composed of low ceilings and partition walls creating dark spaces.  However, the home held the potential for beautiful mountain views and if one looked carefully, hints of character and charm emerged. Rare old growth redwood siding of the original home and a Sonoma stone fireplace were both maintained as prominent features of the renovation.
During phase one, the original Douglas Fir ceilings were revealed as the sloped roof was opened up and inspired the use of reclaimed, local woods for the mantel, floors and interior doors.  These woods warm the interiors and compliment the views to the gardens and Mount Baldy beyond.  The kitchen and living room were opened up to an outdoor seating and dining area.  Given the limited space and the open views from the living room, the kitchen cabinets were planned down to the details, much like a ship's galley.  The bathroom was brightened with a large translucent window and light porcelain tiles.
SIZE OF HOME: Phase 1 – 706sf / Phase 2 addition – 657sf + 260sf garage
Shortly after the first phase finished, design and construction began on phase two, including a two story addition, garage with green roof and stepped terraces with a swimming pool.  The addition extends the area of living room and adds a second floor master suite with sweeping views of Mount Baldy.  The addition and garage are primarily made of materials similar to the original house with board and batten siding in a natural stain.
Photos: Phil Bond