Browsing articles tagged with "rustic Archives - Page 2 of 14 -"
Tucker Residence is a rustic lakeside retreat designed by Poss Architecture and Planning in collaboration with Sam Kachmar Architects, located in Aspen, Colorado. read more
This rustic bunkhouse built by general contractors John Kraemer & Sons acts as a playful companion to the main cabin, located in Northern Wisconsin. The bunkhouse serves as a getaway for the family, children and occasional guests. The reclaimed siding and timbers continue into the interior creating the framework for four sets of built-in bunkbeds. The sleeping area is open to a small working kitchen and living room on either end of the bunkhouse. The design of the bunkhouse was carried out by TEA2 Architects, with sensational interiors by Charlie & Co. Design.
Photos: Landmark Photography
Queens Lane Compound was designed with a rustic palette by Carney Logan Burke Architects, located along the Snake River north of Jackson, Wyoming. Mature cottonwoods, a pond, and several streams form the context for this residential compound.  The main residence of log, stone, and timber draws its inspiration from early twentieth century National Parks lodge architecture, whereas the two additional buildings on the property serve as a counterpoint to traditional notions of the western log structure.
Love the design of this home? Have a look at more projects that we have showcased by Carney Logan Burke Architects on 1 Kindesign, here.
For the shop/office building the client sought an unusual artistic statement that would speak to the present era while retaining a connection to the rustic tradition of the main lodge house.  The solution still employs a vernacular architectural language with rough, antique logs as the primary material; however, by exposing and fusing the timber into an atypical two-volume framework connected by a transparent link, the shop building presents an innovative reworking of regional forms.  A bridge, suspended by a steel rod from the truss above, links the upper-level deck to the office, and with a simple gabled roof and trusses of reclaimed timber and blackened steel, the rustic western tradition is both referenced and reinvigorated within a modern idiom.
The wine silo comprises the final addition to the compound and it stands adjacent to the shop.  Because the compound lies in the Snake River flood plain, a standard wine cellar was incompatible with the building site. Borrowing from agrarian structures, the design team arrived at the silo form as an alternative, elevated storage system.  In order to gracefully weather and blend in with the existing buildings and landscape the structure is clad in oxidized steel plates.  The interior, inspired by a wine cask, is characterized by reclaimed fir woodwork and a spiral staircase that accesses carefully displayed wine bottles organized around the silo's perimeter. The stair ascends to the roof where both the wine collection and views of the natural surroundings can be admired.
Photos: Matthew Millman
Rabbit Brush Residence is a rustic home with contemporary interiors, designed in 2012 by Carney Logan Burke Architects, located in Jackson, Wyoming. We have written about this architecture firms work in the past, including this striking modern home and artist studio in the sensational mountains of Wyoming, have a look.
The work of the office spans a wide variety of project types in Wyoming and the greater west. Community facilities, commercial buildings, resorts, and mixed-use complexes make up the public side of the practice, while affordable housing and residential architecture allows the firm to apply a broad range of materials and technologies. In both institutional and residential projects the firm's commitment to sustainable design and sense of place has resulted in numerous awards and publications including the American Institute of Architects Western Mountain Region Firm of the Year in 2009. — Carney Logan Burke Architects
Photos: Paul Warchol Photography
Whether you have a beautiful cozy cabin or an urban home, decorating with a rustic Christmas style can create a warm and inviting holiday retreat, both welcoming and relaxing after a cold winter's day. We have gathered together a collection of rustic Christmas decorations for you to use as inspiration and ideas in your holiday decorating scheme. Incorporating a rustic feel into your decor involves using a lot of pine cones, wood, bark and burlap. You can create a lot of DIY holiday decor with rustic, such as burlap ball ornaments, mason jars filled with candles and other holiday embellishments, garlands of wood slices, bark ornaments, they are simple to make and look stunning. Rustic accents can easily be incorporated by adding natural accents, such as filling a hurricane or glass bowl mixed with seasonal fruits and greens, mixed nuts, pine cones and Christmas ornaments. Don't forget wreaths comprised of fir tree branches, plaid bows, acorns, pine cones, wood slices, or even candy! Decorate with wood candle holders, star wooden ornaments, pine cone decorations and your rustic Christmas will be truly unforgettable!
If you are still looking for further Christmas decorating inspiration, have a look at some of our past articles on 66 Inspiring ideas for Christmas lights in the bedroom and 50 Christmas decorating ideas to create a stylish home.
Create a Rustic Christmas Wreath with Message Square: Want to add a little personality to your Christmas wreath? Dress it up with cinched burlap ribbon, battery-operated icicle lights, and a message square hung from the top with twine. Get into the spirit of the season with festive messages, such as "Out Christmas Shopping," "Happy Holidays," or "Baby It's Cold Outside."
Snowy Pinecone Candle Jars:  Light up your mantel or front porch with these easy Mason jar votives—all you need is a jar of snow texture paint, lace, twine, Epsom salt, and pinecones, natch. Get the tutorial at Crafts by Amanda.
Use a Natural Theme in Your Christmas Wreath: For a simple and easy-to-make holiday wreath, try this idea for an all-natural Christmas decoration. Lay a 10-inch plastic-foam flat wreath form on a protected surface, gather about 100 faux or real acorn tops and sort by size. Hot-glue the acorn tops to the wreath form, using the larger ones first and filling in the gaps with the smaller ones; let dry. Hot-glue a faux bird to the inner side of the wreath. Tie a twine bow and glue at the top of the wreath.
Hill Country Christmas:  A slim tree features warm LED lights, four different ribbons, feathers, icy branches, berries, birds, and the client's ornament collections.
DIY Ornaments:  Handcraft your own ornaments. This tree features pretty, yet simple, ornaments from old paperback books and sheet music. Hand-dyed ribbon and vintage ornaments tie in to the rustic quality of the handmade decorations.
Rustic Luxe Holiday:  Beautifully neutral to start, the designers provided a sophisticated, thoughtful holiday motif. Reclaimed wood, sisal rugs, and poufs covered in hide leathers provide a mix of finishes and textures to bring a timeless look to the home. Personalized burlap stockings, kraft paper gifts and hand-made large format artwork, along with an entertaining kitchen full of cheeses, wines, salamis and sauces, provide the perfect combination of rustic and luxe for a Napa inspired California holiday.
Natural Floating Candle:  Add natural elements to your holiday decor for a rustic feel to your Christmas decorating. To make, place a leafy branch at the bottom of a large glass Mason jar or vase. Fill two-thirds full with water; drop in cranberries and a floating candle.
Twist Twigs into a Simple Christmas Wreath: This simple technique for a twig wreath shows you how to make Christmas wreaths that don't require a lot of expensive materials or time. Decorate a basic twig wreath with berry branches, a burlap ribbon bow, live greens, and a faux animal feather for a similar, nature-inspired Christmas wreath.
Use Festive Candy for a Pretty Wreath: Red-and-white peppermint candies create a fun Christmas motif on a simple wreath form that you can hang anywhere. Start by purchasing a foam or plastic wreath form from a crafts store, then use hot glue to secure unwrapped peppermint candies in rows, starting on the inside and working your way out. Finish the wreath with a simple bow, tied with red ribbon. Tip: This project is kid-friendly! Just have your little ones help unwrap each individual candy, and let older kids help with the gluing.
Reclaimed Wood:  Use reclaimed wood, nails, and ornaments to make this rustic calendar.
Rustic Mantel: Paint wood letters red and use them to flank a round wreath to add a little "joy" to a shelf display.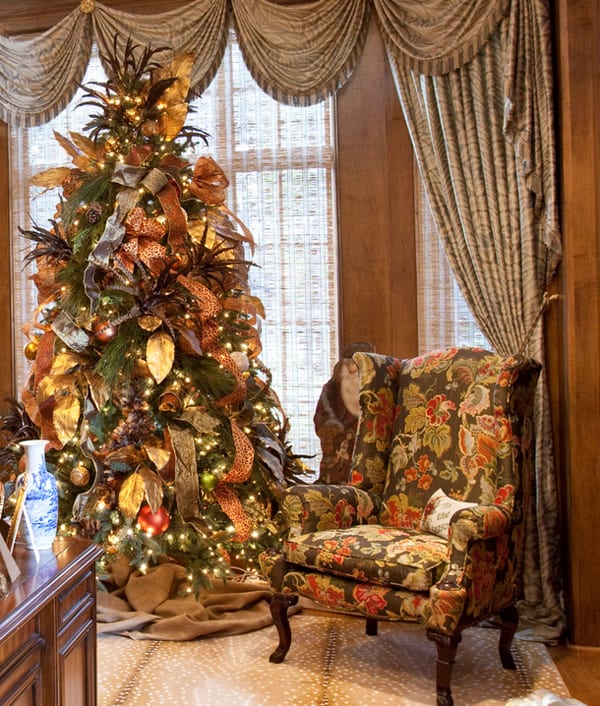 Photo Sources:  1. Llilacs and Longhorns, 2. Pottery Barn, 3. A Pretty Life in the Suburbs, 4. BHG, 5. Sweet Something Design, 6. Etsy, 7. Crafts by Amanda, 8. Celebrating Everyday Life, 9. Fynes Designs, 10. Pinterest, 11. BHG, 12. Dawn Hearn Interior Design, 13. Country Living, 14. BHG, 15. HGTV, 16. Kerrie Kelly Design Lab, 17. Pinterest, 18. BHG, 19. Country Living, 20. Etsy, 21. Simplicity in the South, 22. BHG, 23. Indeed Decor, 24. Pinterest, 25. SAS Interiors, 26. BHG, 27. Horchow, 28. Pinterest, 29. BHG, 30. Pottery Barn, 31. Home Depot, 32. Indeed Decor, 33. Pottery Barn, 34. Julie Ranee Photography, 35. Country Sampler Magazine, 36. Mustard Seed Interiors, 37. Design Associates, 38. Horchow, 39.  Providence Handmade, 40. Rikki Snyder, 41. Pinterest, 42. Shanty 2 Chic, 43. Pottery Barn, 44. – 47. Pinterest, 48. Norske Interior Blogger, 49. Pottery Barn, 50. Tobi Fairley Interiors, 51. Lisa Gabrielson Design, 52. Regina Gust Designs, 53. – 56. Pinterest, 57. Pottery Barn, 58. Pottery Barn Kids, 59. – 62. Pinterest, 63. Regina Gust Designs, 64. Sweet Something Design, 65. Pinterest, 66. The Lilypad Cottage
Cottage de Brebeuf is the conversion of a duplex cottage by Atelier BOOM TOWN into a rustic chic home comprised of steel, wood and concrete, located in Brebeuf, Quebec, Canada. The transformation was based on replacing the original structural axes. On the ground floor, bearing walls bordering the existing central circulation are replaced by a structure of beams and raw steel columns, allowing the creation of an open area for living areas (kitchen, living and dining room).
Small openings in the back yard are enlarged to maximum capacity, allowing at the same time easy and smooth access to outdoor space. Wood joists above the ground floor are exposed, increasing the height effect under the ceiling. Technical block housing a small toilet room and various storage is covered with concrete panels.
The wood recovered during the demolition is reused to cover the kitchen island to build shelves and sliding doors. The staircase is at the heart of the ground floor, becoming a characterizing element and allowing arrival at the center of the floor, under a new skylight where bedrooms are easily accessible without suffering a loss of space for traffic.
The upstairs bathroom enjoys a wide window veiled by a frosted glass, diffusing light and providing privacy.
Photos: Angus McRitchie
Austin Cabin seamlessly blends Texas style with a mountain rustic feel, designed by Walton Architecture, located in the Martis Camp development of Truckee, California. read more
Wolf Creek Ranch is a modern day log home designed by Shubin + Donaldson Architects, located on 160 acres of working sheep ranch outside the Wasatch National Forest, in Woodland, Utah. The 8,600 square foot residence sits at 7,800 feet altitude with a 180 degree view towards Mt. Timpanogos. This region of forest is plagued by the bark beetle and millions of acres of standing dead trees contribute to unhealthy and dangerous forest conditions.
This house makes use of these dead trees in a cross laminated timber (CLT), solid wood thermal mass structure. Lumber is harvested from the ranch, cleaned and cut on CNC machines by a local timber mill, shop assembled into building panels and shipped to the site ready for install. From dead tree to standing structure is less than a 50 mile round trip.
Development guidelines call for traditional ranch architecture. The plan is separated into three of these basic forms: a sleeping wing, a living wing, and a parking wing. Each wing is turned to respond to arrival, site, and view, with the main living space, envisioned as an enclosed connective porch between wings; skewed off axis slightly to connect a direct line for sight to the peak of Mt. Timpanogos.
The rough traditional exterior materials, of which the exterior siding is reclaimed from the old Salt Lake trestles, become refined interior finishes of the same basic palette, steel, wood, and stone, but with a contemporary bias. The interior side of the solid wood walls and roofs are left exposed as an expression of the structural and thermal mass concepts, and its tag as the modern day log home.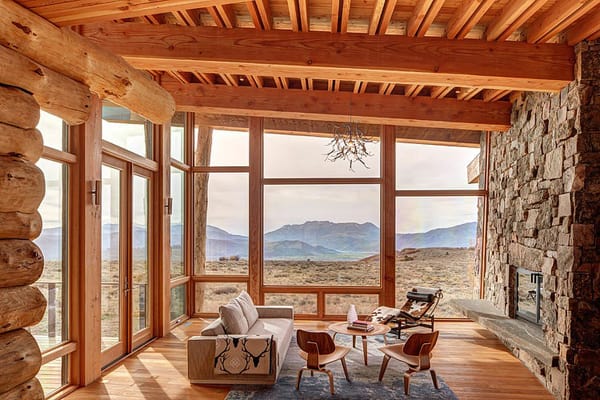 Photos: Alan Blakely Photography
This Los Angeles, California ranch house was designed by Janette Mallory Interior Design, perched on a hill in Mount Olympus, a neighborhood in the Hollywood Hills. It has incredible views of the Hollywood sign, downtown Los Angeles and the ocean. The classic 1950s ranch was worn and outdated, but Mallory's clients saw past that. It had a wonderful layout, which the clients decided they wanted updated, but left the floor plan the same.
The couple wanted the 4,000 square feet (371 square meters) four bedroom, four bathroom house to be contemporary and rustic. The vision fit with how the house already was — it had all the rustic elements of a classic ranch with a twist of midcentury style. Playing on that, the designer produced a transitional look that incorporated the owner's love of collecting and art. The space itself is furnished with a mix of classic, colonial, rustic and midcentury pieces — a similar stylistic brew that might have been found in many ranchers in the early 1950s.
Although the layout and the indoor–outdoor nature of the home were carefully preserved, many of the tired finishes had to be replaced. The cabinet is a replica of an antique, and it houses the couple's collection of vessels. Throughout the house, furniture and accessories are large and simple, making for a graphic decorative statement. In this cabinet, the designer included natural elements such as corals, shells and ammonites.
The living room is separated from the dining room and kitchen by a pony wall (you can just see the top of the abstract painting that hangs over the sofa peeking above it). Before the remodel, this shot would not have been possible, as the breakfast room was separated from the dining room by a floor-to-ceiling wall.
The dining room table has oversize ladder back chairs on the sides and upholstered chairs at each end. The designer thought too many wooden chairs would make it feel heavy. The upholstered chairs help to soften things up a bit.
The family room is topped by another classic ranch house feature: A wood-paneled ceiling and exposed rafters. They were dirty and in bad shape yet the designer and the owners didn't want to paint them, choosing to sandblast and refinish them instead. The statement ceiling is balanced by a floor crafted from reclaimed walnut.
In another classic midcentury move, the family room contained a wet bar. The owners chose to preserve it, and the designer gave it a new limestone top and accessories to freshen it up. The clients like to entertain a lot, so it made sense to keep it. The designer chose to front it with incredibly comfortable chairs, making bellying up to the bar a relaxing experience. A giant antique hourglass and a vintage hotel sign advertising "dining, coffee and cocktails" decorate one end of the bar; while a new metal-and-wood shelf displays select bottles behind it.
In the master bedroom, the designer started with the bed. She wanted to keep it simple and clean-lined. The designer put a chair on either side of the bed for her current event-loving clients. Each one has a place to sit and enjoy their coffee and newspaper.
The master bedroom already had a corner glass window, designed to embrace a swoon-inducing view. The designer selected this tub because you can select your own color for the exterior. She did not want a stark white tub there.
The elegant tub is positioned perfectly to enjoy the landscape — giving new meaning to the phrase "soak in the view."
Photos: Courtesy of Janette Mallory Interior Design
Channels Ranch project is the complete renovation of an existing residence by Van Bryan Studio Architects and Carter Kay Interiors, located in Ennis, Montana. The talented design team transformed the seventies style dwelling into a sophisticated vacation home. Exposed rafter tails, rusted steel, natural stone, and wood siding are interlaced throughout the exterior and interior of the building creating a contemporary, yet warm and natural atmosphere.
With passion, experience and integrity, Van Bryan Studio Architects provides full-service residential and commercial design. Consistently demonstrating their commitment to excellence, the entire Studio Architects team has worked side-by-side with clients and builders to develop a broad range of projects that beautifully and accurately represent the people and places that bring them to life. That experience, combined with the diverse backgrounds and shared vision of all the associates, is what defines Studio Architects.
Photos: Gordon Gregory