Browsing articles tagged with "rustic Archives - Page 2 of 14 -"
Cottage de Brebeuf is the conversion of a duplex cottage by Atelier BOOM TOWN into a rustic chic home comprised of steel, wood and concrete, located in Brebeuf, Quebec, Canada. The transformation was based on replacing the original structural axes. On the ground floor, bearing walls bordering the existing central circulation are replaced by a structure of beams and raw steel columns, allowing the creation of an open area for living areas (kitchen, living and dining room).
Small openings in the back yard are enlarged to maximum capacity, allowing at the same time easy and smooth access to outdoor space. Wood joists above the ground floor are exposed, increasing the height effect under the ceiling. Technical block housing a small toilet room and various storage is covered with concrete panels.
The wood recovered during the demolition is reused to cover the kitchen island to build shelves and sliding doors. The staircase is at the heart of the ground floor, becoming a characterizing element and allowing arrival at the center of the floor, under a new skylight where bedrooms are easily accessible without suffering a loss of space for traffic.
The upstairs bathroom enjoys a wide window veiled by a frosted glass, diffusing light and providing privacy.
Photos: Angus McRitchie
Austin Cabin seamlessly blends Texas style with a mountain rustic feel, designed by Walton Architecture, located in the Martis Camp development of Truckee, California. read more
Wolf Creek Ranch is a modern day log home designed by Shubin + Donaldson Architects, located on 160 acres of working sheep ranch outside the Wasatch National Forest, in Woodland, Utah. The 8,600 square foot residence sits at 7,800 feet altitude with a 180 degree view towards Mt. Timpanogos. This region of forest is plagued by the bark beetle and millions of acres of standing dead trees contribute to unhealthy and dangerous forest conditions.
This house makes use of these dead trees in a cross laminated timber (CLT), solid wood thermal mass structure. Lumber is harvested from the ranch, cleaned and cut on CNC machines by a local timber mill, shop assembled into building panels and shipped to the site ready for install. From dead tree to standing structure is less than a 50 mile round trip.
Development guidelines call for traditional ranch architecture. The plan is separated into three of these basic forms: a sleeping wing, a living wing, and a parking wing. Each wing is turned to respond to arrival, site, and view, with the main living space, envisioned as an enclosed connective porch between wings; skewed off axis slightly to connect a direct line for sight to the peak of Mt. Timpanogos.
The rough traditional exterior materials, of which the exterior siding is reclaimed from the old Salt Lake trestles, become refined interior finishes of the same basic palette, steel, wood, and stone, but with a contemporary bias. The interior side of the solid wood walls and roofs are left exposed as an expression of the structural and thermal mass concepts, and its tag as the modern day log home.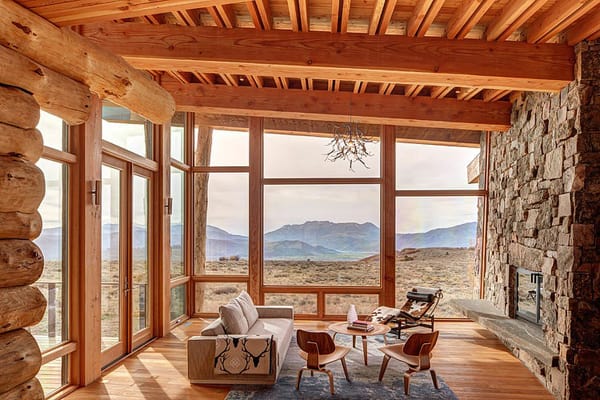 Photos: Alan Blakely Photography
This Los Angeles, California ranch house was designed by Janette Mallory Interior Design, perched on a hill in Mount Olympus, a neighborhood in the Hollywood Hills. It has incredible views of the Hollywood sign, downtown Los Angeles and the ocean. The classic 1950s ranch was worn and outdated, but Mallory's clients saw past that. It had a wonderful layout, which the clients decided they wanted updated, but left the floor plan the same.
The couple wanted the 4,000 square feet (371 square meters) four bedroom, four bathroom house to be contemporary and rustic. The vision fit with how the house already was — it had all the rustic elements of a classic ranch with a twist of midcentury style. Playing on that, the designer produced a transitional look that incorporated the owner's love of collecting and art. The space itself is furnished with a mix of classic, colonial, rustic and midcentury pieces — a similar stylistic brew that might have been found in many ranchers in the early 1950s.
Although the layout and the indoor–outdoor nature of the home were carefully preserved, many of the tired finishes had to be replaced. The cabinet is a replica of an antique, and it houses the couple's collection of vessels. Throughout the house, furniture and accessories are large and simple, making for a graphic decorative statement. In this cabinet, the designer included natural elements such as corals, shells and ammonites.
The living room is separated from the dining room and kitchen by a pony wall (you can just see the top of the abstract painting that hangs over the sofa peeking above it). Before the remodel, this shot would not have been possible, as the breakfast room was separated from the dining room by a floor-to-ceiling wall.
The dining room table has oversize ladder back chairs on the sides and upholstered chairs at each end. The designer thought too many wooden chairs would make it feel heavy. The upholstered chairs help to soften things up a bit.
The family room is topped by another classic ranch house feature: A wood-paneled ceiling and exposed rafters. They were dirty and in bad shape yet the designer and the owners didn't want to paint them, choosing to sandblast and refinish them instead. The statement ceiling is balanced by a floor crafted from reclaimed walnut.
In another classic midcentury move, the family room contained a wet bar. The owners chose to preserve it, and the designer gave it a new limestone top and accessories to freshen it up. The clients like to entertain a lot, so it made sense to keep it. The designer chose to front it with incredibly comfortable chairs, making bellying up to the bar a relaxing experience. A giant antique hourglass and a vintage hotel sign advertising "dining, coffee and cocktails" decorate one end of the bar; while a new metal-and-wood shelf displays select bottles behind it.
In the master bedroom, the designer started with the bed. She wanted to keep it simple and clean-lined. The designer put a chair on either side of the bed for her current event-loving clients. Each one has a place to sit and enjoy their coffee and newspaper.
The master bedroom already had a corner glass window, designed to embrace a swoon-inducing view. The designer selected this tub because you can select your own color for the exterior. She did not want a stark white tub there.
The elegant tub is positioned perfectly to enjoy the landscape — giving new meaning to the phrase "soak in the view."
Photos: Courtesy of Janette Mallory Interior Design
Channels Ranch project is the complete renovation of an existing residence by Van Bryan Studio Architects and Carter Kay Interiors, located in Ennis, Montana. The talented design team transformed the seventies style dwelling into a sophisticated vacation home. Exposed rafter tails, rusted steel, natural stone, and wood siding are interlaced throughout the exterior and interior of the building creating a contemporary, yet warm and natural atmosphere.
With passion, experience and integrity, Van Bryan Studio Architects provides full-service residential and commercial design. Consistently demonstrating their commitment to excellence, the entire Studio Architects team has worked side-by-side with clients and builders to develop a broad range of projects that beautifully and accurately represent the people and places that bring them to life. That experience, combined with the diverse backgrounds and shared vision of all the associates, is what defines Studio Architects.
Photos: Gordon Gregory
Located along the pristine waters of Table Rock Lake, Missouri, is the rustically designed Chimney Rock Residence completed by Montana-based Locati Architects and Interiors. read more
This large family vacation home is a rugged and rustic ski lodge designed with an authentic Western Montana feel by Pearson Design Group, located in Big Sky, Montana. The seven bedroom home is ski in, ski out and is perched at the crux of two different ski areas; however, the East Coast family enjoys the property year-round. There are all kinds of outdoor adventures to be had, including hiking the many trails and fly fishing on the nearby Gallatin River.
Peace Design joined the design team early on in the construction phase. They combined stone, reclaimed wood, accents like metalwork and tiles crafted by local artisans, a mix of appropriately textured fabrics, Western art, vintage Native American rugs and antiques for a balanced mix of rustic and refined. The final result is a comfortable vacation home completely set up for year-round wholesome family fun indoors and out.
The main entry is under the shed roof, while the ski-in, ski-out entrance is on the main floor.
Scouting far and wide for unique antiques was a priority. A camel saddle "ties in as a rustic piece and introduces a saddle without going too cowboy cliche," Peace says. For the large cocktail table, blacksmith Andrew Crawford added metal legs to an 18th-century plinth reclaimed from a European cathedral, again adding an aged and weathered piece without veering into typical dude ranch territory.
Peace blended new upholstered pieces with the antiques. These plush sofas are covered in mohair, and the throw pillows are leather and suede. "We wanted to contrast all of the Western ruggedness with luxe materials, like leather, mohair, velvet and suede," he says. "These textiles stand up to all of the architectural textures and create warmth and add richness."
My clients rarely eat out when they are up here; it's about coming in after being outside all day, sitting in front of the fire, relaxing and enjoying meals together, Peace says.
Sturdy and simple textiles stand up to spills and let the outside views be the focus. Antique copper and brass industrial pendants and a walnut island that serves as one large cutting board add warmth. "There are amazing artisans in the area, and we love working with them," Peace says. Local artisans crafted the brass and copper vent hood, the metalwork, the cabinets and the tiles.
Just off the kitchen is this more intimate family room. The green leather chairs swivel so that everyone can enjoy the view out the window behind. The TV is concealed over the fireplace. An iron and rope light fixture and leather and chenille textiles work in harmony with the log walls.
Stairs from the entry lead to the main floor. Peace chose furniture and lighting that could stand up to the scale of the massive stone fireplace. The large rug in the first photo is a reproduction, as vintage Native American travel rugs were not made in large sizes like this one.

Throughout the house Chris Lohss of Lohss Construction used standing dead logs like the one used for the newel post, and reclaimed wood like you see on the stairwell walls. These wide planks used to be warehouse flooring.

In a house like this, we like to add refined pieces, like the antique European blanket chest, to add elegance and to balance out the more rustic pieces, Peace says. We wanted it to look like the pieces had been collected over time from around the world.
Almost all of the other rugs are vintage Native American rugs. These rugs are incredibly durable; originally they were made as travel rugs to cover the ground in tepees and tents and as horse blankets, Peace says.

The team left the main-floor windows undressed and simple to avoid detracting from the vast mountain views. They also toned down the art and color palette to highlight the spectacular views.
The room with the stone walls is the main floor's ski-in, ski-out entry. Skiers can stow their skis in the adjacent closet, pull on some dry, fuzzy socks and hop right up to the live-edge wood bar for a hot toddy.
This smaller room off the main living room is where Peace gave a big nod to cowboy dude ranch style. Red reproduction Thomas Molesworth chairs surround an antique drum with a custom antler chandelier overhead. Molesworth was a prominent designer of Western furniture, which his company manufactured in Cody, Wyoming, from the 1930s to the 1960s.

Just beyond the windows is a deck with room for dining al fresco in the summer, a hot tub and great views of the ski hill.
This built-in custom sofa has a twin mattress and transforms into an extra bed.
Bunk rooms and sleeping nooks maximize the bedroom space; there are three beds in this room. Pendleton blankets keep things cozy.
Another bunk room has two sets of rustic log bunk beds. Peace sings the praises of talented local Montana and Wyoming artisans again. "The architect, Larry Pearson, and I basically just asked them to create the beds with their stash of logs and do what they do best," he says.
Atlanta blacksmith Andrew T. Crawford fashioned this custom bronze sink for three.
A Turkish rug and unique custom headboard inspired by Austrian style continue the collected look. One patterned throw pillow accents simple cream bedding. Peace brought in Western touches via the tepee paintings and wide-planked reclaimed wood walls.
Photos: Ralph Kylloe
Stylize an accent wall in your home with the alluring warmth and depth of wood, whether you select a gorgeous rustic style or upscale chic. Warm, rich, and timeless, wood has long been a material of choice for floors, trim, and cabinetry. There are numerous ways to enjoy the colors and textures of raw wood in your home, whether you prefer a subtle touch or a full-on feature wall. The colder temperatures of fall and winter inspire gravitating toward warm woods and textures. A wood accent wall is one of those versatile details that looks great just about anywhere, and as the temperatures dip, you will find yourself loving the look of wood in every color and shape. The impact is strong, and layers of texture and warmth can bring a rustic sophistication to traditional or modern spaces. Possible applications are numerous — no space is off-limits.
Browse this collection to see how it can also add character and beauty to your walls. If you are seeking further inspiration on accent walls, browse through some past articles on 51 Modern and fresh interiors showcasing gray paint and 41 Sensational interiors showcasing black painted walls.
Shipping-Pallet Headboard. Make a headboard out of rustic 
and worn-looking wood from shipping pallets.
Reclaimed and Rustic. Clad one wall of your bedroom in reclaimed boards of various lengths, arranged horizontally. Using boards with a variety of tones and leaving the nail holes visible adds to the rustic appeal. Choosing the wall behind your bed gives the impression of a full-wall headboard.
Whidbey Island barn conversion
Beautiful Hill Country Residence in Austin
Bed wall. A bed wall is a great location for a wood accent. I find the natural patina of wood to be very calming and a perfect choice for a bedroom. I especially like the way the texture of this wall gives just enough interest to this minimalist room but does not compete with the spectacular view.
Hilltop house showcasing modern-rustic elements
Open and inviting family residence in Sydney
Warm rustic with bright white. Opposites attract, and that's certainly true for this fresh interpretation of soft modern. This room is so calming and minimalist, with its sharp contrasting textures of smooth bright white and smoky rustic wood. This is such a perfect vibe for a bedroom. Notice the pendant lights at either side of the bed in place of lamps, saving space on the petite nightstands.
Play up the rustic. Yes, a wood accent wall can also be distinctively rustic. Play up the lodge experience with barn wood and branch furniture. Consider an unexpected soft color like lavender to contrast the edge of the wood.
Montana ranch home exuding rustic-modern style
Rustic eco-home perched on Elkins Meadow
Stunning eco-designed treehouse home
White on Wood. Put a fun spin on tradition in your kitchen by installing white cabinetry on wood walls. Opting for open shelves over wall cabinets helps showcase the beautiful wood walls and provides a layered look.
Steel-clad dwelling nestled in rugged terrain
Wood as wall art. This idea is almost a full accent wall but more like a piece of art. Consider artful configurations of wood on a focal wall in a dining room or home office.
Sleek and modern. Wood accent walls can look sleek and modern, not rustic at all. Walnut is a great choice for a modern accent wall, especially applied vertically. Notice the modern neutral palette of solids and textures. No need for art; the wood accent wall is the star.
Floated. This idea reminds me of a warm, rustic art installation all by itself. Naturally, it's the perfect place for a great piece of art and a great idea for defining spaces in an open floor plan.
Casual luxe weekend beach refuge in Seaview
Reclaimed with color. This fun, rustic wood accent wall features reclaimed wood with a touch of color. The punchy red accent table looks right at home in this mix.
Horizontal and Zen. The slim horizontal styling of this wood accent wall creates the perfect Zen-like atmosphere for this master bathroom. The choice of a squared-off modern bathtub makes this bathroom distinctively minimalist and spa-like.
Inset accent wall. There is a great transitional vibe of this inset wall against the bright white walls and soft layers of the three-tiered chandelier. A shapely mirror and mirrored sideboard attractively contrast the horizontal pattern of the white oak accent wall.
Stairwell detail. A stairwell is a perfect place for a wood accent wall. The high nature of a stairwell will create a dramatic effect, with a great opportunity for accent lighting. Run the boards horizontally to visually expand the width of the space.
Photo Sources:  1. Julia Robbs, 2. Habachy Designs, 3. The Urban Stylist, 4. Jeffers Design Group, 5. This Old House, 6. Anthropologie, 7. BHG, 8. House Beautiful, 9. Allure Interiors Inc., 10. Blender Architecture, 11. Bruce Johnson & Associates Interior Design, 12. SHED Architecture & Design, 13. AMW Design Studio, 14. Cornerstone Architects, 15. Jordan Iverson Signature Homes, 16. Capital Building, 17. Meritage Homes, 18. Design Associates, 19. Wellbuilt Company, 20. LKID, 21. Pinterest, 22. Robert Hawkins, 23. SB Architects, 24. BHG, 25. Hufft Projects, 26. Light Locations, 27. Stikwood, 28. Les Collections Dubreuil, 29. Dane Cronin Photography, 30. Clayton&Little Architects, 31. Union Studio, 32. Imagine Living, 33. Urban Design Centre, 34. Jeffers Design Group, 35. Studio Schicketanz, 36. Jersey Ice Cream Co., 37. Cornerstone Architects, 38. DuChateau Floors, 39. Frenchs Cabinet Gallery llc, 40. Garrison Hullinger Interior Design, 41. NB Design Group, 42. Jersey Ice Cream Co., 43. Risinger Homes, 44. General Assembly
Creating a rustic kitchen in a mountain home creates a comfort and coziness that seems to warm up the brisk air from the surrounding outdoor environment. Worn, distressed, and rough-hewn, are not typically the first words that come to mind when we think of kitchens today. While crisp white cabinets, polished nickel hardware and beautiful marble countertops are on trend, a rustic kitchen will always provide the comfort of a piping hot bowl of chili and curling up with a hot chocolate on a cold night. More words that describe the look are well worn, patina, antiqued, homey and reclaimed. We have gathered together a cozy selection of rustic kitchens that will bring warmth and style to any mountain retreat. If you are looking for further inspiration for rustic style, have a look at some of our past articles on, 47 Extremely cozy and rustic cabin style living rooms and 51 Insanely beautiful rustic barn bathrooms.
Rustic retreat with an industrial edge in Big Sky
At one end of the great room in a Tennessee mountain home, the open kitchen is outfitted for a master chef. The pair of French still lifes are 18th century. The oak rack is 19th-century English.
Details of a Colorado kitchen include an antique Chinese limestone lintel abutting the ceiling beams, and a claro walnut countertop by George Nakashima; the range is by Viking.
A rustic and cozy mountain village cabin
Rustic-contemporary mountain lodge in Big Sky
Consider reclaimed wood for your countertops. A couple of coats of polyurethane will keep wood countertops protected from spills and rotting. If you're renovating an older home, look in the attic for beautiful old floorboards to use for countertops.
Light a fire. The number-one cozy element in a kitchen is a toasty hearth. While adding a full fireplace is a big intervention, today's woodstoves and fireboxes don't require a major renovation.
Rustic retreat with an industrial edge in Big Sky
Choose elements that show their age. Rough-hewn timber beams and a slate floor give this kitchen a rustic look from top to bottom. In between, cabinetmakers repurposed the green cabinets from an antique hutch.
A Saint Moritz, Switzerland, kitchen's table and chair are from Switzerland's Engadine Valley; the backsplash tiles are 17th-century Portuguese.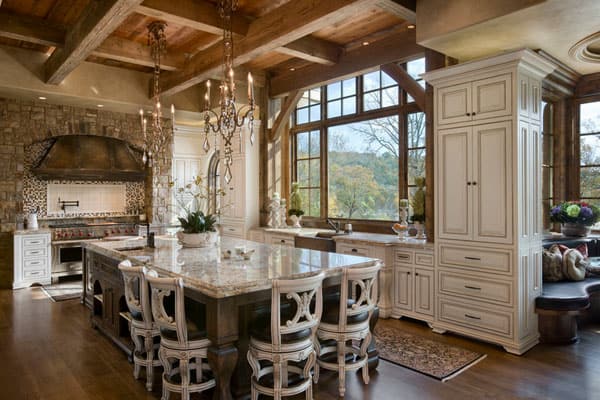 You (almost) cannot have too much wood. You can use wood from floor to cabinets to ceiling, just be sure to break it up a little with countertops and a backsplash of a different material.
Add a cozy spot for gathering and eating meals. Dining in the kitchen is one of the coziest things you can do, no matter what your kitchen's style. It doesn't matter if it's a small table, a large island or a built-in breakfast nook.
Rustic Redefined: The kitchen in this rustic Ontario, Canada, home was designed to be family-friendly and comfortable.
The windows are spectacular, and the materials used blend seamlessly together.
Rustic barn-inspired ski cabin in Sugar Bowl
Dream home in Tahoe: When rustic meets modern
This kitchen features a Sub-Zero refrigerator, Wolf range, and Waterworks sink; the sink fittings and pot filler are by Rohl.
Photo Sources: 1. Lake Country Builders, 2. Peace Design, 3. Pearson Design Group, 4. Terra Firma Custom Homes, 5. Home Design Elements, 6. Linda McDougald Design, 7. Suzanne Kasler Interiors, 8. Studio Sofield, 9. TruLinea Architects, 10. Pinterest, 11. Locati Architects, 12. Centre Sky Architecture Ltd, 13. Rocky Mountain Log Homes, 14. Locati Architects, 15. Phillips Development & Design, 16. Pearson Design Group, 17. Locati Architects, 18. BeDe Design, 19. Centre Sky Architecture Ltd, 20. Locati Architects, 21. Peace Design, 22. Pinterest, 23. Dan Joseph Architects, 24. Jordan Design Studio, 25. Locati Architects, 26. Kogan Builders, 27. Pinterest, 28. Pinnacle Mountain Homes, 29. Studio Peregalli, 30. Pinterest, 31. Peace Design, 32. Locati Architects, 33. Karl Neumann Photography, 34. Lisa Kanning Interior Design, 35. Locati Architects, 36. Kitchens by Wedgewood, 37. Pearson Design Group, 38. Locati Architects, 39. Miller Architects, 40. Pinnacle Mountain Homes, 41. Locati Architects, 42. Pinterest, 43. Locati Architects, 44. RMT Architecture, 45. Zabala Erickson, 46. Studio V Interior Design, 47. Kelly and Abramson Architecture, 48. Artistic Designs for Living, 49. Peace Design, 50. Design Associates, 51. John Kraemer & Sons, 52. Brooks and Falotico Associates, 53. JLF + Associates
Woodside Estate is a custom home comprised of 7,200 square feet of living space, recently designed by FGY Architects, located in Woodside, California. This custom estate encompasses a Main house, Pool House, Art Studio, and detached garage. The stone and stucco house, reminiscent of rustic stone homes from the south of France, looks out onto the pool and yard on one side and inward to an enclosed courtyard on the other. Modern technology is hidden amongst the historic detailing as the whole house can be controlled by iPad's embedded in the walls or remotely on a phone.
 Fergus Garber Young Architects is a full-service architectural firm providing a higher level of attention, management and environmental stewardship to clients, both residential and commercial, that have a long term interest in their property.
We create projects that both we and our clients are proud of. Our clients value our ability to understand them. The varied architectural styles of our projects reflect our goal to embrace our clients' interests and desires. We match their goals to the essential qualities of good architecture: strong plans, good proportions, and a high attention to detail to make functional and beautiful houses.
Photos: © Bernardo Grijalva Photography