Browsing articles tagged with "Sweden Archives - Page 2 of 15 -"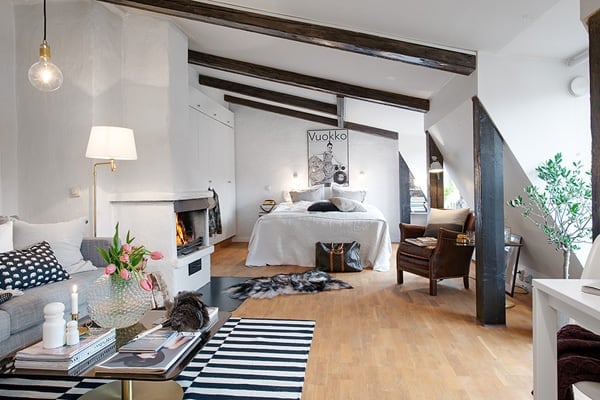 This extremely charming and inviting attic studio apartment offers a social and open floor plan in Linnéstaden, Sweden. Spotted on Alvhem, the apartment is comprised of 473 square feet (44 square meters) of living space, with an airy and inviting atmosphere catering to a social lifestyle. For those who wish to snuggle up with a book, they can look forward to many cozy winter evenings in front of the fireplace. With a sloping ceilings, skylights, exposed wood-beamed ceilings and attic nature, the home has a cozy and snug feeling. With large windows and a French balcony, the home permeates with natural light. White painted walls and visible chimney breaks nicely against the floor's oiled oak parquet flooring.
The spacious living room with kitchen area, sitting area and sleeping area is all open plan. This is really a very full bodied attic character and charming nook. The apartment's heart is the working fireplace that offers both warmth and an unbeatable appreciative. At one end of the large living room, is a newly renovated kitchen with white high gloss cabinet doors and worktop in oiled oak. Adjacent to the kitchen there is dining space for four people. The open floor plan allows both the chef and guests can socialize while dinner is being prepared. This is a wonderful home to enjoy, what do think?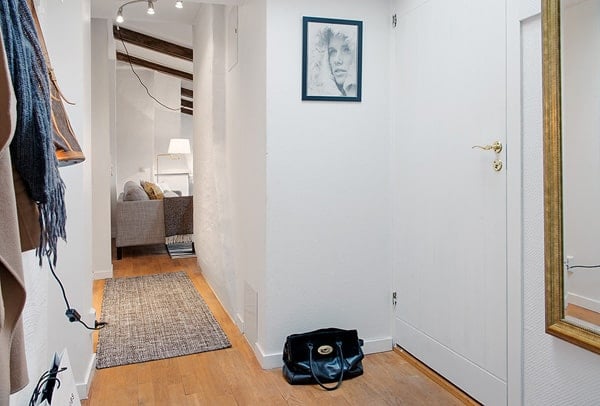 This modern Swedish flat is situated in the former Straw Hat Factory (Stråhattfabriken) building dating back to 1887 on Kungsholmen, an island in Lake Mälaren in Sweden. Spotted on Per Jansson, the 925 square foot (86 square meters) home has been newly renovation with a well structured plan full of light and fine original features and beautiful plank flooring of antique oak and double doors in all rooms. There is a spacious open plan living room to kitchen with large dining area and exit to private patio. There are two bedrooms, one with a dressing room and double doors to the cozy patio. Adjacent to the bedrooms there is a large closet wall with lighting and sliding doors. There is a stylish bright bathroom in limestone and travertine. The patio offers built-in seating and space for a dining table, plants and barbecue, a unique private oasis in the inner city. Evergreen climbing ivy are grown in pots for privacy and outdoor lighting illuminates the space. There is a private entrance from the yard.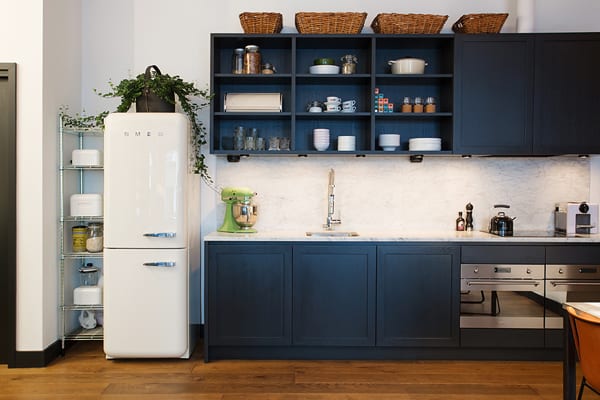 This exuberant contemporary loft, spotted on ESNY, is spread out on two levels and 1,689 square feet of living space situated in Stockholm, Sweden.  This two bedroom residence is comprised of exquisite details, featuring a spacious open floor plan, large glass fireplace, wooden flooring throughout, lit staircase that seems to float freely , generous spa with steam room, a beautiful tile mosaic in the bathroom and exclusive dressing room inside the master bedroom retreat. The home also contains integrated light and sound system.
This fantastic cozy modern apartment is situated in Karlaplan, an open park-plaza area in Östermalm, Stockholm, Sweden. The flat is comprised of 2,658 square feet of living space, featuring a spacious living room, large kitchen, two entrances, laundry room four bedrooms and two bathrooms. The living room offers gray painted walls and beautifully painted ceiling with several windows. The lounge can accommodate a large dining area as well as social interaction via a large sliding door from that separates a guest room / study. From the hallway and kitchen with dark painted double doors is the master bedroom with a large walk-in closet hidden behind a wall with graphic patterned wallpaper and painted gray ceiling and walls. Next to the master bedroom is a bathroom with black matte mosaic on walls, black sink in seamless concrete , shower, toilet , storage and stylish Moroccan tiled floor. The entire floor breathes New York City and the Urban Life Style and has a very cool and sober impression with fantastic layout.
Photos: Alexander White
Situated between the city of Stockholm and the island of Kungsholmen, Sweden is this tasteful duplex loft apartment, spotted on Per Jansson. The home is comprised of 1,916 square feet (178 square meters) of living space with an open-plan living room, a large lavish kitchen with dining area for many guests, and a door that leads out to a spacious sunlit terrace. A white-washed chimney forms a natural demarcation between living room and kitchen. Additional features includes, built-in cabinetry, exposed wood-beam ceilings, smoked oak wood flooring throughout, floor heating, skylights, a fireplace and built-in sound system. There are two lofts which can be used as an office and guest room. Two great bedrooms with great storage, one with dressing room with built-in fixtures in walnut from Craft Design. There are two bathrooms, with original brick floor and separate laundry area.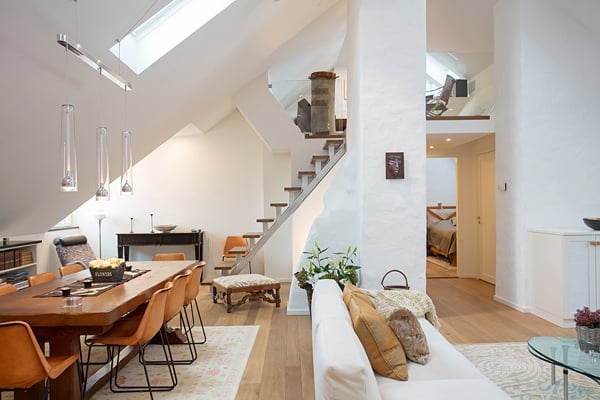 This attractive and luminous apartment we spotted on Skeppsholmen is located near the very exclusive area of Strandvägen (Swedish for 'Shore Street') in Östermalm, central Stockholm, Sweden. The flat offers an excellent floor plan layout comprised of 1,571 square feet (146 square meters) with a balcony and spacious terrace. The ground floor has a magnificent open plan kitchen with a large dining area and working fireplace. From the dining area, a door leads out to a balcony facing the pleasant courtyard. The tastefully designed kitchen has cast concrete floors and an adjoining wine room. Also on this level is a fabulous bedroom with a stylish bathroom. Via an elegant staircase, an accessible attic offers an open living area with access to a spacious terrace and adjacent separate working area. The living room features a beautiful fireplace with wide plank pine flooring. There are two bedrooms on the upper level, one with fireplace and adjoining walk-in closet. Another very lavish bathroom with beamed ceilings, sunken tub and shower.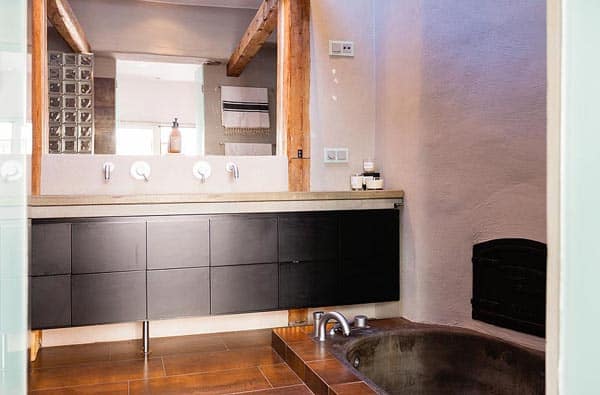 Spotted on Skeppsholmen, this charming small apartment is cozy and welcoming, featuring a fabulous rooftop terrace with stunning city views in Östermalm, Sweden. Comprised of 602 square feet (56 square meters) with a living room, kitchen, one bedroom and one bathroom. The home was built with the highest standards with designed lighting and several site-built features. The kitchen has white countertops of Carrera marble and a dining area which can accommodate 4-6 diners. The living room offers plenty of natural light and access to the private terrace. The living room is flanked by a very cozy bedroom with separate walk-in closet. Lavish bathroom with underfloor heating, shower and wall mounted toilet. There is plenty of integrated storage solutions, as well as two closets, perfect for a small space!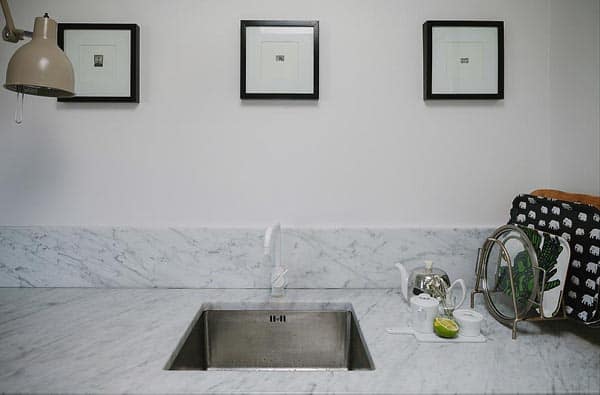 Today we bring to you another incredible apartment we spotted on Alvhem, situated in Linnéstaden, Gothenburg, Sweden. This dreamlike home has been undergone a meticulous and tasteful refurbishment, comprised of about 731 square feet (68 square meters) of living space with open social spaces. Located at the second to the top of a beautiful turn of the century building, the apartment has three generous-sized rooms, high windows with plenty of sunshine and open floor plan between the kitchen and living room. Glazed doors from the kitchen opens up to a spacious wrought-iron balcony bathed in sunshine all day and facing towards a newly renovated courtyard. As if this were not enough, the apartment also has a fully renovated bathroom as well as a variety of beautiful turn of the century details preserved in the finest condition.  A light and airy bedroom that is well separated from the other social spaces offers plenty of room for both double bed, wardrobe, chest of drawers, work space and a reading corner. Along one wall there is an unusual amount of storage in the form of wardrobes with sliding doors. For those who dream of yet more storage, the spacious bedroom also offers a walk-in closet. with a built-in wardrobe will keep you rested and happy and there is enough room for a double bed, a dresser and other small pieces of furniture. With an atmosphere that feels timeless stylish and tranquil, the apartment offers a relaxing lifestyle in the middle of the city.
This wonderful attic apartment, spotted on Alvhem, features a spacious roof terrace situated on a prime location, the prestigious Rose Street, in Linnéstaden, a central urban district of Gothenburg, Sweden. The apartment is in a beautiful 20th century building, offering open plan kitchen and living room with wood burning stove. With about 968 square feet (90 square meters) of total living area, this beautiful loft-style apartment  welcomes you into the home with a skylight that lets in plenty of natural light. White walls leave the high ceiling apartment feeling bright and airy, light white oiled oak parquet flooring covers all the spaces except for the modern tiled bathroom. The airy living room with a sloped ceiling is the heart of the home, binding together all the apartment's rooms. The kitchen has a large sliding glass door that leads out to the rooftop terrace, which makes the boundary between indoors and outdoors easily blurred. There are two bedrooms and an open attic loft space above the bathroom which is accessed via steps from the living room. Perfect for a reading area or guest bed.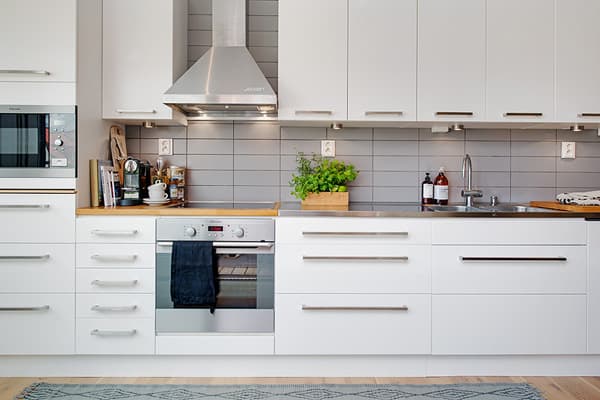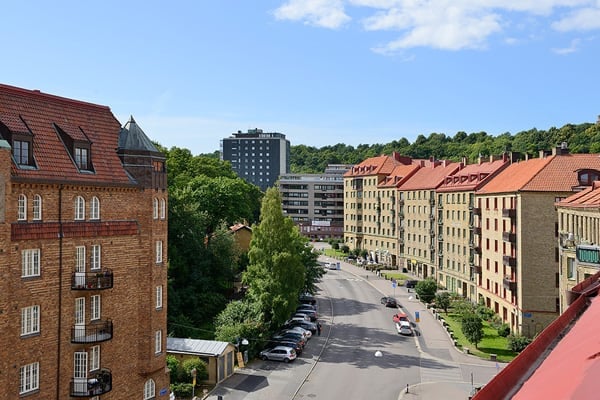 This meticulously decorated apartment, spotted on Alvhem, is situated in Linnéstaden, Sweden. The fully renovated 914 square foot (85 square meters) home features carefully selected materials and color schemes with a wonderful open floor plan with the perfect balance between social spaces and secluded private rooms. The renovation extends from the details such as dimmer switches to delicious wallpaper and clever storage solutions. The main living spaces feature wide plank flooring, bright white paint and large windows providing plenty of natural light, blurring the lines between indoors and out. A spacious and cozy balcony with wonderful afternoon sunshine can be accessed from both the living room and one of the bedrooms. The tastefully designed kitchen is a chef's dream, with plenty of workspace, storage and lighting. With lavish home appliances, cabinets with classic white doors with walnut edging and compact black laminate countertops. There are also two bedrooms, a stylish bathroom, a home office that is between the two bedrooms but can also be used as a bedroom and a laundry room with a wine chiller.