Browsing articles tagged with "tropical Archives - Page 2 of 10 -"
On the Southern Caribbean Coast of Costa Rica you'll find the jewel Tree House Lodge in the Gandoca Manzanillo Refuge. The complex is located on a 10 acre ocean front property in the famous Punta Uva beach, just south of Puerto Viejo in the province of Limon. This beach is considered one of the most beautiful beaches in the country.
Total privacy, a natural tranquil atmosphere, and full relaxation are keywords for the time you will spend at the tree house. With your own beach access and 300 meter private beach front, you won't have to meet anybody else during your stay at this romantic hideaway. They have a one of a kind botanical garden boasting over 50 different palm trees, and the largest Heliconia collection in the area attracting many exotic birds.
The Tree House, built on tall stilts, is a back-to-your-childhood house submerged by forest, with a sloped wooden suspension bridge leading steeply to its front door. Inside it's split level: upstairs, has a bed and a small en-suite bathroom; downstairs, are two more bedrooms and a kitchen. All of the furniture is hand carved sustainable wood, windows are open but screened against bugs, while scarlet Birds of Paradise flowers provide splashes of color. The shared bathroom is on ground level where there is a fabulous 100-year-old Sangrillo tree which shelters a toilet in one trunk fold, an outdoor shower in another and a mirror is framed with seashells.
Rooms start at $200 per night (without taxes and fees) based on two people staying together, from here.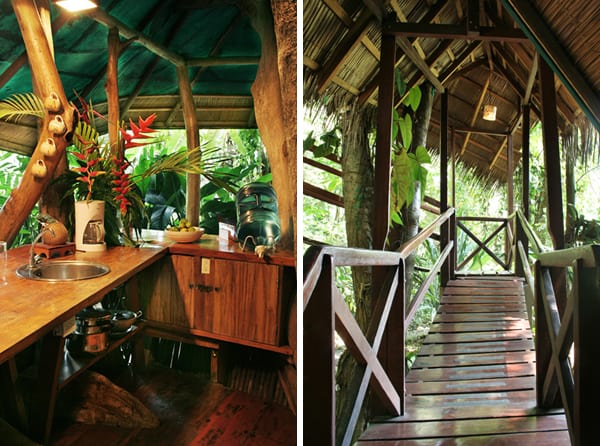 This stunning home spotted on Country Life is a sunny and carefree approach that sees an infusion of exotic colors, local architecture and exuberant style, living up to its spectacular Balinese location. Slim-line, colorful, custom-made sun loungers hint at the creative minds of homeowners Valentina Audrito and Abhishake 'Abhi' Kumbhat who have created this lusciously tropical, contemporary home called Lalaland. Designed as open plan living, Lalaland was originally two Javanese joglos that were reworked and upgraded to create an imaginative family home. The well-planned house allows a seamless flow between indoors and outdoors, perfect for entertaining.
Sitting under a bold Farid Stevy painting. the egg-inspired piece offers hidden storage beneath the yolk lid.
A cluster of photographs and black-and-white artworks by Filippo Sciascia and Sophie Parienti create interest around the floating staircase.
"Our bedroom is also a space where we hang out," says Valentina. The artwork was a gift Valentina made for Abhi using images and thoughts from their lives.
An outdoor bath takes advantage of the tropical weather.
Keith Haring artworks add a fun punch of colour to the children's shared bedroom.
The couple have extended indoor comforts outside with a 'Don't Break My Eggs' sofa.
Photos: Felix Foresting
 Today we present to you a collection of the most fabulous bedrooms that have been showcased throughout the year of 2012 here on 1 Kindesign. These bedrooms were selected based on popularity through several social media sites. All of the bedrooms are featured in beautiful houses and retreats throughout the world. There are links under each bedroom in case you want to refresh your memory of where the bedroom belongs. Bedrooms are our favorite retreats in our home and are one of the most sought out pictures for design inspiration. We hope you enjoy looking through the pictures, with bedrooms ranging from contemporary and modern to tropical oasis. Here is to you having some Kozee Sleep in one of these fabulous and dreamy bedrooms!
That concludes our roundup of the whole year of 2012's most popular bedroom designs that were featured on 1 Kindesign. Hope you enjoyed this post, please let us know which one was your favorite!
This article was sponsored by Bedstardirect
Villa Sapi was designed and concepted as a family and friends vacation retreat by Canadian designer David Lombardi on Lombok Island, Indonesia. Secluded on a 3 hectare beachfront property, the villa is nestled in and amongst hundreds of original coconut and palm trees. Lombardi's bauhaus philosophy of "Function Over Form" are evident in his design approach, always leaving the viewer with a sense of discovery and surprise as the journey through their home. The villa is comprised of two modern freestanding buildings, surrounded by decorative fishponds and gardens flowing all the way down to a pristine white beach.
The main house acts as a sort of vortex, it's a place to gather, to chill out and enjoy friends and family, but above all it's a place to explore. The guesthouse is a wonderful modern Inner Sanctum. Independent and uniquely isolated from the main villa, it gives your guests the freedom and independence from others if they so desire.
Although contemporary in architectural style and amenities, Villa Sapi has included some traditional elements such as the various bales (Indonesian huts) sprinkled around the estate, giving each guest the possibility to relax in perfect harmony with nature. The use of wood for the roof, lava stone, sand stone, coconut and bamboos, all reflect Lombardi's unique vision and his commitment to the use of local materials. Furnishings carry a signature color theme of black, red and lime green, while the walls are adorned with flair – bamboo, water cascades and conceptual artwork. The first clue to the quirky nature of the artwork is a white sculpture in the coconut grove garden which, in huge black letters, suggests that we should 'Stop Making Sense.
Wish to stay at Villa Sapi? Rates range from $800 – $1,195 per night, from here.
The view from the villa's open-sided living and dining room, bedrooms and bathrooms is unrivalled; here guests can look forward to a vista that is ever-changing with the moods of the sea, sky, neighboring islands, distant mountains, forests and colorful fishing boats. At night, after a magnificent sunset, the views become even more magical as the moon's reflection twinkles on the water, presenting a scene of tranquility and unforgettable beauty.
A unique and highly desirable residence of spacious proportions, Azzurra Castle encompasses a 26,500 square foot site set at the end of a peninsula on The Caribbean Sea. The property, owned by international entrepreneur Peter de Savary, is nestled on a peninsula on the south side of the island with stunning coastal panoramas at the end of Lance aux Epines in St. Georges, Grenada on the Caribbean Sea. The castle sits amongst flowering tropical gardens, terraces and two aviaries, leading down to a small private sandy beach and sunbathing deck. The Moorish style home has 9,500 square-feet of interior living space and 7,500 square-feet of exterior living space. The interiors feature bold and bright colors throughout, vaulted ceilings, accents of over-sized, scattered cushions, antique decorations and private nooks filled with ottomans, giving this property a laid-back Moroccan feel. The open living spaces take in natural breezes from the ocean.
Azzurra Castle features two private gated landscaped entrance courtyards with garage and parking. There are several extensive living and dining areas, roof and garden terraces, patios and beautifully managed tropical gardens. There are five dramatic bedrooms with private bathrooms and a self-contained apartment in the turret with its own roof terrace. And of course, no Castle comes without a folly; you're turreted get-away in the gardens. The Castle also has a dungeon, thoughtfully converted into an air-conditioned luxury cinema and board-room/office/exercise room and numerous reception rooms/areas. Azzurra Castle is the ultimate in private locations, enjoying two small sandy beaches in a serene and secluded bay; alternately enjoy the view from the beachside Jacuzzi or lay out on the terraced decking or sunbathe/stargaze on the vast roof terrace.
Azzura Castle is available as a vacation rental sleeping 12, with rates ranging from $9,500 – $15,000 per week, including live-in housekeeper/cook, from here.
The great room is the home's main living space, there are no walls or windows here, it is all open to the exterior elements.
Fine dining area.
Each of the bedrooms features an en-suite bath.
The pool area, which is accessed via the great room or the bedrooms, has a large terrace with a beautiful terra cotta tile pattern. The pool is 50 feet long and features a decorative mosaic.
The front side of the castle facing the ocean.
Outdoor private dining terrace.
Walkway leading to a private outdoor sitting area.
A two-story turret.
The turret features a guest bedroom with a kitchen and bathroom.
Photos: Alex Smailes
This absolutely stunning private beach house called 'Terrapin Residence' is located on the Turks and Caicos Islands, designed by Denver-based Worth Interiors. Surrounded by tropical blues and greens, this fascinating home picks up on the beach theme and draws in vibrant hues in the fabrics and finishes that really pops off the white walls. Cool, fresh and clean, the home is drenched in glassy Caribbean blues, sandy whites, driftwood grays and coconut brown.
A beautiful accent wall in the dining area separates the space from the rest of the open plan design. Plenty of windows and sliding glass patio doors blurs the boundaries between the indoors and out and draws in ample daylight. The home also features an in-home cinema room and infinity-edge pool that seems to drop right off into the turquoise blue ocean. A spacious outdoor terrace offers plenty of room for entertaining and soaking up the sun.
What do you think of this tropical oasis, would this be your idea of the perfect vacation getaway?
Photos: Steve Passmore
Casa del Santuario is a luxurious villa nestled within the attractive countryside of Tarifa, Spain, not too far from the beaches. Natural beauty, peace and harmony intertwine in this beautiful home that facilitates comfort and rest. It consists of three bedrooms, two bathrooms and several outdoor terraces with magnificent views. This lovely house features 2,690 square feet (250 square meters) of living space with a capacity for six people, built in a Moorish style. As a mean of unifying all the spaces, all the flooring is of polished concrete and the predominance of natural materials such as stone and wooden beams. There are exposed stone walls, whitewashed work benches and solid wood untreated and in harmony with modern sculptures, design lamps and classic seating of the 20th century.
The house is oriented towards the South and is located in the Natural Park of Los Alcornocales one of the largest parks in Europe. The house is surrounded by a tropical garden with a small pond with water lily leaves. In order to enjoy the outside, the villa has three porches with different orientations. The estate is crossed by a Stony River with oleanders and populated by many turtles. Just 10 minutes from the farm, you can swim in a natural pool in a tropical paradise. The organic farm is working with solar panels and a generator. The villa is an idyllic place, privileged, quiet and with no nearby roads. The owners are a pair of Belgians who desired to have a vacation retreat in a warmer climate. The home is also used as a vacation rental for the periods of time when they are not staying at the home.
To stay at this beautiful retreat, prices range from $1,573 – $3,147 per week, from here.
Caressing the crystal-clear waters of the Samana Peninsula, Sublime Samana Hotel & Residence boasts 20 private suites and casitas nestled on the Dominican Republic's most dazzling, remote beaches. The Samana province of the island's northeastern coast remains one of the most undiscovered, unspoiled habitats of the Caribbean. Surrounded by lush, tropical mountains, guests can enjoy unparalleled seclusion, while swimming through sparkling turquoise waters and relaxing on luxurious shaded sunbeds.
The casitas and main residential building seamlessly mesh a brilliantly modern architectural scheme with the natural landscape, perfectly framing the property's spectacular interconnected pools. The spacious architect-designed private suites and casitas offer unwavering luxury with open floor plans that allow for a peaceful immersion with the wondrous sights and sounds of the magically exotic, mountainous ocean setting.
Each of the 16 private suites and four casitas feature floor-to-ceiling windows, a comfortable private balcony or terrace, elegant, inviting furnishings, dining rooms and fully equipped kitchens with top-of-the-line appliances. Sublime Samana spared no detail in ensuring the best of creature comforts for its guests. A gem of the Caribbean, the isolated property gives guests access to six-miles of pristine, palm-fringed beach.
Indulge yourself in this stunning luxury property; rates range from $156 – $699, from here.
The estate is surrounded by tropical mountains and valleys, offering spectacular views in Bali, Indonesia. This home is the perfect hideaway for peace and tranquility. Named after the white-capped waves – views of which can be relished from its upper floor rooms and terraces – five-bedroom Villa Ombak Putih breathes an ocean-inspired theme in every element of its design. This gorgeous villa, which was completed in 2011, presents two enormous master bedrooms with sexy, semi-open-air bathrooms, three stand-alone guest suites, a 30-metres swimming pool and a delightful choice of indoor and outdoor living areas and dining spaces.
This majestic and contemporary-styled property presents crisp white exteriors and cool cream marble floors, while natural Palimanan stone is the material of the villa's striking bas-relief murals and impressive Balinese statues, which flank the grand entranceway and border the ponds. This pale white stone features abundantly throughout the villa and defines the garden with plump, perfectly placed pebbles and warm textured paving.
Even the flowers in the 3,300-square-meters garden reflect the foamy surf: all are white, from the sweet-scented snowy blossoms on the many frangipani trees to the softly flowering jasmine that borders the lawns. In keeping with the villa's seaside location, 150 meters from the rugged Cemagi beach, white furnishings are characterized by cheerful cushion fabrics, splashes of blue and turquoise in the ocean-inspired photographic artwork, a dark blue wall, a rustic blue door and tastefully displayed time-worn aquamarine artifacts.
Casa Dos Chicos is nestled on a hill in the small, charming tropical town of Sayulita, overlooking the beautiful coastline of Riviera Nayarit, Mexico. This newly renovated 3,000 square foot vacation villa features four bedrooms, four bathrooms, living room, kitchen, dining room and a wonderful garden with heated pool. It is composed of two three-story structures, each with two one-bedroom suites, featuring en-suite bathroom and indoor and outdoor sitting areas. All of the colorful rooms share views of the walled garden, pool, town, and surrounding hills.
A Mexican-style open air living area floats above the tree tops, boasting a hot tub, living room, kitchen/dining room and large sofa with lounge chairs and hammocks, dramatically linked by a bridge high above the garden! Open on all sides, it catches gentle breezes and beautiful 360 degree views of ocean and coastline, lust foothills of the Sierra Madre and the energetic town of Sayulita which surrounds it.
The two three-story buildings are set in a lush, walled garden that features a glass mosaic tiled heated pool, a deck composed of inlaid stones in a style typical of the area, an outdoor shower, a fountain, and a barbecue. The shared living space of the house includes two large outdoor rooms covered by palapa roofs and linked by a bridge three stories up. The fully equipped kitchen has a large table for ten and an island with stools. The house and grounds provide a private retreat high above the town and the sea, which at the same time is only a short walk to all the local charm Sayulita has to offer.
This unique vacation home is available year round for weekly rentals from Saturday to Saturday, which prices ranging from $2,150 – $3,550. Daily rates range from $320 – $520, from here.