Browsing articles tagged with "vacation Archives -"
Eagles View Suite is a modern, unique and luxurious hotelsuite offered at the Iso Syöte hotel in the unspoilt region of Syöte national park in Finland. Located on top of the south corner of the hotelwing, the walls and even the roof are made of glass. At any time there is the connection with the nature, a free view over surrounding hills and forest and into the sky. A unique chance to admire the midnight sun in summer or a million stars and the dance of the Northern Lights in the sky in winter. Even when you are lying in bed or relaxing in your private jacuzzi you will be able to get impressed by what you see!
A spacious suite divided in two floors. On the ground floor the living room with a cozy fireplace to share a drink and some special moments together, seats and sofa's, luxury bathroom with own private sauna. A tree is growing in the middle going up to the second floor. The branches of the tree will hold the "nest" where the bed is placed. And on this floor is the jacuzzi situated as well. Lying on the bed or while enjoying a relaxing bath in the jacuzzi you can overlook the unspoiled nature all around you, like an eagle, admire the scenery and almost touch the sky….!
Consistently getting awards year after year as Findland's best ski boutique hotel, there are so many additional amenities this wonderful place has to offer. In addition to many other options for comfortable accommodations, there are plenty of winter activities such as snow shoeing, ice fishing, husky safaris, kicksledge, overnight stays in an iglu, Northern lights viewing and much, much more. There is also plenty of unique dining options depending on how adventurous you are!
Chalet Pamela is a stunning mountain contemporary luxury villa combining awe-inspiring architecture with a picturesque wooded lot in Aspen, Colorado. read more
Mirror Houses project encompasses luxury holiday rental homes designed by Peter Pichler Architecture, located in the midst of apple orchards close to Bolzano, north Italy. read more
We all need a vacation once in awhile, whether it's a quick weekend getaway to the coast or gallivanting across the Great Wall of China, there's nothing like getting away.
But while tourist attractions can promise all manner of fun, many of us venture to certain destinations around the world just for the hotels themselves – many of which offer grandeur beyond our wildest dreams. If you're looking for somewhere extra special to go and treat yourself, check out these incredible hotels from discernible destinations all over the world.
Palacio Nazarenas, Peru
Rated as the best luxury hotel in the world, the Palacio Nazarenas has received glowing reviews from 900,000 guests – and it's no wonder with its gorgeous Machi Picchu location. The five-star hotel features 55 suites which it claims are "enriched with oxygen" for the pleasure of its guests, while tourist attractions are just a stone's throw away, such as the Nazarenas Square, and the Ollantaytambo and Sacsayhuaman fortresses.
The Venetian, Las Vegas
Few hotels in the world can boast their very own canal within their four walls – but the Venetian on the Las Vegas strip offers just that. Part of the largest five-diamond hotel and resort complex in the world, it features more than 4,000 suites and hotel rooms, all decorated with an opulent Italian theme. Of course, it wouldn't be Las Vegas without mentioning its 120,000 square foot casino. Indeed, nowadays people may be more tempted to play at online alternatives like Jackpotcity, but with such an array of different games on offer, the Venetian really does it like no other.
 Jumby Bay, Antigua
 For those who are looking for privacy, nothing says isolated luxury quite like Jumby Bay. Situated on the Caribbean isle of Antigua, the Jumby Bay is reachable only by boat, and is surrounded by white powdered beaches with bicycle paths in an excluded, paradisical part of the world. Be sure to take a visit to the Lazy Lizard villa, which features an 18,000 square feet beach estate and a moated entrance.
Cordevalle, San Martin, California
Golfing fans can enjoy grandeur like no other in the Cordevalle Golf Resort in California, which offers unrivalled hospitality set amongst a backdrop of rolling Californian hills. Home to the US Women's Open, the golf course is just one of the many facets of this stunning resort, which also features its own vineyard, gourmet dining and health spa.
Mara Kempinski, Kenya
Get in touch with nature in Kenya's stunning Mara Kempinski resort. Visitors can gaze out of the bedroom windows and enjoy views of wildlife in the Masai Mara, featuring 35,000 acres of prime grassland, riverine forests and acacia woodlands.
Photo Sources: 1. St Regis Bora Bora Resort, 2. Jade Mountain, 3. Singita Kruger National Park, 4. Palacio Nazarenas, 5. The Venetian, 6. Jumby Bay, 7. Cordevalle Golf Resort, 8. Mara Kempinski
Corte San Pietro Hotel is an abandoned structure that was beautifully restored into a luxury hotel by architect Daniela Amoroso, located in Matera, Italy. Matera is one of the most ancient cities in the world and its territory contains the evidence of human settlements as from the Palaeolithic times.
The Sassi districts, World Heritage site, are the original urban core of the city and, based on natural caves, they have been further extended over the millenniums to be turned into even more complex structures.An intricate network of streets, alleyways, inner courtyards and neighborhoods overlooked by habitations of all sizes, ancient defensive walls, towers, warehouses, wine cellars and cisterns. A never-ending excavated and built system.
In the very heart of the Sassi district, an abandoned structure in disuse dating back to the XVII. C and which surrounds an internal courtyard has been restored and reinvented to be turned into new spaces of a 5,381 square foot (500 square meters) hotel.
Useless architectural contaminations and superfluous layers of pavement have been removed, uncovering the original tufa stonework topped with vaults: the historical structure has been laid bare, as an architectural evidence to confront and dialogue with. In this search for essence, authentic, pure space free from excess, we can recognize the Wabi spirit conceived by the Belgian Axel Vervoordt.
The historical places, full of an attractive identity, harmoniously and precisely combine to the comfort and to the refined and elegant design.
Turned into refined hotel rooms, the former habitations at the ground floor overlook an internal courtyard which, thanks to long and accurate restoration works, is characterized by an original stone pavement called "a chiancarelle".
Enlightened with candle lights in the evening, the courtyard becomes very cozy and intimate, giving a sense of protection.
The rooms located all around the courtyard are rigorously monochromatic, characterized by chestnut brown shades, from the beige of the stone to the brown of the wood and the weathering steel. Soil, stone pavement and the natural colour of the stone become wall, ceiling and sitting.
The constant search for a connection between the various inner rooms and the landscape is the very base of this combination of local stone, wood and iron in each single room with different proportions according to a linear and essential design. Poor elements usually combined to a country style become light and modern.
The linen curtains of the entrance doors skillfully made by hand let a bright light reach the first area of each room dedicated to sitting/living area and relax whereas the following private areas carved out from the rock face, are enlightened through skylights from the vaults. These small windows, from above, allow beams of light to alternate with large dark intimate areas.
Tufa arches introduce to bathrooms, intimate and cozy spaces featured by niches and cavities now containing large stone bathtubs or showers.
The interior design is based on restored vintage furnishings and typical tools. Nature and timeworn objects perfectly suit each single room through various furnishing elements: old benches in century-old chestnut tree become either doors, shelves or tables, old wooden chairs frames become towel holders, tree logs become stools or bedside tables.
The whole hotel develop horizontally all around an area, the courtyard, characterized by slight differences of level and surrounded by five rooms, the reception hall and the breakfast room, in an ancient typical system which features the whole structure.
Under the hotel, below ground, are located eight bell-shaped cisterns, evidence of the former system for the collection of the rainwaters and excellent example of sustainability. Rainwaters were forwarded through gutters, drainpipes and channelings down to the cisterns connected to the habitations. Cisterns are visitable through narrow inner passages. Going through the changeable silence of a cave and adapting ourselves to these dark environments means to be immersed into another dimension, where it is possible to seize the deepest and ancestral meaning of these places, of this land. It is a place where to feed our souls and feel a strong well-being.
From the entrance in Via B. Buozzi, visitors are greeted as in a private house in the graceful and cozy reception, elegantly furnished, through which it is possible to access the private courtyard.
Photos: PierMario Ruggeri
Baan Hinyai Villa is a stylish and spacious luxury vacation home that is available for rent, nestled beachside in tropical Baan Makam, Koh Samui, Thailand. Upon entrance to the villa, the first thing that strikes you is its generous size. The beautiful designed split-level, living and dining area opens onto breathtaking tropical views and a drastic infinity-edge pool.
To stay at this sensational luxury vacation home in Koh Samui, rates range from $1,150 – $2,750 / per night, from here.
The villa features five bedrooms all of which have TVs, feature king size beds and boast sea views, as well as dramatic en-suite bathrooms. The bathrooms feature free standing bath tubs and separate shower cubicles, plus his and hers washbasins. Generous sized wardrobes with gowns and slippers supply 5-Star comfort.
A huge wooden dining table seats up to 20 people, whilst the nearby pool-side sala is perfect for outdoor dining and relaxation. Back in the main living area, two oversized sofas sit either side of a sleek wooden table with a flat screen TV (satellite channels) and DVD unit poised for evening entertainment.
An open-plan western kitchen is equipped with LG and Siemens fridges, a fitted oven, microwave, gas hobs and a full range of modern appliances.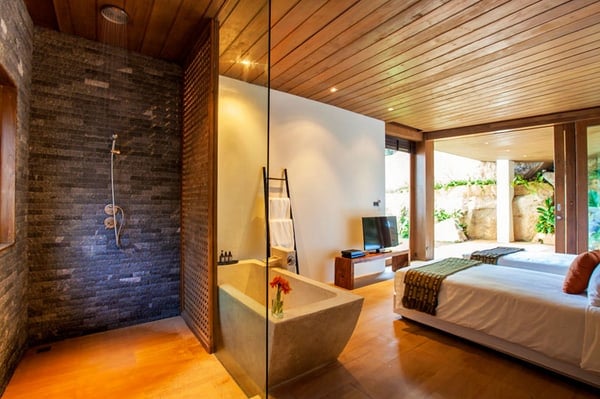 For watersports lovers with a sense of adventure, staying at one of the two expansive, luxury beachfront villas of either Baan Hinta/Hinyai offers a unique opportunity not only to enjoy a memorable beachside vacation, but also to try out the very latest in hi-tech marine toys. The villa comes with a choice of watersports equipment, including a Sea Kayak and paddle board.
Kandolhu Island is an exquisite luxury resort in the Maldives, a tiny private island showcasing a beautiful white sand beach and pristine coral reef. The resort features just 30 villas in five different styles, each style distinct in design. All of these villas perfectly combine natural elements of the Maldives with local architecture, modern interiors and creature-comforts, creating an experience so memorable that it will stay with you forever. Choose between beach villas or over-water villas, some with a Jacuzzi and others with a private plunge pool. All have daybeds, a sundeck and sun loungers to make the most of the outrageously beautiful sea views. Grab your complimentary snorkelling gear and discover Kandolhu Island's colourful house reef encircling the island.
 A luxurious spa facility along with a gym, four wonderful restaurants, and a wealth of non-motorised water sports, this could be your temporary Maldivian home. A diver's paradise, Kandolhu Island provides day and night dives from on board a Maldivian dhoni. Swim among turtles, Napoleon wrasse, parrotfish, snappers and jacks through caverns and overhangs. Take sailing lessons, or enjoy hours of pampering in the spa. Go on a sunset cruise and return later for Mediterranean cuisine in the Olive Restaurant or fresh seafood at the Sea Grill, right on the beach.
 Located 70 kilometres south west of Male' in North Ari Atoll, Kandolhu Island is reached in 25 minutes by seaplane. To stay at this sensational retreat, the average daily rate starts at $826 per night, with a two night minimum, from here.
Villa Kra is a luxury dream vacation showcasing luxurious rooms in a beachfront villa, surrounded by beautiful tropical surroundings in Koh Samui, Thailand. Nestling on a hillside, the villa has taken a unique location on one of Thailand's most beautiful islands. As you gaze out over the sea, the nearby islands, the tropical gardens and the incredibly beautiful pool, you realize that paradise exists.
Just seven minutes away lies Koh Samui's vibrant centre, Bophut, with its trendy bars, quaint shops and bustling markets. And as if that were not enough, the international airport is a mere fifteen minutes away. In short: Largo Villa Kra is a dream destination.
To stay at this fabulous retreat, rates run from $593 – $942 per night or $4,155 – $6,594 per week, from here.
This four-bedroom villa has everything necessary to melt stress away in an instant. In this modern design, the boundaries between inside and outside are blurred, making this a perfect getaway for groups of friends or successful family holidays. The stunning infinity pool is both refreshing and eye-catching. A small shallow children's pool in the shade makes the outdoor area ideal for small children. A third pool with pool bar is the perfect setting for enjoying the stunning sunset on Koh Samui. In the stylish Chill Lounge you can enjoy a drink and each other's company, while the eating area by the pool is a dream place to start your day with a delicious breakfast. At the end of a sublime day, you can go out onto the Moon Terrace. The wonderful Thai night sky conjures up a firework display that makes Las Vegas seem half-hearted.
The interior of Largo Villa Kra is likewise a joy to behold. Four bedrooms are tastefully decorated, and each has a private bathroom. The master bedroom comes complete with a relaxation pool on the terrace. Almost anything is possible in this little fragment of heaven on earth: you only have to ask. By request the chef will be delighted to make the finest local dishes, but even French cuisine is on the menu if you so desire. Yoga, massage, Pilates – the range of relaxation options is endless.
Photos: Courtesy of Largo Villas
La Suite Sans Cravate is an historical house that has been converted by Véronique Bogaert into a luxury guesthouse with four guestrooms, located in Bruges, Belgium. The success of the owner's restaurant was the inspiration for the guesthouse, and with an expanding family, there was not enough room for them to continue taking up residence above their restaurant. Have a look below for the owner's inspiring story of how the project transpired into what was once just a visionary dream.
We (Veronique 37 years and Henk 34 years) have a restaurant (1 Michelin star) in Bruges since 10 years. We've lived above the restaurant until now; it became too small with our 2 kids (6 & 7 years). We were looking for a private house but didn't find anything which was close the restaurant and enough space. Suddenly a great opportunity came along, the historical house in front of our restaurant came free and we take the shot… Result it was too big for us, so we aid to each other "why don't we make some guestrooms in the building?"
We ourselves had enough ideas how to separates the places in that big house. We of course needed an architect to draw for us. There was one big rule!! We wanted to have absolutely a private house were our guests couldn't come, let's say a red line for them not to cross. Therefor we provided 2 very high luxury rooms and 2 suites. The house is separated is 2 parts, one for the guests and one for us. We've put an extra stair especially for us. It's a very ancient house; we have information that leads until 1450! A house with a soul and character!
 The whole decoration we did ourselves, till the smallest detail. We didn't use the help of any interior architect or someone of that kind. We ourselves are creative minded people the name of our guesthouse is called "La Suite", for us it has several meanings, first, it means if you translate it, the following, it is the following step of our lives, it also means like a kitchen name, that reply's in the kitchen that the next dish can follow. Like the people who are in our restaurant, they can go to their rooms for the next step of their evening.
 Why a French name? That's because our restaurant is called "Sans Cravate", now we've changed our logo to La Suite Sans Cravate, it match very well together. We have a very personal style in our kitchen and interior of the restaurant, now we have that also in our new guesthouse. The rooms have the name of wine grapes, Sauvignon Blanc, Riesling, Syrah and Pinot Noir. Each guest receives when they arrive a glass of bubbles with a personalized macaroon biscuit with the flavors of their room that they booked.
The renovation took three years in total but the result is magic, we are of course very proud that we realized something like that. With only one month open and already nominated for "Best design hotel".
Photos: Courtesy of La Suite Sans Cravate
POD Boutique Hotel is a luxurious hotel subtly promoting discretion and elegance, completed in 2009 by Greg Wright Architects, located in Cape Town, South Africa. POD is more than a luxury boutique hotel. It's a declaration of love for fine living, fine design, and unforgettable experiences. Conceived of as a discreet and super-stylish location and getaway on the Camps Bay strip, this project is set to become the destination of choice for those "in the know".
A unique palette of granite, slate, African timber and glass has been brought together in elegant simplicity in an attempt to make rooms and relaxation spaces desirable to those who appreciate stylish accommodation backed up by discreet, luxurious service.Add to that the fact that all that makes Camps Bay the international destination of choice, this project is set to redefine the boutique accommodation business in Cape Town and set the benchmark for those going forward.
15 bedrooms and suites provide ultimate comfort and privacy, evoking a feeling of sanctuary and serene relaxation.