Browsing articles tagged with "warehouse Archives -"
This industrial style home-studio of an artist is a warehouse conversion offering a wealth of refreshing ideas and natural light, located in Montreal, Quebec. In this former warehouse import-export, furniture, works of art, recycled objects and curiosities that were collected by the owner create an unclassifiable inside, eclectic, where visitors can peruse with pleasure.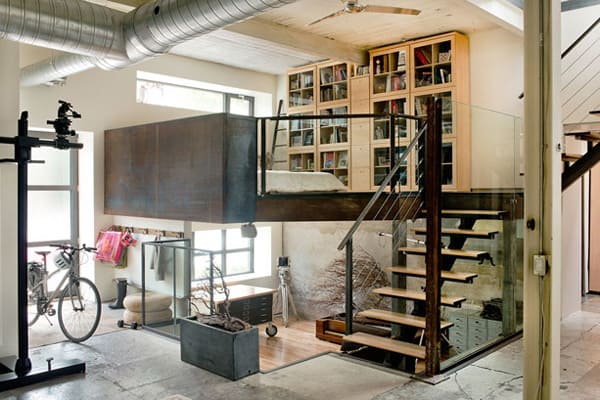 During the course of the renovation, the structure was retained as well as some other elements – concrete floor, ceiling slats – like pieces of heritage. It is the owner who made the place transformation plans; they were then validated by a technician in architecture before receiving approval from the municipality.
"Draw environments excites me since childhood, says the owner. I love playing with space, volume, understand the path of the light. And then reconfigure this former warehouse presented a huge challenge, particularly the successful cross between a workplace and a place of life. "
The new space highlights generous windows, authentic materials, loft spaces that the artist particularly likes, high ceilings up to 13 feet across and white walls. "Because of my work, I need this neutrality, this lack of stimulation by color."
The House and Studio is the result of sharing a house where the owner and her husband lived before their separation. Currently, the woman occupies a space of 3,200 square feet with her little girl, whose birth three years ago prompted her to make some adjustments. "I like to get things moving, the house is alive. This is a work in progress. "
Photos: Angus McRitchie / DecorMag
The Inverted Warehouse Townhouse is a spectacular addition and renovation by Dean Wolf Architects of a TriBeCa, New York loft building. Conceived as an excavation of dissipating energy, three double story volumes are voided from the center of the building. Into this 10,500 square foot space are hung self structuring corten steel panels which are layered, shingle-style. The layering of the shingles allows for frameless burgundy wall art glass to float down through the walls. The downward dissipation culuminates in the double story book shelves which hang into the children's playroom. Countering the downward hanging of spaces is a courtyard layer of silicone glazed glass which delicately lifts to the skyline.
The main entry is onto the fifth floor where two sequences separate public and private routes: the upward route joins the public spaces while the downward route travels to bedrooms, playrooms, and study.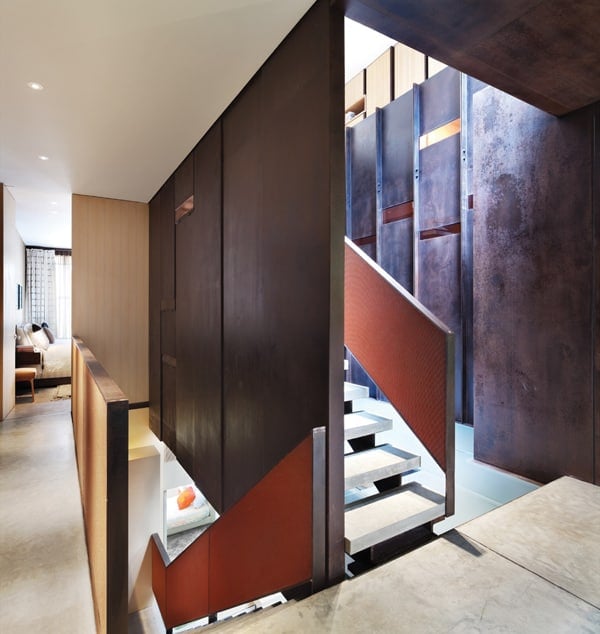 Photos: Paul Warchol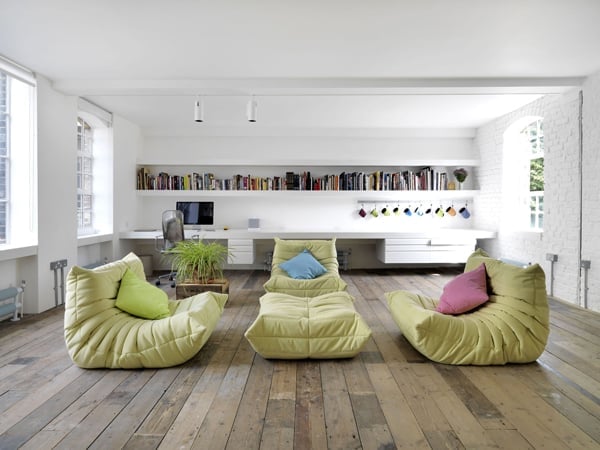 Bermondsey Warehouse Loft is situated in an industrial building that was formerly used as a tin and zinc factory, completely refitted by FORM Design Architecture in Bermondsey, a district in south London, United Kingdom. The industrial character and scale had previously been lost beneath raised floors, lowered ceilings and partitions in this 1,119 square foot (110 square meters loft).
Storage, bathroom & utility functions are contained within a sharply-detailed block 'parked' in the corner of the now fully revealed Loft space, with a similarly detailed linear kitchen counter block. A concealed sliding wall allows the sleeping area to be enclosed if required. At the other end, a full width counter provides a work area for the photographer owner. In between are flexible zones for dining, relaxing and exercise.
Apart from the unfinished floorboards, all surfaces are finished in white, the crisp machine-made quality of the solid acrylic blocks setting them apart from the more hand-made and time-weathered surface textures of the original industrial building. Surface finishes within the service block are in dark grey, accenting the idea of a fruit or jewel-case-like object with a smooth exterior skin contrasting with a darker, sensual core.
Photos: Charles Hosea, Mike Neale
When tastefully designed, a warehouse conversion can provide a strong visual appeal to a dwelling, which is the case with this inspiring property in Fitzroy, a suburb of Melbourne, Australia. An exceptional inner city home with ground level double garage, cellar space and laundry are all about convenience. On all the upper levels, luxury is the key. Three large first floor bedrooms, each with built in robes, share a beautifully appointed central bathroom while on the second floor, fabulous living/dining dimensions and a dedicated study/home office zone are framed by soaring ceilings and evocative original beams. An open plan kitchen featuring stainless steel surfaces and smeg appliances adds its own sense of style. Above, the main bedroom's glamorous en-suite and walk in robes are complemented by bi-fold doors to superb wrap around terraces with views towards the city, but even better 360 degree outlooks accompany a sensational roof-top entertaining area, enhanced by plumbing and BBQ kitchen.
This exceptional warehouse conversion home is listed for sale, from here.
This bedroom has a wonderful indoor / outdoor connection, not to mention fabulous views being on the roof deck level of the home.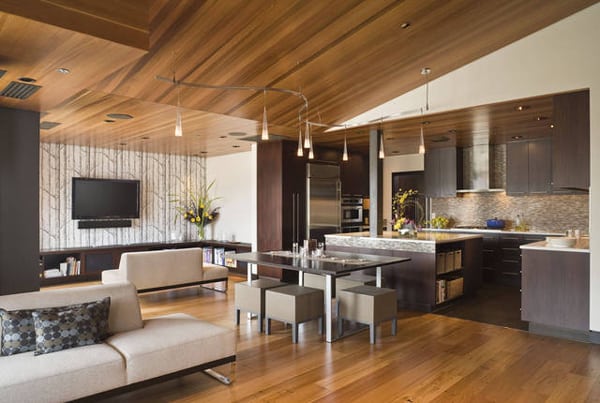 Crane Building Penthouse has been designed by Giulietti Schouten Architects, located within the urban core of Portland, Oregon, nestled atop the historic 1909 Crane Building, an old brick plumbing warehouse. This seventh floor 2,500 square foot penthouse has established views of the city, bridges and west hills but its historic status restricted any changes to the exterior or window and door locations. Further limitations included maintaining all existing plumbing locations and staying within the existing ceiling framing.
With their three kids leaving for college, this husband and wife wanted to shed their life of their large suburban house and start anew in the heart of the active Pearl District. Even though their current house was close to their high-pressure work in the High-Tech field they desired to distance themselves and create a sort of "urban refuge above the city", a personal retreat where they both could entertain and work on occasion as well as provide a home for their grown-up children.

Key Plan Concepts:

Reclaimed Australian Chestnut flooring was chosen for its warmth, while Dark Sapele at the built-ins, entry and sliding gallery door provides a sharp contrast to the white stone counters. The clients requested the mudroom/pantry to be hidden yet accessible to reduce clutter and noise within the open living areas.
The design needed to create a functional open living/dining/kitchen and media area for both entertaining and working. The dining and kitchen area especially needed to be expandable for family gatherings and contracting for daily use. Recessed automated roller-shades screen the afternoon west light, and help maintain clean lines.
The various vaulted ceilings were retained to maximize daylight and wrapped in clear cedar to give warmth and further define the many unusual ceiling angles. A custom welded steel fireplace with an oil-rubbed finish was designed to be the visual anchor of the living room. The intent was to contrast it with the concrete walls while connecting it to the notion of exposed steel in the original building.
A custom sliding sapele screen at the entry provides immediate privacy for the bedrooms when entertaining yet also invites guests to "discover" the gallery on the other side where the original steel and concrete structure were left exposed.
Photos: David Papazian
Eastman Street residence is a stunning warehouse conversion situated in Northcote, a suburb of Melbourne, Victoria, Australia. Formerly the Northcote Bakery stables, this superbly executed conversion offers expansive living on a vast double allotment 3,681 square feet (342 square meters). The property is unique in having a large side garden with louvred-roof dual covered parking which doubles as an outdoor entertaining space. The nineteenth-century stables building has been imaginatively reconfigured to incorporate a spectacular upper level living and dining space, commercial-style kitchen and bathroom. Downstairs, the entry area leads off one on side to a fitted laundry/utility room and a second bathroom; overlooking the garden is a spacious living room. Three bedrooms (the main with dressing room), a second bathroom and a large storage room complete an imaginative and thoroughly functional design. Interior details include the original trusses, wooden doors and Baltic floor and polished concrete floors. This remarkable property is listed for sale from here, while the link lasts!
House in a Warehouse is a new dwelling in an old warehouse shell designed to be a garden oasis by Splinter Society Architecture in Hawthorn East, Victoria, Australia. The 'interior', a considered reassembly of parts from the site, extends beyond the new infill skin, to the periphery of the existing warehouse walls, inviting the outside in. From the architects, " Both architect and client strongly believe in compact urbanism, combined with green spaces and a sustainable approach to living, as part of a happier way of life. The client brief asked for a highly sustainably house, executed in a clean and contemporary way and a 'warehouse feel', minus the cliches of industrial off-the-shelf purchases.
The strategy to meet the brief and concept involved creating a layered system of screens and frames that split the site and lift the living spaces of the house, creating views to green spaces and established gardens beyond. The site was a 200 square meters landlocked warehouse, built to all boundaries and entered via a new residential development. It's a dense inner urban setting, where the design solution allows the notion of 'interior' to extend beyond the infill, to the periphery of the warehouse walls, inviting the outside in."

The 'interior', a considered reassembly of parts from the existing warehouse, creates an aesthetic of texture and warmth referencing the property's historical context. The resultant budget conscious house is open, spacious; light filled and a pleasure to be in. The resultant budget conscious house is open, spacious; light filled and a pleasure to be in.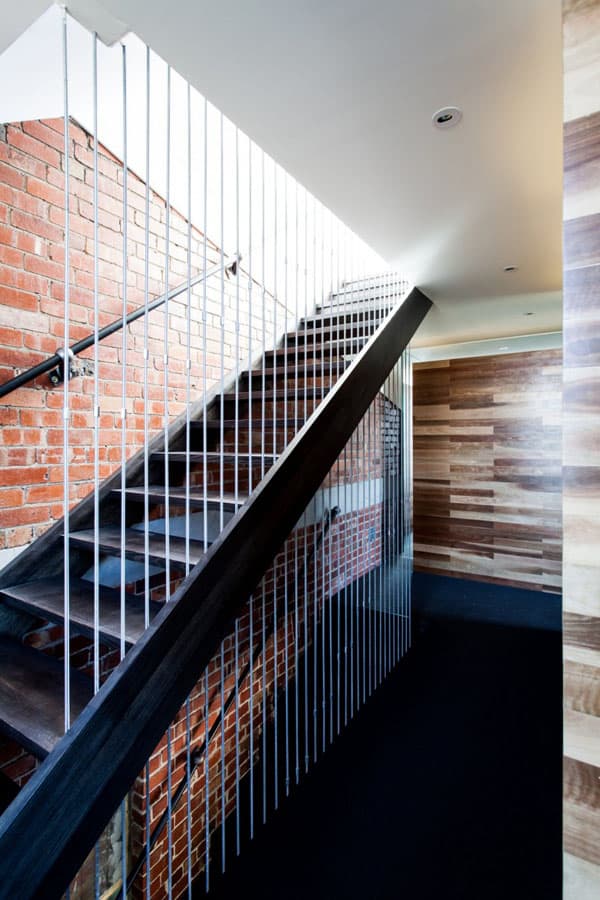 Photos: Tom Ross of Brilliant Creek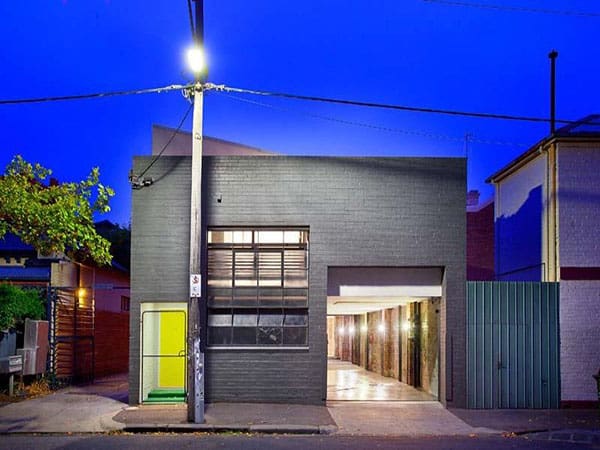 This stunning Kerr Street Residence is situated in Fitzroy, Victoria, Australia. The property is comprised of one warehouse, two titles and two houses to be sold as one. Each residence features three bedrooms, two bathrooms, an open living room with great northerly light and its own unique character with balconies, roof deck, garden and like some twins one is a lot bigger than the other. Live in one, rent the other, kids in one, you in the other, work in one, live in the other or rent them both; the choice is yours. In addition there is room for up to five cars. You can't get away from the fact that this is a never to be repeated chance to purchase a converted warehouse hidden within plain sight in the heart of Fitzroy.
This incredible property is listed for sale from here.
This stunning warehouse has been converted into a spacious pad with flowing living spaces, excellent natural light and a versatile entertainers' layout in Annandale, a suburb of Sydney, Australia. The impressive residence makes a very private retreat within a peaceful community. The interiors flow over multiple levels with 4,305 square feet (400 square meters) of living space. The home features soaring ceilings, exposed beams and brick flooring. Living spaces includes a large open plan living area plus separate formal lounge, deluxe chef's kitchen with commercial grade cool room, upstairs master suite with walk-in wardrobe and luxury en-suite, two additional bedrooms and bathroom as well as a sunlit courtyard garden with plenty of space for entertaining.
This incredible home is listed for sale at $2,000,000, from here.
We just received photos from one of our reader's home's, Natasha of Fat Shack Vintage, an online retailer of unique vintage and industrial light fixtures based out of Australia. Her home is now officially one of our favorites that we have posted here on 1 Kindesign. Designed by Natasha and her husband, the dwelling is chalk full of character and charm and the exterior is just as intriguing as the interior. We could go on and on about how fabulous this home is, but instead we will let Natasha take it away from here:
"We have quite an unusually designed warehouse style home in Prahran, Melbourne, Australia.  It is 240 square meters of internal space spread across three levels with two outdoor entertaining areas. The locals call it the 'Quilted House' as the outside is pressed aluminum and looks like a quilt has been thrown over the front of the house. We recently had renovations done to the bedrooms and bathrooms as well as a renowned street artist named Reka put up a mural on the side wall (Reka is a part of the group 'Ever Fresh' who had a residency last year at the ACMI gallery) and the piece and house attracts quite a bit of attention and photographs!
I like to think that the internal decor is equally as interesting and would describe our decorating style as vintage eclectic featuring an Asian twist with a pinch of industrial. The photos describe it far better than I ever could though. We have a love of all things vintage and have been collecting pieces in our travels for quite some time. My husband and I own and operate our own business called Fat Shack Vintage, which is an online retailer of vintage industrial styled lighting and home decor.
Fat Shack Vintage also sells a selection of genuine vintage furniture which is how we have accumulated a lot of the pieces in the home. It's always hard to say no when you come across a really interesting vintage find! Between decorating our home and the office I'm surprised there is actually anything ever left to sell!"
What do you think of Natasha's incredible home, please leave comments below, we would love to hear what you think!
Photos: Natasha, Fat Shack Vintage